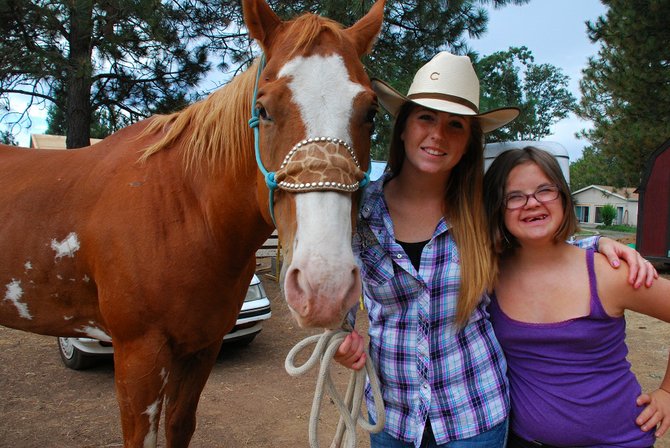 Melody Nilson wants to be just like her big sister.
When her sister, Mariah Nilson, 18, uses a certain water bottle, Melody wants to use it. Mariah complains when her clothing goes missing, knowing her 13-year-old sister is most likely the culprit.
Mariah was last year's Klickitat County Rodeo Queen and is the 2013 Ketchum Kalf Rodeo Queen. She has been riding horses since she was a kid and showing since she was in middle school.
Obviously, Melody wants to follow in her sister's footsteps, so at the Klickitat County Fair this week, she'll be riding Mariah's quarter horse, Scout, while Mariah takes a break from showing.
"I've always wanted another family member to ride horses more. She had been asking to ride Scout a lot and he enjoys working with her, so I couldn't say no to that," Mariah said.
Of course, the Nilsons have other horses. Mariah will still be competing in barrel racing and a few other events at the fair on Annie, another favorite horse, and the family has kept Icelandic horses for years.
But the girls' mom, Diane Nilson, says there is a special bond between Scout and Melody, who at 13 will be the first participant with Down 's syndrome at the Klickitat County Fair.
That bond makes all of the difference in the world, so Mariah will sit out the portion of the fair this year when she would normally ride Scout while Melody competes at the novice level.
"Scout gets Melody," Mariah said.
Diane Nilson and her husband, Mike, say that raising a child with Down's syndrome is all about seizing an opportunity when it arises. With Melody, it comes down to asking her if she is sure about a decision before acting on it.
When it came to riding horses, Diane said she knew Melody was eager to start with the Mt. Adams 4-H Equestrian Group both from the connection she had with Scout or from the desire to be just like her big sister.
"We always ask her several times to make sure she wants to do something so it's not just a compulsive action, so when she shows that she wants to really do something, we figure out a way to support her," Diane said.
Melody has been training two or three times every week with her 4-H group and rides regularly at the house. Recently she was able to trot independently, but will have a line lead at the fair. When riding in a straight line was difficult, her mom placed a bow on Scout's mane to help Melody focus.
"If we have to, whoever is on the line lead can help her break it down so she can do it," Diane said
The sensory overload that can be associated with a county fair doesn't worry the Nilson's. Over the years, Melody has become accustomed to watching her sister at fairs and events and she has won medals through skiing in the Special Olympics.
It also helps that her parents and sister will be right there with her every step of the way.
"You have to have your poker face on the entire time. You learn to roll with the punches and my parents have a lot of experience with that," Mariah said.
Diane said it is always refreshing when another kid reaches out to Melody, even more so when she sees that parents have talked to their kids about Down's syndrome and why her daughter behaves differently.
She hopes that by having Melody participate in the rodeo portion of the fair, others with disabilities will see the opportunity to try something and make it their own.
"Eventually I would like to see a category set aside just for them so parents might talk to their children about kids with special needs so they can understand them instead of just looking at them as someone different," Diane said.