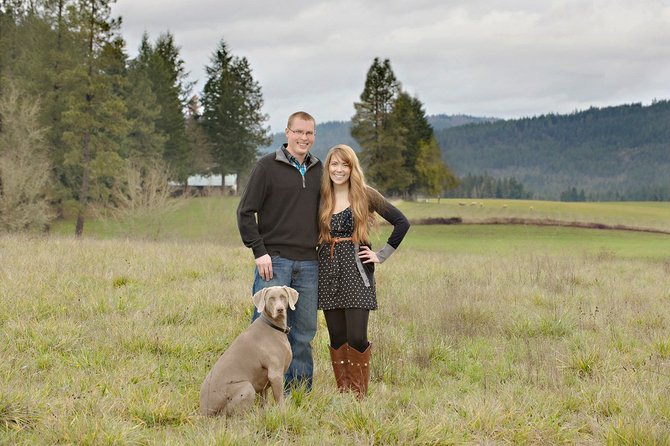 Note: This is the third story in a series that will highlight the presidents and CEOS of companies in White Salmon and Bingen. Check the print edition for upcoming stories in this series.
For Ryan Kreps, of RADCOMP Technologies, and Holly Cate, of Holly Cate Consulting, the path to success has been one and the same.
Kreps started RADCOMP in 2003 after reaching an epiphany while working a summer on his family's ranch: Farm work just doesn't stack up to the possibilities of information technology.
"I worked for the ranch for one summer and spent about three months out there getting up at 4 a.m. and working until 9 at night and the whole summer I think I made $1,800, so I ended up doing some IT work and in one weekend I made about $3,000 in two days, so there's just a market for it out there," Kreps said.
And so RADCOMP began in a small space Kreps sub-let from his mother. Cate moved to the Gorge in 2004 and was hired as Kreps' third technician for RADCOMP in 2005. After a few years of being an in-house and field technician for RADCOMP, Cate left to take a job as Washington State University's lab manager for the bioinformatics department.
That was in 2009. It took a phone call from Kreps and the urge to return to the Columbia River Gorge to land Cate back at RADCOMP.
"I left here and I went to Pullman and it didn't have the right feel and as soon as I drove back down to the Gorge to come back here to work for Ryan I immediately felt like I was home. It's like a warm blanket type of community. This is my home. I'm from New Hampshire, I grew up in New Hampshire, but I love it here," Cate said.
By January 2011, Holly Cate Consulting was born when Kreps decided to handle information technology for larger companies and organizations. Cate still handles the residential side of things and enjoys riding her road bike, skiing, and hiking.
Ten years after the creation of RADCOMP, Kreps provides information technology solutions to around 900 companies, and not just in the Gorge. There are RADCOMP offices in Gresham and Eugene and clients as far away as Texas and China look to Kreps and his team of 20 employees to fix all that "computer-nerd-whatchamacallit stuff," as it is listed on the company's website.
"Some companies are very frugal and look at IT as an expense versus an actual investment. We really don't want those types of clients. We're looking for clients that are looking at our services and products that we offer as something that can grow their business, so it's kind of a positive relationship versus a negative relationship where they only call us when things are really bad. We don't really like that because it's an inconvenience for them, it's an inconvenience for us, so we're really looking for proactive kinds of clients," Kreps said.
Kreps obtained a degree in management information systems from Eastern Washington University while starting his company between 2001 and 2005. Cate also has a degree from New Hampshire Community Technical College in computer technology, but she also managed her own company back east that was similar to RADCOMP.
Experience aside, Cate attributes her success in the Gorge to working with Kreps and sticking close to RADCOMP.
"I wouldn't continue to be a sister company to him if I didn't know that we have a shared goal, and that is to serve the community as best as we possibly can. The best thing is that if I can come to your home, correct your problem, or you bring your system to me and I can correct your problem and you go away happy, that is the ultimate testament to what we're trying to do here in the Gorge," Cate said.
Though Cate still does much of her work in the field – ridding personal computers of viruses, setting up routers, and other residential technological services – she leases space in the bright-orange RADCOMP building off of North Main Avenue in White Salmon.
The bright-orange vehicles with the RADCOMP logo are hard to miss and stem from the bright-orange pickup truck Kreps drove when he was growing up in White Salmon.
"Everyone knew me by that, so it kind of stuck and we ended up branding that way and it worked out pretty good for us, other than the Eugene market. We're getting a little bit of pull back there because they're all Ducks down there and we show up and they think that we're Beavers," Kreps said.
And both companies are growing. Cate stays busy with her clients in the Gorge and works remotely for clients in New Hampshire, Arizona, and Wyoming. Kreps said RADCOMP has grown at least 300 percent every year for the last few years and he is in the process of hiring on two or three more technicians.
Kreps and his wife, Talia, are also in the process of welcoming a new baby to their family.
On the business side for RADCOMP and Holly Cate Consulting, the future means "nerding out 24-7" and adapting to all of the changes, big and small, down the road.
"Every single day there's new technology that comes out, so it's not like a job that you go to and it's the same for 20 years. Everyday something new is coming out. Everyday a new virus is coming out. Everyday there's a new piece of equipment, whether it's a smart phone or a new type of computer, a new operating system, new software to defend against the viruses that are being written; every single day technology changes, so that's where we get to constantly learn and constantly research, and that's a wonderful thing," Cate said.