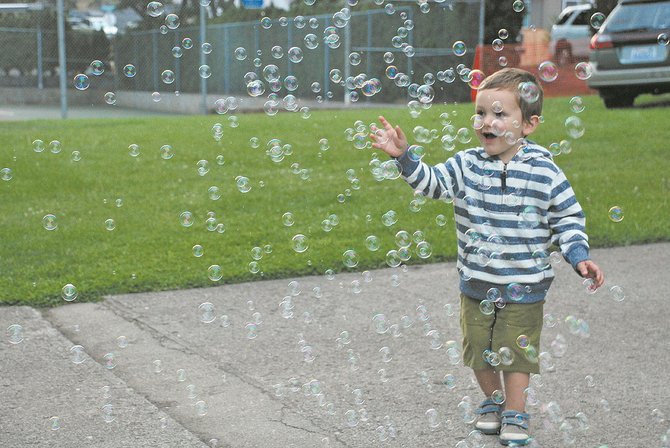 The White Salmon Valley School Board voted to budget $15,000 for the community preschool program at their most recent meeting to supplement a shortfall within Educational Service District 112.
At the panel's meeting on Aug. 22, board members David Karlson and Deborah Bergstrom approved setting aside the funds to help close a $17,500 gap in the preschool budget and maintain a partnership with the educational service district. Board Members Eric Shank and Kris Kreps were not in attendance.
"ESD will still be losing $2,500 in that partnership, but we feel very strongly about supporting and keeping that program," said Superintendent Dr. Jerry Lewis.
Multiple members of Educational Service District 112 and preschool staff attended the meeting and Jodi Wall, director of child care and early learning, along with Jackie Brock, program coordinator, gave the board an overview of the preschool program, which has partnered with White Salmon Valley Schools for 25 years.
The $15,000 from the local school district maintains the same level of resources provided in previous years.
"We serve lots of families and I think there are staff here that can tell you about students who graduated and shared stories about their experience in preschool and what that meant for them when it came to launching them into success in school," Wall said.
The preschool program serves a total of 54 children. Twenty-seven of those children pay the $220-per-month tuition for two, six-hour days of instruction every week, according to Jill Davis, program coordinator. Twelve of those children are covered by the Early Childhood Education and Assistance Program, or ECEAP, through the state of Washington and the remaining 15 are children with special needs.
The preschool program is also an inclusive, blended model that requires students from all three tiers to be in the same classroom.
"Many districts look to White Salmon's preschool model as a model that they would like to implement in their own districts," Wall said. "The philosophy is that all children and families live in communities together and they all go to school together."
Wall and Brock also highlighted the benefits of providing children with at least one year of preschool prior to entering kindergarten, especially in a blended classroom with students of vastly differing backgrounds and learning abilities.
Of the children that are enrolled in the preschool program, almost all of them enter the White Salmon Valley School District once they're ready for kindergarten, according to Lewis.
"Studies show that the earlier you can start providing high-quality learning opportunities for kids and families the better kids do in school and ultimately in life. The community preschool program really serves that purpose where we're serving kids in all needs and backgrounds and demographics," Wall said.
But not all families can afford to pay. Karlson was particularly worried that the families that are above the income requirement for Head Start programs and ECEAP, but still can't afford monthly tuition payments, might get left out of the equation.
The absence of a sliding scale for those families also concerned Karlson.
"Is there something we can do to use a sliding scale to somehow make sure the right priority is being given to the right people in terms of where the resources go?" Karlson said. "We need to make sure the people that need it the worst for a variety of reasons are the people that get those slots."
After the board authorized the $15,000 supplement, Wall and Brock were instructed to report back to the board with possible solutions to addressing those families who might not be able to pay full tuition.