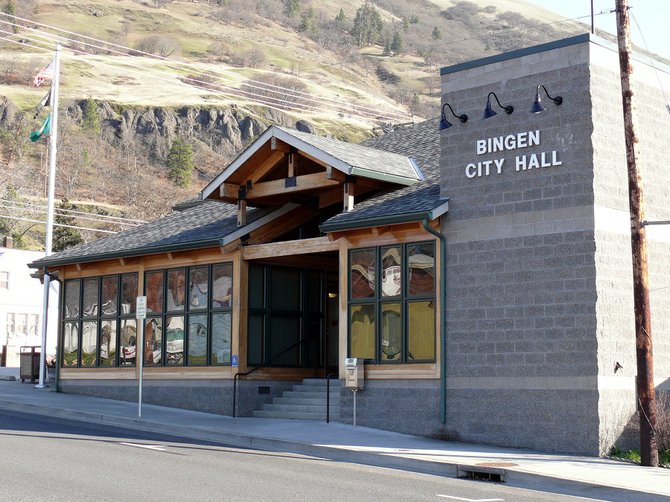 After a lull in coverage, Bingen will be seeing a steady presence of a new animal control officer the city shares with Goldendale, according to a report by the Goldendale police chief.
At the Nov. 19 Bingen City Council meeting, Goldendale Police Chief Rick Johnson relayed information regarding animal control activity since the former officer, Tom Fitzgibbons, retired last January. Bingen and Goldendale have shared animal control services for the past four years.
According to an e-mail from Johnson to Bingen City Manager Jan Brending, after Fitzgibbons retired a temporary animal control officer was brought in to cover Bingen on the same once-per-week basis. The search for a permanent officer began in April and by May Fitzgibbons was brought back on a part time basis.
In October, Brad Fulton was hired on as the new, permanent animal control officer and splits his time with two four-hour shifts in Goldendale per week and one eight-hour shift in Bingen.
Though Fulton has been making weekly trips to Bingen since his hiring, Johnson was questioned about the amount of weeks no animal control officer was able to make it to town.
"I'm really happy with all this new change that is going to be happening. It sounds like Brad is going to be awesome and I'm really super happy about having him on board, but I am a little bit unsure about how this year has gone," said Councilwoman Catherine Kiewit. "I'm looking at this report and I feel like the residents who have spoken with me have mentioned a noticeable decrease in our service this last year and I'm just wondering if you feel that we got the full level of service?"
Johnson acknowledged that there have been several gaps in coverage for Bingen while a permanent replacement for Fitzgibbons was found, but there were times when the temporary officer patrolled in a personal vehicle, which could have limited exposure to his presence.
"I do know there were a couple of weeks we did not make it down. I would venture to say there were probably three or four weeks we did not make it down this year. Other than that we've been here and we've tried making it up by coming down two times during a week, but have we made it up? I don't think so," Johnson said.
According to Johnson's report, the lieutenant that filled in for Fitzgibbons after his retirement issued "a couple of door hangers," or warning notices to dog owners, and didn't impound any dogs. After Fitzgibbons returned he issued two warnings regarding chickens and roosters, three warnings regarding unlicensed dogs, and found around 20 dogs running without a leash in Daubenspeck Park.
According to the Bingen Municipal Code, all dogs more than six months old must be licensed with the City of Bingen at a cost of $25 per year. That cost is reduced to $10 per year if the dog is spayed or neutered, a rabies shot must be obtained, and the tags must be attached to the dog at all times.
Not licensing a dog can carry a fine up to $100 and the dog could be impounded.
The municipal code also states that all dogs on public property must be on a leash no more than 8 feet long.
If a dog's owner cannot be determined due to lack of licensing, the dog will be impounded in Goldendale for seven days. If it is not claimed, the dog will be passed on to Dogs of the Gorge, but if it is still not adopted after a month the dog is then handed off to Home At Last. If Home At Last cannot find a home for the dog it is then sent to an adoption organization in Portland.
No dog impounded in Goldendale has been euthanized in six years, except for those that are determined to be dangerous, according to Johnson.
"We don't put dogs down. We are no-kill unless it's a dangerous dog and then unfortunately we have to put those dogs down," he said.
Johnson noted that in the past the Bingen council was not provided with regular reports on animal control and that the new officer would try to provide monthly reports. He also said the new animal control officer will be patrolling Bingen on some weekends and will be on foot as well as in his vehicle.
"I walk a lot and sometimes we get sort of accosted by the dogs that are running at large, so that might be a better way to know what those dogs are doing," Kiewit said.