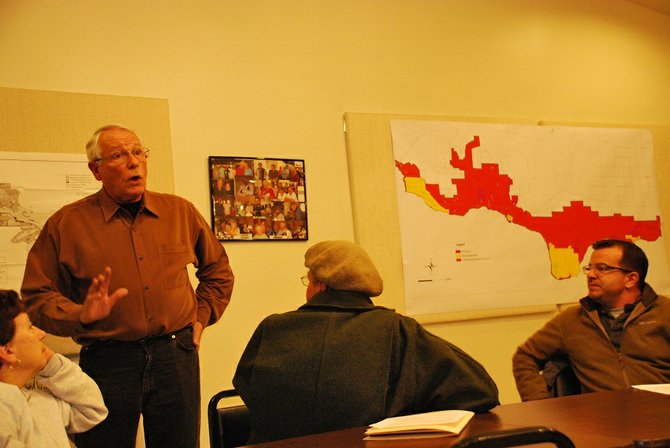 A torrent of opposition to the Gorge Towns to Trails (GT2T) project became apparent at a recent emergency Lyle community meeting when residents voiced concerns and displeasure regarding the proposal led by Friends of the Columbia Gorge.
More than 100 people, mostly from Lyle, attended the meeting on Tuesday, Dec. 3 at the Lyle Lion's Community Center. Oren Johnson, a resident of Lyle and landowner, organized the meeting and opened with a half-hour-long speech on why Lyle should oppose more trails being brought into town.
"What it looks like on the surface is not always the way it is," Johnson said during the meeting.
GT2T was launched in 2011 with the intent of connecting trails throughout the Columbia Gorge. Broken into three parts, GT2T would feature a 32-mile trail network between Washougal, North Bonneville, and Stevenson via the Steigerwald National Wildlife Refuge, the Cape Horn Trail, Beacon Rock State Park, and the Pacific Crest National Scenic Trail. It would also include the Historic Columbia River Highway State Trail between Hood River and Mosier.
Finally, there would be a connection between Lyle and the Cherry Orchard Trail. Out of this last part grew the recent uproarious community meeting in Lyle where tempers flared and emotions ran high.
The Friends owns 550 acres that encompass the Cherry Orchard Trail, which would be connected to the town under GT2T, though no specific plan to do so has been developed yet, according to Renee Tkach, project manager of GT2T.
Taxes, grazing, property owners' rights, maintenance, wildlife, and multiple other issues came up at Tuesday's meeting, but residents were particularly upset by the meetings held by The Friends once during each month of September, October, and November, all of which Johnson attended.
During his opening remarks Johnson accused The Friends and The Lyle Community Trail System planning team of attempting to hold the meetings to plan trails without alerting the public.
"There really wasn't any real input from people other than those who really wanted the trails. That was very concerning. There was no advertising about it. There was nothing in our community newsletter about it. It was just incredibly perplexing that it was basically being done behind the doors and it's something that this particular organization has been known for," Johnson said.
In an interview with The Enter-prise following Tuesday's meeting, Tkach said the meetings in September, October, and November were meant to develop a community outreach strategy with Dan Miller, a community planner for the National Parks Service who was brought in to assist with GT2T via a Rivers, Trails, and Conservation Assistance (RTCA) grant.
"This whole secret, behind closed doors thing is really not true," Tkach said. "That first meeting and all of those meetings were all about how we go about this in a fair manner to reach out to the community. There was no trail planning, there was no vision, there was no drawing lines on a map."
By the last meeting, Tkach said many residents with questions and concerns over connecting the Cherry Orchard Trail were in attendance, but members of the crowd at Tuesday's meeting were not convinced The Friends weren't trying to hide the planning behind GT2T.
"You need to do a better job advertising if you want an actual idea of what the people of Lyle want," said Nissa Huber, who identified herself as a sixth-generation Lyle resident. "You haven't been here that long and you don't know what the people who have been here a long time want, so you need to get an accurate opinion, not just 'oh, there's someone who uses the trail, maybe they want more.' Go to the trailhead and see that those license plates are from Oregon. They're not Washingtonians, they're not Lyle residents."
Amidst grumblings from the crowd, Miller pointed to an online survey regarding the Lyle Community Trail System aimed at garnering public comment on a community trail system leading into Lyle and a planned open house on Dec. 11 at the Lyle Activity Center.
"There is an opportunity here to have hiking, equestrian, and mountain biking trails on public and willing private land owners' lands. That's what I'm here to find out, what the community wants," Miller said.
The 18-question survey asks what kind and the length of trails that would be preferred, if the user currently hikes on the trails near Lyle and how often, and whether or not a legal trail system would not only be an asset to the Lyle community, but also if the user even wants a trail system leading into Lyle.
The survey can be found and only taken once at http://www.surveymonkey.com/s/Lyletrails.
Johnson focused on the first portion of the survey that asks users where they live; saying of the locations provided there is an "other" option that could lead to an inaccurate portrayal of support for a trail system in Lyle. Miller said users are asked to specify where they are from under the "other" option and that he would draft a report specific to the responses compiled from residents of Lyle and that he would personally mail the survey to residents with computers.
"I have serious questions on whether or not this is really going to be reflective of Lyle and not everybody else," Johnson said.
Of the concerns brought up by Johnson at the meeting, impact on taxes was one of the most prominent. Johnson worried that if The Friends decided to sell their 550-acre parcel containing the Cherry Orchard Trail originally owned by the late Nancy Russell, founder of The Friends, Lyle could lose thousands of dollars in property taxes.
"There are some pieces of property that had been acquired by Nancy Russell and sold, not always for a profit, but sometimes for a profit, but it doesn't make any difference if it was sold for profit or not, the property is ultimately taken off of the tax rolls and ultimately I can fathom that this is going to happen with this 550 acres too," Johnson said.
Tkach said The Friends has no plans to sell the Cherry Orchard property and pointed out at the meeting that as a non-profit organization The Friends doesn't have to pay property taxes, but paid almost $13,000 in taxes last year.
"We have not approached any agencies ever in regards to selling, which means historically we are not interested in that. We have a board, so I am representing my board and land trustees and my land trustees historically have no interest in selling," Tkach said.
Klickitat County Commissioner Dave Sauter was also at Tuesday's meeting and said "the county is certainly interested" but that if the residents of Lyle are displeased with the idea of additional trails then the process should stop in its tracks.
"There are a whole bunch of processes that haven't even begun as far as conditional use permits and all those kinds of things go, but the first question in any kind of land use or planning process is 'is the thing we're proposing even something we should even do or want to do?' If the answer is 'no' then all that other stuff doesn't even matter. You don't have to talk about parking lots and traffic and fire, so the very first question is 'is this something that the community wants?' and if the answer is 'no' then that should be the end of it," Sauter said.
Initially, the Lyle Community Action Council and the Lyle School Board supported GT2T, but both have since rescinded that support. Emails requesting comment from Penny McAnally, president of the Lyle School Board, were not answered in time for this report.
Additionally the Skamania County's board of commissioners rescinded their support for GT2T in a letter dated April 30, citing "impacts to private property right and trespassing, unauthorized building of new trails and maintenance of unapproved existing trails, and potential sales and easements of private land into trust management and eventual purchase by the federal government."
Darla Brashers, chairwoman of the Lyle Community Action Council, said the decision to reverse support for a community trail system came after hearing from members of the community.
"We just weren't 100 percent for it, kind of like everyone else in the town. As we thought about it we decided on all the ramifications on what would happen that weren't brought out in the open. (The Friends) have their own agenda. Trails aren't a big deal, but everything else that goes with that we weren't so thrilled with," Brashers said.
Johnson went on to mention a letter dated May 8 from the Columbia River Gorge Commission to The Friends regarding GT2T addressing both the Cherry Orchard property and GT2T. According to the letter supplied by Darren Nichols, executive director of the Gorge Commission, further recreational development on the Cherry Orchard property would be considered "large-scale use" and therefore be subjected to extensive resource surveys and extensive information to be submitted to see if "the property contains sensitive resources that warrant protection."
The letter also states that after reviews of the property were conducted in 1995, 1998 and 2007 concerns were brought up regarding "natural and cultural resource impacts including historic and archaeological cultural resources, sensitive wildlife and plant habitat, and drainage."
"So after I was finally able to get the school district and the council to send letters to rescind their support, then these meetings start up. Now when the school district says no and the community councils says no and the caution light goes on for the Gorge Commission, do you think that would have any impact on trying to slow the machine down? No way," Johnson said.
Nichols said there has been very little discussion among the commission about GT2T, but that The Friends have presented to the panel a few times and shared their "vision" regarding the proposal. The portion of the commission's letter regarding GT2T notes that "without adequate, coordinated regional planning, a loop trail will lead to human-related resource degradation on nearly every landscape in the Gorge. We encourage you to consider the possible unintended results this project may have."
"We did express some concerns, as we would for any large scale development project, but it's difficult for us to respond because we haven't seen any kind of detailed proposal, so we're waiting on that and a more detailed analysis of the impacts, both positive and negative, before we would respond, and that's true for any development proposal in the national scenic area," Nichols said.
Among the supporters The Friends lists are U.S. Senators Patty Murray and Maria Cantwell (both D-Wash.), as well as Senators Ron Wyden and Jeff Merkley (both D-Ore.). The list of more than 60 entities and businesses also includes the Old Lyle School Supporters, City of Stevenson, and the Stevenson Business Association, among others.
Other members of the crowd on Tuesday said the amount of activity on the current trails in and around Lyle at night grows worrisome and even some of the recreationists have started to bother locals, so more trails would not be desirable in lieu of more after-dark commotion.
"We have nothing but crap going on all the time. There's drugs there, there's beatings there, there's people living there for months at a time. It goes on day and night. You don't want to go out in a yard at night because you don't know what's going on. You can see bikers taking their clothes off with those spandex shorts on, get on their bikes, and go up the trail. You don't want it in your neighborhood," said Cindy Martin, who said she has lived in Lyle for 60 years and now lives near the trailhead for the Klickitat Trail.
Some residents at the meeting were convinced that no matter what the survey or open house reveals, a community trail system leading into Lyle is inevitable.
"Nobody has ever approached me and with all these people that are saying 'no,' are you going to listen to us? Are you going to listen to what we want? No, you're going to go ahead and do it anyway," one woman who did not want to be identified said. "Are you really going to listen when we say 'no, we don't want this'? No, you're not. You're going to go ahead and do what you want. You don't live here. We do. It's not fair to us people that live in this community to have someone else come in here and tell us how to live our lives."
Miller said if the surveys convey an overwhelmingly negative attitude toward a Lyle community trail system, the National Park Service will have nothing more to do with it. Tkach said The Friends will also stop trying to connect trails into town, but the Cherry Orchard remains fair game.
"We will back off leading a trail into town, but we already have an existing trailhead, so we would most likely expand a trail system from that on our land," Tkach said.
As Tuesday night's meeting progressed, concerns over everything from economic development to hunting and grazing on the nearby Department of Natural Resources land that could also be used to expand the trail system.
Larry Leach, Klickitat District Manager for DNR, said the 950-acre parcel would continue to be open for "dispersed recreation," like hunting and hiking and that there is currently a grazing lease associated with part of that land which would also go undisturbed. He added that no trails have been proposed yet, but once DNR gets a proposal from The Friends it would have to be evaluated to ensure it is consistent with land trust and environmental obligations before any sort of go-ahead could be given.
"A trail would have to show that it would not negatively impact any of our revenue-generating activity, and grazing is definitely a revenue-generating activity," Leach said.
In the break of the wave of opposition at Tuesday's meeting came the few residents in the crowd who wanted additional trails for health and wellness benefits. Lynda Esaacson, director of the Klickitat Trail Run, also hoped more trails would bring more business into the community.
"I've got to say, the trail run opened up a lot of possibilities to do fundraising for our community," Esaacson said. "More trails mean more possibilities for bringing more people in here and to grow the area. Let's bring some money in from other areas instead of pulling it out of our own pockets all the time and bleeding ourselves dry. I think it's a good thing to bring business in from other areas."
Walking away from it, Tkach said she hopes to gain more input from the public on the proposed trail system and said she is not discouraged by the amount of opposition GT2T is now meeting, but is instead disappointed for the residents who do want additional trail access.
"I think it's sad that one person can destroy something that could be so positive," Tkach said.
Sverre Bakke contributed to this report.