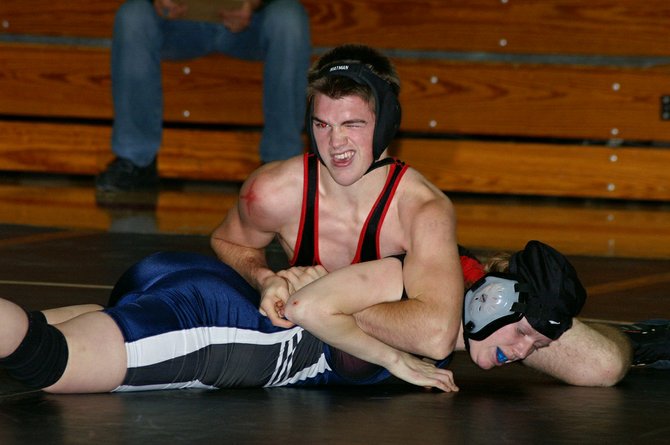 Five Columbia wrestlers, led by Austin Walker's victory in the 195-pound weight class, earned placings at last Saturday's Bruin Interstate Invitational in Miller Gym.
Walker won all three of his matches on the day, starting with a pin of Doug Fry of Rex Putnam at the 1:03 mark, continued with a pin of Mitchell Lincoln of Hermiston, Ore., in 50 seconds, and finishing with a pin of Vince McFarland of Rex Putnam 31 seconds into the championship bout.
Walker scored the first takedown in all three of his matches and never trailed in any of them.
In the team standings, Columbia finished third with 77 points. Hermiston's 'A' squad won the meet with 153.5, and Stevenson was second with 120, though each team won three weight classes. Rex Putnam, of Milwaukie, Ore., placed fourth with 66. Hood River, Fort Vancouver, and Hockinson also sent wrestlers to the invitational.
Fletcher Andrews (2-1 record for the day) picked up second place in the 113-pound weight class. He lost the final to Jack Meads of Hermiston 'B' by decision, 12-2.
Miguel Lemmon (2-1 for the day) posted the team's lone-third place finish. He earned it with a 14-5 decision over Ben Zora of Hockinson.
Fourth-place finishes went to Columbia's Regina Bell and Austin Morris.
Bell (2-2 for the day) lost her match for third place at 126 pounds to Brice McDonald of Rex Putnam by fall with 10 seconds remaining in the second period.
Morris (2-2 for the day) reached the consolation final of the 145-pound weight class, only to lose a hard-fought 6-5 decision to Will Sharkey of Hermiston 'A.'
Matt Bergstrom, Oscar Cortez, and Michael Waldron also competed for the Bruins but did not place. Nathan Bell was unable to wrestle due to a personal commitment.
Coming up: CHS is at Cathlamet on Saturday for the Down River Challenge.