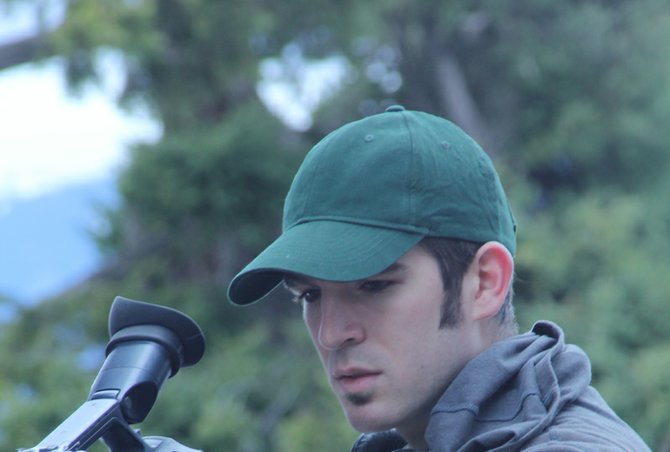 Zoller: the name has been practically synonymous with whitewater rafting in the Columbia Gorge for the past 30 years. Since family patriarch Phil Zoller and his oldest son, Tracy made their debut trip down the White Salmon River in 1980, generation after generation of the Zoller clan has followed in their footsteps, jumping into rafts and learning how to navigate dangerous rapids from a very young age.
Zach Zoller, grandson of Phil and son of Mark Zoller — current president of their family-owned BZ whitewater rafting company, Zoller's Outdoor Odysseys — is no different in that respect. Zach first went down the White Salmon River before he was four years old (and fell out of the boat with glee), guided his first trip at age 11, and became the youngest state-certified Class IV commercial whitewater guide in the Pacific Northwest when he received his certification on his 18th birthday.
However, Zach, now 24, is slowly but surely making his name known in a different part of the country in an entirely different field than whitewater rafting: film. Since attending film school at University of the Nations in Kona, Hawaii, Zach has spent the past few years working on a variety of films, including the recently released Disney feature Oz the Great and Powerful, a blockbuster film that has grossed nearly $500 million at the box office since opening March 8.
Zach doesn't acts like a Hollywood big-shot, however, and remains fairly modest about some of the work he did on the film as assistant to one of the film's executive producers, Grant Curtis.
"There was some paperwork and e-mailing, making sure there were updates on the scripts when new pages came out — I guess 'exciting' things like that," he jokes.
All kidding aside, Zach says he was extremely grateful to be a part of Oz, which has been by far the biggest film he has worked on in his short but already prolific career.
His first productions, though, were extremely low-budget affairs. In one of his earliest films, an 11-year-old Zach used his parents' Sony camcorder to make a stop-motion movie — with his toys as the stars.
"I went and grabbed a bunch of action figures," he recalls. "I remember this clearly because I was sick that day; that's why I had nothing to do. So I put them in front of the camera, but the camera wasn't a stop motion camera, so I had to hit record and stop really quick, and move [the figures], record and stop quick, and move."
From there, Zach went on to use Legos in re-enactments of scenes from Star Wars movies, particularly the one where Darth Vader cuts off Luke Skywalker's hand in Star Wars Episode V: The Empire Strikes Back. When he was a couple years older, Zach switched to live-action and created a series about a James-Bond-esque secret agent named "Mock Bullet." Zach's friends performed their own stunts in the movie — their falls cushioned by the many inflatable rafts at Zach's disposal.
As he got older, both his technique and equipment got more advanced. Armed with editing software, Zach produced "promos" for the family rafting company as well as Jonah Ministries in Trout Lake during his teen years. Zach says his parents were "big supporters of my movie-making," and his mother Sherri, who homeschooled Zach, allowed filmmaking to be a part of her curriculum. His father, Mark, encouraged him to move on to new editing programs once he'd mastered the old ones
After attending film school for a year, teaching, and working on small, independent films, Zach was offered a job in 2009 to work as the set production assistant on My Antonio, a short-lived VH1 reality show filmed in Hawaii. As set production assistant, Zoller worked 12-16 hour days six days week, wrangling actors and making sure the shooting schedule was staying on track.
He also worked as the set production assistant on the 2010 film Predators, which included big-name actors such Academy Award winner Adrien Brody, Laurence Fishburne, and Danny Trejo.
Zach says Trejo, who's often cast in tough-guy roles thanks to his mean mug (check him out in Once Upon a Time in Mexico for a good example), is actually a pretty nice guy in real life.
"It was my very first day... and Danny Trejo spots me and he's never seen me in his life," Zach recalls, "and he's with some other filmmakers and production people and he points and says, 'This guy,' and he walks up and puts his arm around me and goes, 'You take care of this guy. This is a good guy.'"
He further explains that Trejo knew it was Zach's first day and he was just trying to make him feel welcome on the set. Though Hollywood bigwigs are often portrayed as vapid, egotistical, self-centered sharks, Zoller says there are "a lot of nice people who work in Hollywood." Oz director Sam Raimi (who also directed the Spider-Man trilogy) and executive producer Curtis were no exception, who Zach calls "hands-down, two of the nicest bosses you could work for."
All this friendliness may stem from the fact that connections in Hollywood are everything, according to Zach. He says he got the call to work on Oz partially because he once introduced himself to Curtis and had a brief discussion when he was a guest speaker at Zach's school. Zach was also helped by a friend in the film industry, Dan Cunningham, who recommended him to Curtis for the job.
Though he has Hollywood connections, Zach still largely sticks to his local roots. He still lives in BZ with his wife, Lacie (who worked with Zach as an assistant director on a film called Land of Eb) and their 9-month-old son, Oscar. And though he says has no interest in taking over the family business, he'll still lead rafting trips in the summer.
He's also directing his own short films in the Gorge. Last year, Zach filmed Jordan's Watch, a comedy about a man who thinks he can time travel with a timepiece, in Hood River and White Salmon and used local actors. He also filmed a crime thriller, Liable, around Trout Lake, Buck Creek, and the White Salmon River (the trailer can be found on YouTube). The film has since been sent out to multiple producers and Zach says he's "gotten some good feedback about it."
His ultimate dream though is to shoot a feature-length film in the Gorge — something he's working toward right now. He's got a script that he wrote ready to go, has shooting locations in mind, but is hoping that one of his Hollywood connections, Danny Trejo, will will come through for him to help make the film a success.
"When we were on Predators, he told me to hit him up if I ever had a small role for him and he'd be willing to do it," Zach says. "We'll see if we can get him up here. I think that'd be a blast."