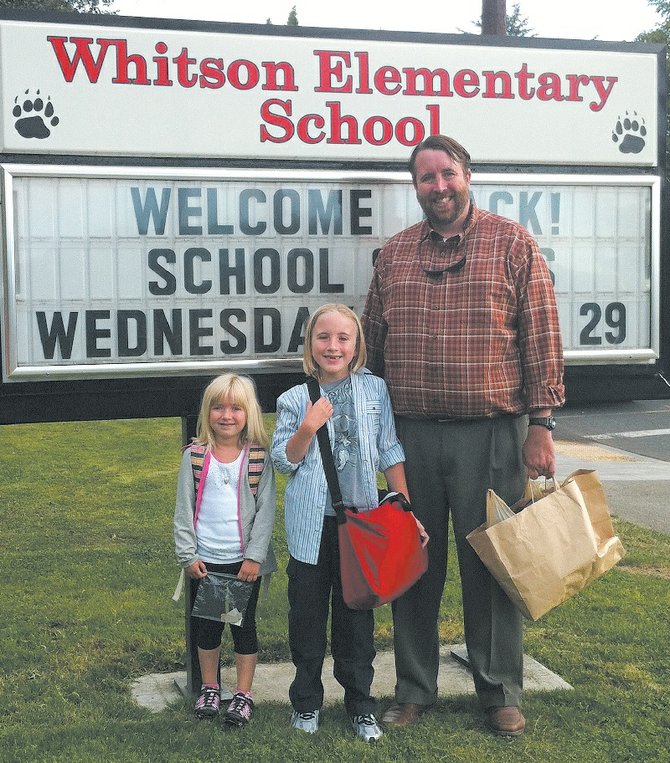 The White Salmon Valley School District cast a wide net when looking for a new Whitson Elementary School principal, but the district's final choice ended up being a candidate already located very close to home.
During the last school board meeting on April 25, the board approved the hiring of Husum resident Todd McCauley, who will start his job as Whitson's top administrator on July 1. Vicki Prendergast, who has been the school's principal for the past 13 years, formally announced her retirement in February and will be leaving at the end of June.
WSVSD Superintendent Dr. Jerry Lewis said McCauley, who has served as the vice principal of Hood River Valley High School since 2009, was one of 16 applicants for the position and was one of the six who were selected to be interviewed by a 12-member panel that included Whitson teachers, paraprofessionals, parents, and Lewis. McCauley and Stephanie Teel, principal of the Clallam Bay School in the Cape Flattery School District, made it to the final interview panel, which included Lewis, Whitson administrators, and school board members.
Lewis said McCauley was chosen because he brings "extensive elementary experience" to the table and has "good communication skills."
"He'll be out there at the door [of Whitson], greeting parents and students," Lewis said. "He's that kind of individual."
McCauley has long been involved in education, starting with his upbringing in Corbett, Ore. His mother, Sandy was an instructional assistant and the head cook for Corbett School District where McCauley graduated high school in 1991. His father, Dennis was a teacher in the Reynolds School District in Fairview, Ore., (and is currently the principal of Mid Valley Elementary in Hood River) and is referred to by McCauley as "my inspiration to work in education."
After graduating with a B.A. from Portland State University in 1997, McCauley received his teacher licensure from Warner Pacific College in Portland, Ore., in 1998. He primarily taught elementary school for several years in the Reynolds School District before accepting a vice principal job at Westside/Dos Mundos Elementary in 2006.
Initially, McCauley and his wife, Jennifer — who works as a lactation consultant at Providence Memorial Hospital in Hood River — rented a house in Hood River, but wanted to live in the White Salmon area and soon bought a house in Husum.
"We really liked the community and wanted our children to go to school here," McCauley explained. "I knew they would have a similar experience to mine in Corbett, which was really great. Attending school in a small district affords families and children opportunities they might not otherwise have in a big district. It also means kids and their families connect in a different, perhaps more meaningful way."
When the opportunity to helm Whitson came up, McCauley said he was "thrilled," because not only is he able to return to elementary-level education where "my heart has always been," but he also gets to see his three children — Sawyer, 8; Lilly, 6; and Jasper, 3 — go through Whitson as well.
MCauley stressed the importance that a good elementary school education played in children's lives and said his primary focus during his tenure at Whitson is to make sure "students reach their full potential" and will receive the proper education now so they can be successful all throughout life.
"I want [elementary school] to be as wonderful and memorable as possible," he said. "It is the foundation for the rest of their lives — academically and personally."