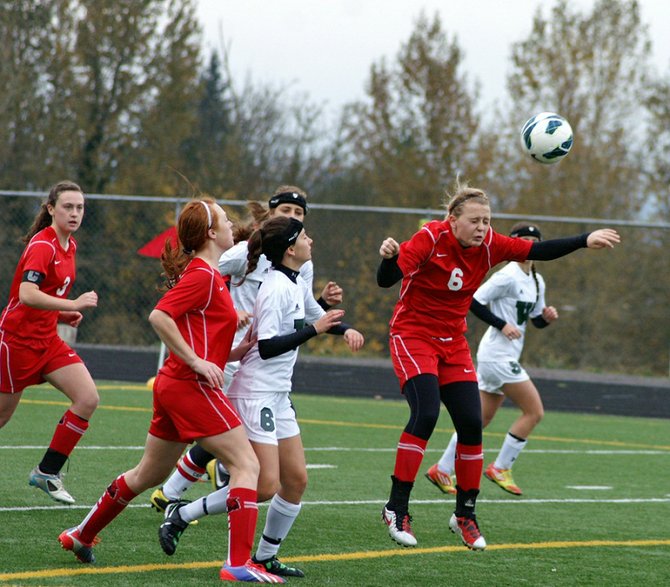 A pair of 1-0 losses last week at the Southwest District Class 1A girls soccer tournament in Kalama prevented Columbia High from clinching its first WIAA state championship berth since 2008.
The Bruins' season came to end on Saturday against a Woodland side that defeated Columbia twice during the regular season, by a combined score of 6-0. The Trico League champions, who were unbeaten and rarely scored upon until they lost their district semifinal match to Elma, 3-1, scored in the 23rd minute against the Bruins, with a 25-yard rocket shot by Grace Adams that caught defenders and attackers alike off guard.
Columbia spent the remainder of the match working for an equalizer, applying constant pressure. Senior midfielder Caitlin Scott and junior midfielder Savannah Story handled a lot of the playmaking duties for CHS, but few of the Bruins' chances resulted in accurate shots on goal, Woodland's defense was that tough to penetrate. Top scorers Sofia Terner and Katherine Childs, both junior forwards, had but a handful of touches between them as a result of Woodland's close marking.
The CHS defense, for its part, played as well as it has this season. Senior defender Kylene Olin and sophomore defender Olivia Grim were cogs in the middle of the back line, and senior goalkeeper Samantha Spaeth had a number of saves to prevent the Wood-land offense from beefing up the Beavers' 1-0 advantage.
But there were a few anxious moments in the second half. At one point, the Beavers deflected their own corner kick toward the CHS goal. Spaeth stopped the ball from going in but couldn't corral it; a Bruins defender had to clear the ball of the line to prevent any further damage.
On Thursday, Columbia High traveled to Kalama to take on Evergreen League champion Rochester for an automatic berth to state. The only goal of the match came in the 21st minute by the Warriors' Camryn Althauser. The 1-0 setback dropped the Bru-ins into a must-win match for third place against Trico League competitor Woodland.
Columbia finished the 2013 campaign with a girls program record 14 wins (two more than it had in its Trico championship-winning and record-setting 2008 season.)