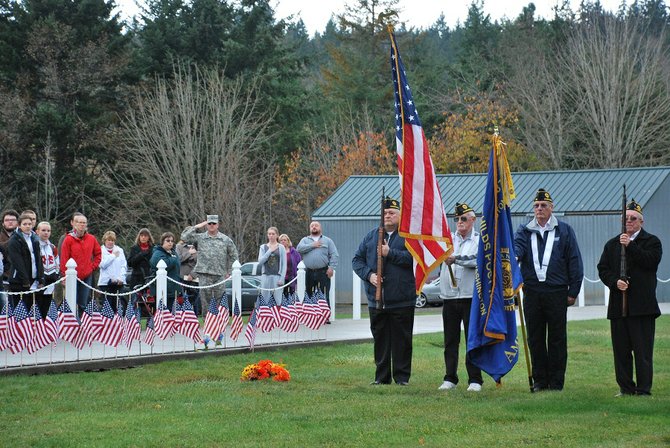 The White Salmon Cemetery's Walk of Honor was lined with Columbia High School students paying their respects to the local veterans present and those who made the ultimate sacrifice last Friday.
Though Veterans Day was officially Monday, Steve Larsen, a CHS teacher, coordinated the event so students could learn more about the Walk of Honor memorial and hear from American Legion Evan Childs Post No. 87.
He said this is the first time in his teaching career that CHS students have made their way to the cemetery for Veterans Day.
As the CHS band played the national anthem and representatives from the American Legion presented the colors, students looked on from along the Walk of Honor, which is lined with the names of 146 veterans.
Jerry Smith, who organized the Walk of Honor, said the memorial has room for 2,000 names and recounted the experience of walking through the veterans' memorial at Idlewild Cemetery in Hood River with his late father-in-law, who is now buried there.
It was an experience that would inspire him to create a memorial in White Salmon.
"The purpose of this memorial is to honor those veterans who gave their lives so that freedom, justice, and our republic might endure," Smith said. "This memorial is without a doubt the most honorable project I have ever undertaken. No one in this great nation can ever honor our veterans enough for their service. I would ask each of you when you see one of our military men or women in uniform go up to them, shake their hand, and thank them for their service. It will make them proud and I guarantee you will feel better for it."
Smith was followed by Ed LaMotte, commander of the Amer-ican Legion Evan Childs Post No. 87 in White Salmon, who gave a brief history of the post and how it got its name.
LaMotte explained the post was established in 1919 and was named after Richard Evan Childs, who fought and died while serving in the U.S. Army in World War I. Childs' perished in 1918, but his remains were not returned to White Salmon until 1921.
Childs was laid to rest at the White Salmon Cemetery, where the American Legion placed Amer-ican flags on each veteran's grave on Saturday. LaMotte ended his anecdote by inviting the students to help.
"You will have a sense of history when you accomplish this," La-Motte said.
The ceremony concluded with Larsen reading this year's presidential proclamation of Veterans Day. Before students began walking along the row of plaques commemorating veterans along the outside of the cemetery, Larsen remembered the veterans who have graduated from CHS who are in uniform now.
"Those of us teachers that have been in the profession for quite a while know we almost always send one of our graduating seniors into military service," Larsen said. "Some of you have older brothers and sisters that are in the military, some of you have known neighbors in the military. This is what Veteran's Day is for, for saying thank you to those who choose to serve their nation in a very important way."