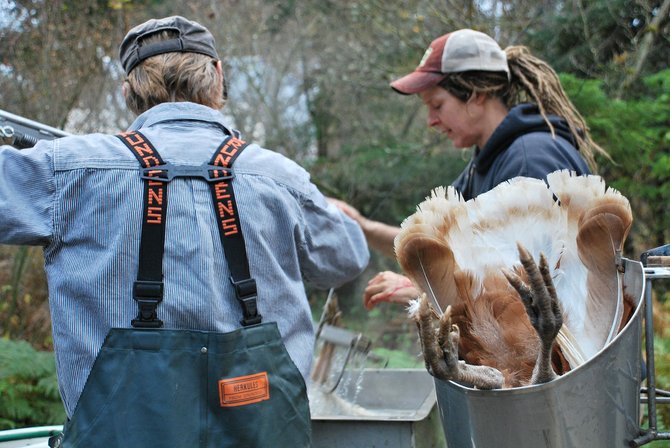 For the past 22 weeks, Lee Lynn Thompson has been taking care of 52 mischievous, meandering, crop-munching, fence-jumping, gobbling occupants of the small farm she leases off of Cook-Underwood Road.
Since growing out of their brooder, Thompson's heritage turkeys took over most of her pasture. She tried fencing them in, but the bourbon red, black slate, and royal palm turkeys managed to get through to her garden where the pumpkins, corn, and carrot tops didn't stand a chance.
"It didn't take long before they decided they were the boss and could go where ever they wanted to go," she said.
This was the first year not only for Thompson raising heritage turkeys herself, but operating a farm as a whole. Scratch A Lot Farm in Underwood specializes in chickens and on Halloween it was time for the turkey portion of the farm's population to be butchered for the upcoming Thanksgiving holiday.
As Thompson worked to slaughter the turkeys in the most humane way possible, she spoke of Temple Grandin, the animal science professor who worked to change the livestock industry.
Thompson's motive while working with turkeys and chickens falls in line with Grandin's philosophies regarding the livestock industry and animal rights.
"(Grandin) talks about animals having two major responses, one to pain and one to fear. To them, pain is just another sensation like hot or cold, but what really bothers them is fear, so I try to minimalize the amount of fear for them," Thomp-son said.
Thompson also feeds her turkeys only grain and supplements them with pears gleaned from a nearby orchard along with barley mash from a local brewer, and fish meal.
That deep-rooted desire to treat her animals humanely stems from an experience Thompson had as a child. To pay for the small school she attended in Wisconsin, students had to work for a short amount of time in a commercial chicken house.
The conditions of the chicken house and the treatment of the birds changed her outlook on the food she consumed.
"It was so traumatic for me. It was traumatic for me for my whole life," Thompson said.
Later in life when she and her husband moved to Colorado, Thompson volunteered at a farm that raised 2,500 chickens and 150 turkeys every year, but in such a way that maintained respect for the animals.
"While I was living in Colorado I saw it could be done and it sparked a lifelong passion for the welfare of the animals we use," she said.
Last year after her daughter graduated from high school, Thompson moved back to a house she and her husband already had in Underwood and started Scratch A Lot Farm. Now with the help of volunteers from the community she operates her own butchering facility certified by the Washington State Department of Agriculture.
Outside, Thompson and one volunteer do all of the preliminary work on the turkeys. After they've been slaughtered by cutting the carotid artery, dipped, and plucked, the turkeys are taken to the evisceration table for organ removal. From there, the turkeys are washed and placed in an ice bath until they're bagged.
Some of Thompson's volunteers say working on the turkeys can be "meditative" because so much focus is involved. For Liz Green, it's reassuring to know the bird she is working on came from the community in which it will be consumed.
"I'm committed to good meat for my family and I want to see Lee Lynn succeed. I want there to be good sources of meat for people," Green said.
As for the farmer in this equation, she'll be raising Cornish and Delaware chickens in the meantime and said turkeys will make a return to her farm next year, but with a few changes for the sake of her garden.
"I'll definitely do turkeys again next year, but I might clip their wings and change my fencing. These guys are great. I love them," she said.