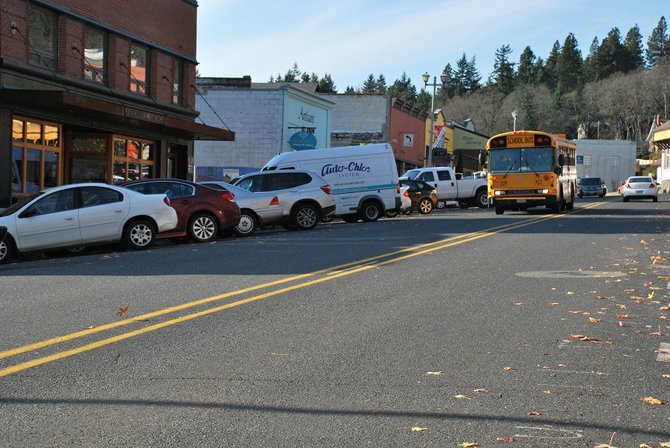 After amending it 15 times, including twice to incorporate public input, the White Salmon City Council approved an ordinance to regulate how vehicles stop, stand, and park in city limits.
Councilors Mark Peppel, George Rau, Jason Sabourin, and Allan Wolf passed the legislation on Nov. 6 by a vote of 4-0. Councilor Bill Werst was absent but excused from the meeting. The measure passed with the support of Police Chief Tracy Wyckoff and Fire Chief Bill Hunsaker.
Wyckoff said the revisions to the ordinance were necessary to make the city's regulations enforceable, to address areas of concern for safety reasons, and to establish a clear understanding between law enforcement and citizens on what can be expected in terms of enforcement. The police department, he added, will begin enforcing the regulations "after the proper signage is in place."
The ordinance establishes parking restrictions on both sides of Jewett Boulevard in the downtown commercial district during daytime and nighttime hours, as well as full-time parking limits on NW Manly, NW Patton, NW Cherry, and NW Spring streets, to name a few of the affected roadways.
In addition to the on-street parking restrictions, the ordinance set times of day when vehicles are not allowed to park on certain city streets and penalties for violations of the ordinance's provisions. The City Council modified the hours under which 2-hour and 15-minute parking restrictions will apply from 8 a.m. to 6 p.m., to 8 a.m. to 5 p.m.; and the hours the "no parking" restriction on both sides of Jewett will apply. Councilors agreed the proposed midnight to 6 a.m. prohibition should run from 2 a.m. to 5 a.m. Moreover, the council changed the general penalty for a violation of the ordinance from $25 to $15.
In terms of additions that weren't in the original legislative proposal, the council added the following language: NW Manly, no parking on the driving surface; NW Patton, no parking on pavement; NW Riverside Drive, no parking on pavement on west or east side of street; NW Cherry, no parking on north side of road; and NW Spring, no parking on south side of road.
Two area residents offered public comment in favor of no parking on the south side of NW Spring Street, even though the City Council did not hold a formal public hearing on the matter. With regard to NW Manly, a city resident advised that sections of the street do not have pavement.
Rau said in an e-mail that Councilors Sabourin and Wolf drafted the amendments that went before council on Nov. 6. He said they were based on input Sabourin and Wolf had heard from citizens and their own reviews of the ordinance originally proposed by Chief Wyckoff. Moreover, Chief Hunsaker provided input on safety issues and accessibility to city addresses for emergency response vehicles.
"Unique streets -- Manly, Patton, Riverview, and Spring -- presented special consideration due to location and road type and width for safety, and these were dealt with by amendments to clear up ambiguities," Rau noted, and added the fine levels, as amended, more closely approximate those in effect in the City of Hood River.
The adoption of revised street and parking ordinance by a supportive City Council, Rau continued, is a reflection of the police chief and police department taking on a greater leadership role in the overall process of enforcing city regulations. "I see this as a positive trend," he said.