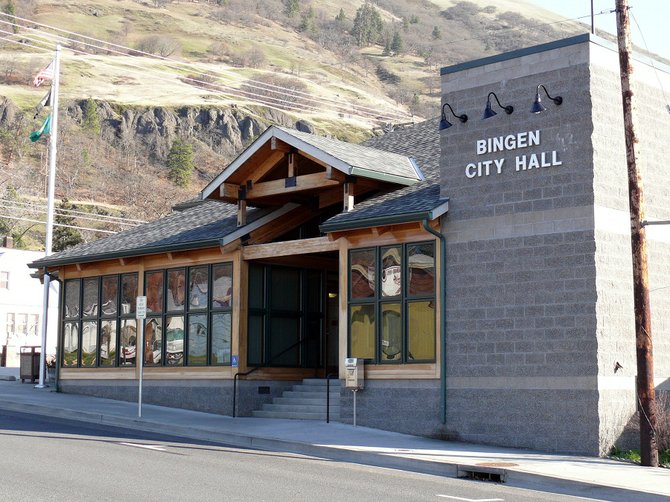 The Bingen City Council took its first step toward finalizing the 2014 budget last week by approving a resolution and an ordinance that will increase property taxes by 1 percent.
The property tax increase will equate to an additional $1,916 the city can use to offset the cost of construction or improvements to city property if the budget is passed in December. The proposed 2014 budget would include a $947,306 general fund.
Bingen is also proposing a 5 percent increase in water rates. Sewer rates will remain the same under the 2014 budget.
In a letter to Bingen residents, Mayor Betty Barnes explained that the city is continuously in the process of applying for a water right that will allow Bingen to purchase more water from White Salmon in the future to lessen the smell associated with hydrogen sulfide that has become the bane of the city's existence.
"Purchasing more water from White Salmon and using less of the water from the city's wells should alleviate the problem. The city council determined that this was the most cost effective solution at this time," Barnes wrote.
The council also examined the inter-local agreement it has with White Salmon regarding law enforcement. The total budget for the Bingen-White Salmon Police Department for 2014 will be $707,003, of which Bingen will pay $182,336 and an additional $20,712 in overhead costs, bringing the total to $203,048.
That amount will cover the police chief, three officers, and a clerk. A new drying room container used for evidence collection and a new laptop will also be purchased.
No new police vehicles will be purchased in 2014, but Bingen budgeted $10,316 to be transferred to the Police Car Reserve Fund so a vehicle can eventually be purchased.
The council did not receive any public comment regarding the budget discussions at the Nov. 19 meeting. The council will discuss the budget and open the opportunity for public comment again at its Dec. 3 meeting. The budget must be passed before Dec. 31.