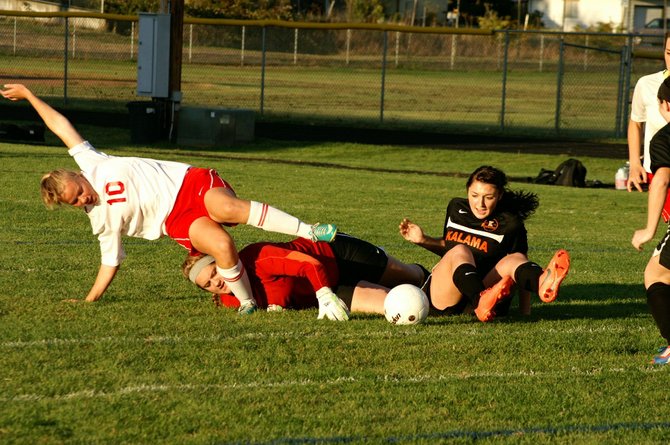 Columbia High enjoyed some more home cooking last week in running its rec-ord to 5-1 and moving into second place by itself in Trico League girls soccer standings.
The Bruins edged Castle Rock, 2-1, here on a rainy and cold final Tuesday in Sep-tember, then followed up with a 6-0 victory over visiting Kalama last Thursday.
Columbia put its five-match winning streak on the line Tuesday night at La Cen-ter. The result of the late game was not available at press time.
Bruins Coach Amy Ka-senga felt good about CHS's victories over Castle Rock and Kalama and said she enjoyed watching different players step up their play and contribute to the wins.
"I liked the variety of goals we scored and the versatility of the players we were able to switch around without our level of play decreasing," Ka-senga said, and added, "We played smart as far as shooting, by keeping the ball low and giving ourselves a chance with a follow-up in case the first shot missed."
For the week, the Bruins put 47 shots on goal and got goals from five players: three by Caitlin Scott and one each by Sofia Terner, Savannah Story, Juliet Knowles, and Claire Anderson. For Ander-son, it was the first varsity goal of her career.
Defensive standouts in CHS's two matches included goalkeeper Samantha Spaeth and defender Kylene Olin.
Columbia 2, Castle Rock 1: After a scoreless first half, Caitlin Scott put the Bruins on the scoreboard when she converted a penalty kick. The Bruins increased their lead to 2-0 via a Castle Rock own goal when the Rockets' goal-ie misplayed a corner kick by Olivia Grim.
Castle Rock halved the CHS lead with 10 minutes to go when a player slotted a shot to the far post just out of a diving Spaeth's reach.
That was one of nine shots sent toward the CHS goal by the Rockets, who yielded 21 attempts to the Bruins.
The shot totals, said Kasenga, "was pretty indicative of where the ball was and where the play was taking place."
She added, "It felt good to get out of there with a win. We deserved it. We were the better team."
Columbia 6, Kalama 0: The Bruins started slowly but were plenty warmed up by the 22nd minute, when Sofia Terner shot a rocket that deflected off the Chinooks' goalkeeper and into the net for a 1-0 lead.
Savannah Story scored off a cross in the 38th minute to make it 2-0.
In the second half, Caitlin Scott scored twice (unassisted in the 54th and 64th minutes), while Juliet Knowles (fast break in the 60th minute and Claire Anderson (off a long ball from Terner) each tallied one goal.
"It took us about 15-20 minutes to get warmed up and do what we needed to do to break Kalama down," Kasenga said. "It was fun watching different players on the team contribute."