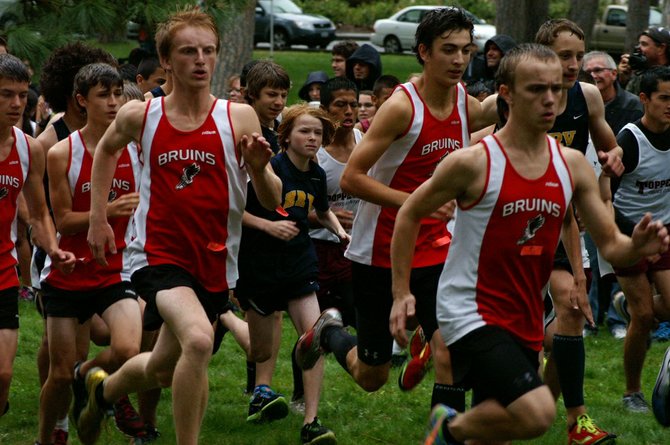 The Enterprise
Five meets into the 2013 prep cross country season, Columbia High's boys and girls teams are starting to hit their strides.
Last week the Bruins competed at a Trico League meet in Kalama on Sept. 25 and at the Bridgette Nelson Memor-ial Invitational in The Dalles on Friday.
"These meets have moved our teams in a positive direction," Bruins Coach Jill Cole said. "Both teams were a solid second to La Center [at Kalama]. The invite in The Dalles was also a great meet for both teams. The girls finished fourth with a strong effort. The boys were second place, bringing home another plaque."
This week the Bruins were scheduled to run in a Trico meet in Vancouver hosted by Seton Catholic.
At the five-school meet in Kalama, Hayden Gibson led the way for CHS on the 3-mile course. He placed seventh, finishing 1 minute, 21 seconds behind the winner from La Center. He was followed by Cabot Roe (9th), Colin Howe (13th), Will Nuckoles (14th), and Nathan DeVaney.
"Hayden continues to step up as the leader for our team," Cole noted.
In the girls race, Claudia Cortez paced the CHS girls, taking third and finishing 40 seconds back of the winner from La Center. Right behind Cortez in fourth place was Jaleh Kermani. Melissa For-tanel (16th), Desiray Almaraz (18th), and Leslie Nuckoles (20th) rounded out the Bru-ins' scoring unit.
Said Cole about the bunched-up finishers, "Our pack running still is our strength."
The 5,000-meter course at Sorosis Park and the competition from throughout the region proved to be tough, not to mention the weather conditions. It rained steadily throughout the afternoon, though Cole said the rain didn't seem to bother her runners.
Columbia's boys, led by two top-10 finishers, placed second in team standings to host The Dalles-Wahtonka. CHS totaled 56 points to TDW's 30.
Gibson came in fourth and Will Nuckoles edged teammate Colin Howe by less than a second for 10th place.
Howe finished 11th, Roe was 13th, DeVaney was 19th, Shawn Tardiff was 22nd, and Jacob Taylor was 24th.
The CHS girls finished fourth among six teams with 80 points. The Dalles-Wah-tonka was first with 29.
Cortez ran sixth overall, while Kermani placed 11th. Also scoring for CHS were Sidra Matthias (17th), Alma-raz (22nd), Fortanel (24th), Daphne Struck (27th), and Raven Erickson (30th).
Cole said CHS competed on Friday with a number of runners sidelined by "this nasty cold that's going around," but those healthy enough to run did so with conviction.
"This [adversity] has given us the opportunity to take advantage of our situation and to run and compete our hardest, regardless of the circumstances."