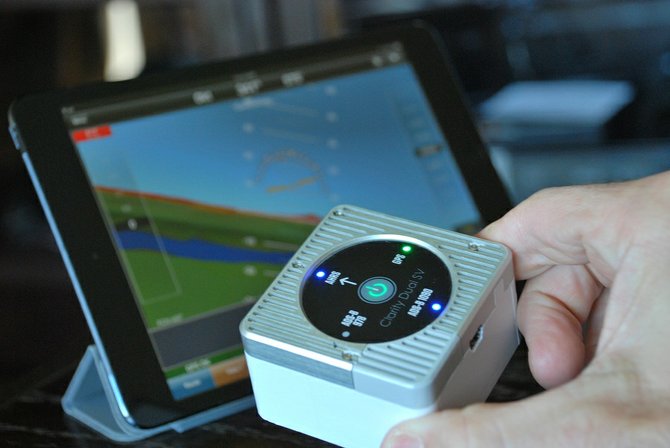 Kelvin Scribner is a man with high standards.
Whether it's the White-Salmon-based Sagetech Corporation that he started in 1998 or one of many other irons he's had in the fire, Scribner has discovered as the founder and president of a tech company in the Gorge what drives him the most.
"Excellence and elegance, just top shelf businesses, that's what I care about. I don't care what it is, as long as it's the absolute best, then I'm happy," Scribner said.
Scribner, originally from Maryland, attended Massachusetts Institute of Technology for his Bachelors and Masters degrees in aeronautics and astronautics, but that's wasn't what he initially thought he would be interested in. Though the curiosity in engineering was always there, he just wasn't sure where to focus that interest until he finally went to officially sign up for his major.
Then he found inspiration from the heavens.
"I always had an affinity for engineering. When I was little I was curious about the way things worked and took things apart a lot, but as I was about to declare my major I happened to see the space shuttle lift off, so I decided that aero-astro would be better than mechanical, which is what I was about to sign up for, so I thought that was pretty cool," Scribner said.
After college, Scribner spent 24 years in the Air Force Reserve and Army Reserve where he learned to fly rescue helicopters. In 1993, he got a call from Andy von Flotow, who was his thesis advisor in graduate school and needed Scribner's help with his new company in the Columbia River Gorge, Hood Tech.
That's when Scribner decided that he had landed in a place too special to leave.
"It's got to be the people and of course the area, it's just so majestic. I really like the community here in the Gorge and I think a big factor is that the people who live here have made a conscious decision to be here, some even making sacrifices to come here, and I think that gives rise to a very high caliber community of actively involved people who care very deeply about everything around them," Scribner said.
At that time, Scribner designed the avionics system for Insitu's ScanEagle. By 1998, he was ready to start a company with an emphasis on aviation transponders, or a device that essentially makes aircraft visible to air traffic controllers.
But with three small children at home, Scribner said the concept of getting his company off the ground with just one client was daunting.
"I've always had that entrepreneurial bug and starting Sagetech was the first step for me. I just had to wait for the right time when I could and it was exceptionally scary at the time. It's been one of the scariest things I've ever done, but also one of the most gratifying things I've ever done," he said.
And so Sagetech was born. Scribner said Insitu is and has always been his biggest client as the transponders his employees make are the perfect fit for small airplanes like the ScanEagle and Integrator.
Prior to Scribner's design, traditional transponders were too large for the aircraft used by Insitu, so the model provided by Sagetech is no bigger than a business card.
"It's an interesting product because an airplane the size of a ScanEagle or Integrator without a transponder is entirely invisible, it's 100 percent stealth," Scribner said. "The problem is that the transponders available at the time weighed as much as the fuel tank or more, so there is no way they're going to carry as much transponder as they do gas, it was just too big. So we designed a transponder that was small enough for the ScanEagle to carry."
In addition to designing technology associated with Insitu's unmanned aircraft, Sagetech also provides refurbishing services for planes that have been fielded, according to Scribner.
Though he said Sagetech, which currently has 60 employees, has had a good relationship with Insitu, Scribner said in recent years expanding his business and providing other products has been key to staying afloat.
"In years past we were inclusive to Insitu and the ups and downs were difficult. What we're doing now is we're diversifying our customer base; we're trying to make Insitu a little less important to the overall makeup of our business so that when Insitu stumbles or has its ups and downs we don't feel them as strongly," Scribner said.
That's where Clarity came into the picture. In the last year, Sagetech released Clarity, a device that amplified awareness of a pilot's surroundings using an iPad and a small receiver that is placed on the dash of an airplane.
"One of the things I discovered with Sagetech was I had to figure out who I was and what I value and when we were introducing Clarity we had to figure out where in the market place we were going to be. We could have designed it to be cheap, as there are a lot of cheap competitors, but I decided that it was more important to build the absolute best quality device and let the price tag fall where it will," Scribner said.
Technology and engineering isn't all Scribner has become involved in over the years. In 2006 he founded Heart of Hospice with the hope of improving Hospice care in the Gorge, but a year later left due to "differences of opinion of how it should be run," he said.
Since then, Scribner has been focusing on Sagetech and had expanded his company's reach to Israel, Germany, France, Australia, and other areas across the globe.
Recently, he decided to take a stab at something completely different: A takeout and delivery pizza restaurant. Scribner is working on opening "Biondo" in Bellevue in the coming weeks.
"I feel like there's a hole in the market and that people have focused too long on cheap pizza," he said. "I don't care what it is that I do as long as it's top shelf and I can offer the very, very best."
And when he's not working on transponders for Sagetech or starting a pizza shop, Scribner enjoys the simple pleasure of hanging out with his kids, who are 16, 19, and 20.
"Occasionally you score a victory and that keeps you going and gets you through the times when you make mistakes. So when things go well it feels good, feels like you've accomplished something. I think learning about our values, learning what's important to us, that's sustaining through the tough times, to understand who we are and why we're doing what we're doing and having faith that it's the right approach," Scribner said.