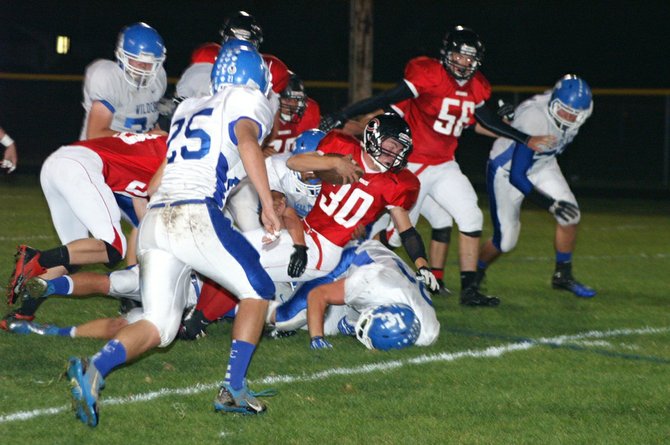 After five weeks of football games in the nine-team Trico League, it's pretty clear where teams stand: front-runners La Center and Wood-land are in a tier by themselves, followed by a middle tier of Toledo, Columbia, and Kalama, then everybody else.
Columbia got a close-up look at La Center last Friday in Bruin Stadium and learned first-hand just how good the state-ranked and unbeaten Wildcats are. La Center scor-ed the first three times it had the ball to mount a 20-0 first-quarter lead that grew to 27-3 by halftime and stood at 48-10 after three quarters. The final score was 48-16.
The loss was Columbia's second in a row after the Bruins opened the season 3-0. Now, the Bruins are playing for their playoff lives with four Trico games remaining in the regular season.
"We knew coming into the La Center game that it would be our biggest challenge thus far this season," Bruins Coach John Hallead said. "La Center is a very good football team, especially offensively. They proved that from the get-go, scoring with very little resistance from us, early and often. We just could not stop them on the ground, and when we did have success stopping their running game, they beat us through the air. Their first three touchdowns were passes."
On the game's opening possession, La Center completed a 70-yard drive by scoring on a pass play that covered 34 yards. Following defensive stops on Colum-bia's first two possessions, the Wildcats scored with passes of 1 and 6 yards at the end of drives that covered 49 and 63 yards respectively.
In response to La Center's air assault, CHS's Gabe Guz-man kicked a 34-yard field goal with 9:19 remaining in the first half to prevent La Center from taking a shutout into the intermission.
But if they were looking for a big second-half turnaround last Friday, the Bruins didn't find opponents at the line of scrimmage that were willing to let them back into the game. Simply put, Columbia made too many mistakes on the offensive side of the ball to make a competitive game on the field into a competitive one on the scoreboard.
"Offensively, we hurt ourselves with dropped passes, untimely penalties, and by failing to convert key third- and fourth-down conversions," Hallead said. "We had good starting field position all night [thanks in part to good kickoff runbacks by return men Guzman and Jared Garwood] but just couldn't capitalize it into scoring drives."
Columbia scored its first touchdown with 5:53 left in the third quarter when quarterback Tanner Rabinowitz, on second-and-6, found wideout Sam Rowlen for a 15-yard score. The touchdown pass concluded an eight-play, 49-yard drive that used exactly 3 minutes of game clock time and, with Guzman's successful point-after try, pulled CHS within 34-10. The Bruins' final touchdown came on a 3-yard pass from Rabinowitz to Rowlen at the end of a 59-yard drive in the fourth quarter.
For the game, Columbia gained 339 yards of total of-fense against a La Center de-fense that bent but didn't collapse. The Bruins rushed for 237 yards and passed for 102 yards in 62 plays from scrimmage. The Wildcats finished the night with 493 yards overall and six touchdowns, including 419 yards and three touchdowns on the ground in 44 rushing attempts. La Cent-er racked up much of its rushing yardage in the second half, when it moved into ball-control mode.
Rabinowitz led the CHS ground game with a career-high 127 yards in 14 carries. John Stephens picked up 77 yards in 17 attempts, and Josh Lewis rushed three times for 26 yards.
Through the air, Rabin-owitz completed 13 of a ca-reer-high 26 passing at-tempts to seven different re-ceivers, with two interceptions. Guzman and Garwood each caught three balls for a combined 54 yards, while Rowlen and Noah Carmich-ael each had two receptions that gained a total of 23 yards.
Defensive standouts for Columbia included the ball-hawking Guzman, who intercepted two of La Center quarterback Wyatt Aguirre's 12 pass attempts and made five solo tackles. Lineman Ryan Aldrich recorded eight tackles, including one for a loss, and recovered a fumble. Line-backer Nathan Bell led the Bruins with nine tackles (one for a loss), and defensive end Austin Walker totaled five solo tackles (one for a loss).
Coming up: Columbia will try to reverse its recent downward drift in the Trico standings tomorrow night against Seton Catholic, in Camas High School's Doc Harris Sta-dium. The Cougars, who are in their second season of 1A varsity football, have won one of four Trico starts and are coming off a 39-22 loss to Toledo last weekend. They are 0-2 all-time against CHS.
"Seton Catholic is a team that has competed better this year than last, although their record – 1-4 overall – doesn't indicate it,." Hallead noted.
The Cougars lone victory was the result of a come-from-behind effort against Ilwaco. Last week Seton jumped out to a 14-0 lead against Toledo before being overrun by the Indians in the second half.
According to Hallead's scouting report, the Cougars' offense revolves around the running and throwing of quarterback Will Noce-Shel-don, who works out of a shotgun spread offensive set. Defensively, the Bruins are expecting the Cougars to line up in a 4-3 formation that will mix man and zone coverage on passing plays.
"We expect to compete at our highest level yet this year versus Seton Catholic," Hal-lead said. "After losing our last two games, we need to get back on a winning track. We want to come out early and score often. We understand momentum from winning big this week will spill over into a key matchup at home [on Oct. 18] versus Castle Rock."
Trico League game Columbia vs. La Center Friday, Oct. 4
Wildcats 20 7 21 0 - 48
Bruins 0 3 7 6 - 16
Scoring summary
1st quarter
L - Max Hiller 34 pass from Wyatt Aguirre (Jacob Living-ston run). La Center 8, Columbia 0.
L - Trevor Roberson 1 pass from Aguirre (kick blocked). La Center 14, Columbia 0.
L - Hiller 6 pass from Aguirre (kick failed). La Center 20, Columbia 0.
Second quarter
C - Gabe Guzman 34 field goal. La Center 20, Columbia 3.
L - Conner Fulton 3 run (Sergio Sandoval kick). La Center 27, Columbia 3.
Third quarter
L - Livingston 2 run (Sandoval kick). La Center 34, Columbia 3.
C - Sam Rowlen 15 pass from Tanner Rabinowitz (G. Guzman kick). La Center 34, Columbia 10.
L - Fulton 10 run (Connor Wonderly kick). La Center 41, Columbia 10.
L - Wonderly 38 run (Won-derly kick). La Center 48, Columbia 10.
Fourth quarter
C - Rowlen 3 pass from Rabinowitz (kick failed). La Center 48, Columbia 16.
Statistical summary
Total Yards: Columbia 62-339 (237 rushing, 102 passing); La Center 56-493 (419 rushing, 74 passing).
Rushing: (C) Tanner Ra-binowitz 14-127, John Ste-phens 17-77, Josh Lewis 3-26, Nathan Bell 2-7; (L) Conner Fulton 22-164-2 TDs, Max Hiller 5-73, Connor Wonderly 3-47-TD, Jacob Livingston 3-35-TD, Wyatt Aguirre 7-31, Trevor Roberson 4-38.
Passing: (C) Rabinowitz 13-26-2-102, 2 TDs; (L) Aguirre 6-12-2-74, 2 TDs.
Receiving: (C) Gabe Guz-man 3-28, Jared Garwood 3-26, Sam Rowlen 2-18-2 TDs, Noah Carmichael 2-5, Ste-phens 1-12, Ryan Earls 1-10, N. Bell 1-3; (L) Hiller 2-40-2 TDs, Matt Braaten 1-17, Ro-berson 1-2-TD.
Tackling (solos-assists-for loss): N. Bell 9-1-1, Ryan Aldrich 8-1-1, Gabe Montoya 5-3-0, Austin Walker 5-3-1, G. Guzman 5-2-0, Garwood 4-2-0, Cody Carse 4-0-0, Stephens 3-2-0, Jaryd Quintero 2-2-0, Pedro Casarez 2-0-0, Rabino-witz 2-0-0, Isaac Bell 1-0-0, Carmichael 1-0-0.
Miscellaneous Defense: (C) G. Guzman, 2 interceptions; Aldrich, fumble recovery.
Turnovers: (C) twice by in-terception, once by fumble, twice on downs; (L) once by fumble, twice by interception.