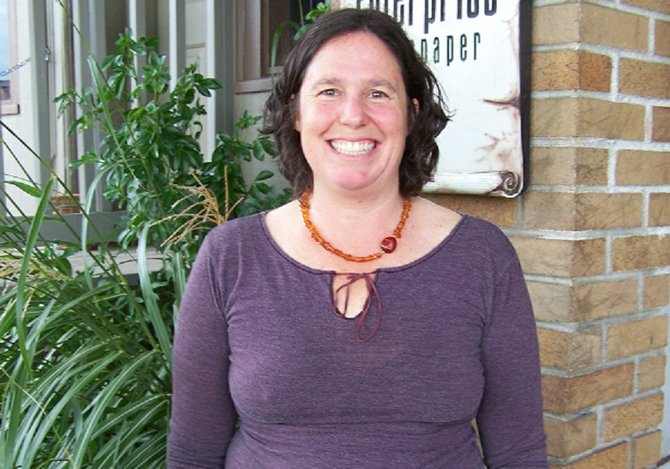 Kimberly H. Hoppus is many things, including: a wife and mother, a wildlife biologist and environmental consultant, and a teacher of Bikram yoga. She can now add to her list of experiences the title of first-time candidate for public office.
The White Salmon resident is running unopposed for a full 4-year term in Position No. 4 on the White Salmon City Council, which is currently held by Mark Peppel. Hers will be the only name appearing under that section on the Nov. 5 General Election ballots that will be mailed to the city's registered voters starting Oct. 18.
"I've done a lot of things, but this is something new, something I haven't done," Hoppus said of running for public office, "but now is a good time for me to do this. Because my two young children are now in school, I see an opportunity to get involved, and I have the time to do it. I love this city and am eager to volunteer my energy to try and make a difference for its citizens."
Hoppus moved to the Columbia River Gorge almost three years ago from La Grande, Ore., when her husband, a U.S. Forest Service employee, was assigned to a new posting locally. Since declaring her candidacy in May, Hoppus has been working to bring herself up to speed by studying the city budget and meeting with city officials to discuss current issues.
"I have a good understanding of what's going on this year," Hoppus said, noting that wherever she has lived, she has been interested in local government operations.
In her statement for Klickitat County's Online Voters' Guide, Hoppus states that she is an advocate of "maintaining a clean, vibrant, and healthy community," and that she will "work to enhance the quality of life for everyone and make the city a better place to live."
Issues that interest her personally include parks and recreation ("I love the outdoors; it's so important to have wide-open spaces where people can play"; "I want to make sure the swimming pool can continue to thrive"), the community library ("I visit the library one to three times a day. I value learning, and the local library is a great resource"), and streets ("I want to make sure our streets are safe for our kids").
Hoppus also would like to see the city develop a more formal way of communicating with local schools, such as through establishment of a council-appointed liaison to serve as a point person for discussing and addressing school district-city is-sues when they arise.
Hoppus' professional experience includes stints as a wildlife biologist for the Washington Department of Natural Resources, the U.S. Forest Service, and Oregon State Univer-sity, and a private consultant with ABR Inc.-Environmental Research and Services. She earned a bachelor's degree in Environmental Studies in 1992 from Ithaca College in New York, and a Master of Science degree in Biology in 2000 from the University of Memphis in Tennessee. Moreover, she has taught Bikram yoga going on six years. (She commutes to Hazel Dell a couple of times a month to teach yoga classes.)
All told, three White Salmon City Council positions are up for election in 2013. Incumbents Jason Sabourin (Position No. 3) and Allan Wolf (Position No. 5) also are running unopposed for full 4-year terms.