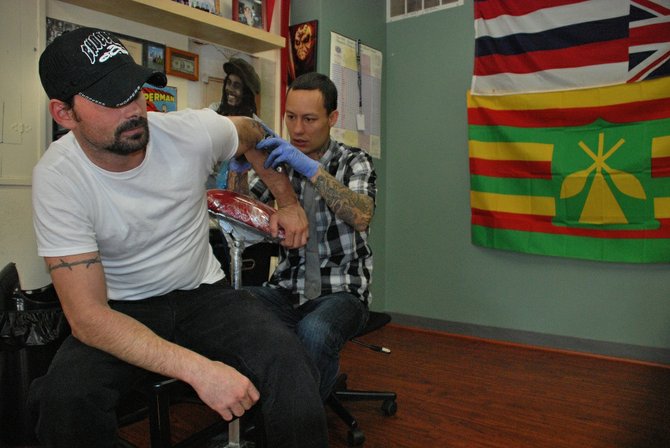 Nathaniel "Aka" Davis knows how to get under people's skin.
Like any tattoo artist, Davis's work varies from customer to customer, but it's his tribal tattooing that got him recognized at the Three Rivers Tattoo Convention in Kennewick on Sept. 29.
"I guess now I can change my title to 'award-winning tattoo artist,'" Davis said.
At the convention, Davis took first place in the tribal tattoo division for a piece he spent more than a year completing for a Bingen local. The tattoo is based on Polynesian tribal art fused with multiple aspects of the culture as a whole.
Originally from Hawaii, Davis has a healthy appreciation for laughter and has been tattooing for more than a decade. With his first-place win he managed to gain a sponsorship from Da Hui surfing, but that hasn't gone to his head.
"Once you say you're the best there's no more room for improvement. That means you're not humble," Davis said.
Davis moved to the Gorge to be with his wife, Laurel, and opened Lost Dog Tattoo at 114 W. Steuben Street in July 2012. The shop got its name from a wandering dog that approached Davis while he was preparing for opening day.
Common sense led him to place a "lost dog" sign in his shop window, leading the dog to its owner and Davis to a fitting business name.
"We come to find out he lives just behind us here," Davis said of the meandering pooch.
Though he hasn't always focused on Polynesian tattoos, Davis hopes to score some more wins at other tattoo conventions.
"I was stoked with first place, but I would have also been stoked with third," he said.
Recognition aside, Davis and his wife have also decided to reach out to the community by setting a $500 donation goal with Susan G. Komen for the Cure. Through October, pink ribbon tattoos will be available at Lost Dog Tattoo for $50 each with 10 percent of all revenue going toward finding a cure for breast cancer.
It is also the couple's hope to start a Toys for Tots campaign in Bingen and to donate to families on welfare, a situation Davis can sympathize with.
"For me, I grew up in a welfare house, so I know how it is," he said.