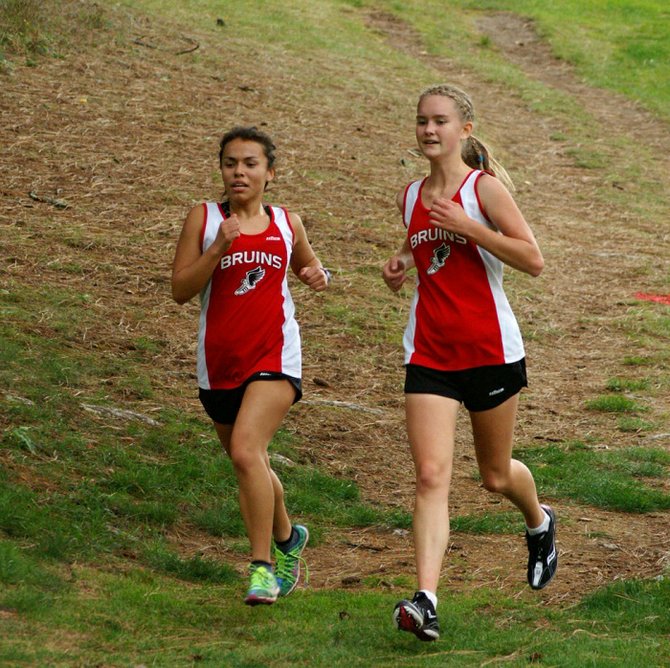 Columbia High's cross country teams closed out their 2013 regular-season schedule last Wednesday by winning their only home meet.
The CHS boys scored a perfect 15 points against competition from Seton Catholic, King's Way, Kalama, and Lyle/Wishram, thanks to top-10 finishes by Hayden Gibson, Colin Howe, Cabot Roe, Will Nuckoles, and Nathan DeVaney. Only Seton, though, fielded a complete team for the 5,000-meter race at Husum Hills Golf Course.
Columbia's girls turned in an equally impressive performance against complete teams from King's Way and Seton. Led by Claudia Cortez's winning time of 21 minutes, 49 seconds, the Bruins posted five top-10 finishes and scored 25 points. Jaleh Kermani, Sidra Matthias, Melissa Fortanel, and Leslie Nuckoles rounded out the Bruins' scoring unit.
"It was nice to come away with a double win," Bruins Coach Jill Cole said. "Many of our athletes saw a great improvement, though it was on a tough course. All the small pieces of training and racing we have been focusing on are now all being put together, and we can see the positive end result."
The Bruins are on hold until Oct. 23, when they host this year's Trico League Championships at Husum Hills. In the interim, they will be training as hard as ever, with an emphasis on refining the racing tactics they've been developing over the course of this season.
"We have our goals set on being league champions, so the training this week is focusing around that, and will carry us through until next week's race," Cole noted.
The aptly named Husum Hills course – which one observer dubbed "Boot Camp" – proved to be a formidable challenge for the majority of last Wednesday's 63 runners. The winning time in the boys race (posted by Kalama freshman Jarod Hulsizer) was 18 minutes, 8 seconds.
Gibson finished second in 18:20 and was one of two Bruins to break 19 minutes and one of seven to finish in under 20 minutes. An eighth Bruin, Shawn Tardiff, missed the 20-minute cutoff by 5 seconds.
In the girls race, Cortez headed to the front at the start and never looked back. She was the only runner in the field of 26 to break 22 minutes. Her closest competitor on the course was King's Way's Emily Dick, who finished a distant second in 22:08.
Cole praised her teams' strong work ethic and competitiveness as keys to Co-lumbia's strong overall performance during the regular season.
"Everyone has raced hard and we continue to be one of the top teams in the league," she said. "We have raced with specific goals for each meet and now, as we approach the end of the season, all of those specific racing tactics will be put together and we will see some strong performances in the league and district championships."
Cole also gave a shout out to the Bruins' younger runners, three of whom were part of a pack last Wednesday that enabled CHS to claim the second through seventh places.
"Our freshmen, Colin Howe, Will Nuckoles, and Fletcher Andrews, have really steped up and have been just as hungry as the veteran runners. I attribute this to our strong middle school program. Coach Mike Hannigan has done an amazing job with the middle school team. The runners coming out of middle school into high school are equipped the experience of what it takes to be a competitive athlete."
TRICO LEAGUE MEET Wednesday, Oct. 9 Husum Hills Golf Course Boys Results
Team scoring: Columbia 15, Seton Catholic 49, Kal-ama (incomplete), King's Way (incomplete), Lyle/-Wishram (incomplete).
CHS: 2, Hayden Gibson, 18:20. 3, Colin Howe, 18:45. 4, Cabot Roe, 19:04. 5, Will Nuckoles, 19:08. 6, Nathan DeVaney, 19:14. 7, Fletcher Andrews, 19:48. 9, Jacob Taylor, 19:52. 11, Shawn Tardiff, 20:04. 17, Miguel Lemmon, 21:03. 18, Jose Salguero, 21:07. 19, John Foley, 21:12. 22, Isaac Black, 21:41. 23, Rylan Idhe, 22:00. 29, Tyler Mann, 23:10. 30, Matthew Petty, 23:45. 33, Jacob Rawding, 25:27.
Others: 24, Jacob Ziegler, Lyle/Wishram, 22:03. 28, Chance Carpenter, Lyle/Wishram, 22:52.
Girls Results
Team scoring: Columbia 25, King's Way 49, Seton Catholic 60, Kalama (incomplete), Lyle/Wishram (incomplete).
CHS: 1, Claudia Cortez, 21:49. 3, Jaleh Kermani, 23:23. 8, Sidra Matthias, 25:12. 9, Melissa Fortanel, 26:16. 10, Leslie Nuckoles, 26:18. 12, Desiray Almaraz, 26:52. 14, Daphne Struck, 27:46. 18, Raven Erickson, 29:18. 21, Lily Schwarz, 30:33. 23, Megan Tew, 32:14. 25, Pak Srisakvarakul, 33:10. Others: 15, Marissah Lacock, Lyle/Wishram, 27:57.