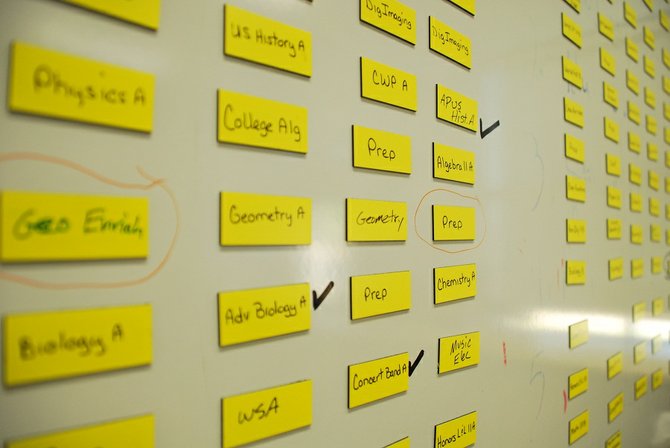 After three years of extensive research, Columbia High School Principal Troy Whittle is ready to make some changes to his school's class schedule.
Whittle and Jenny Vint, a guidance counselor at Columbia High School, have visited multiple schools across the state during that time gauging whether or not a trimester schedule would be appropriate for the roughly 400-student school.
"We don't even have a vote planned yet. We're in the discussion and discovery phase right now," Whittle said.
Since 2005, Columbia High School has been on a seven-period day, two-semester year with each class lasting 50 minutes. Before that, the school operated with four 90-minute periods per day, but funding cuts forced the district to change the schedule.
A trimester schedule would mean three 12-week semesters every year with five, roughly 75-minute classes per semester.
Whittle said the need for change involves the amount of students teachers see each day and the time teachers have to work with those students.
"So it kind of went to this hamster-wheel type of a schedule where it's almost like by the time you set up and take attendance you only have 30 or 45 minutes to teach and then boom, they go to the next class. So there were some concerns about that," Whittle said.
Additionally, teachers at Colum-bia High School see around 130 students throughout the six periods they teach every day, meaning classes consist of around 20 students.
That also leaves 150 hours for planning lessons per year, according to Whittle.
Under a trimester, he said teachers will get between 210 and 225 hours of planning each year and see about 98 students throughout the five-period days.
"When I talk about the student load going down by 30 kids, that's papers you're grading," Whittle said. "One of the major benefits that I see by moving to this schedule is that you're increasing teachers' ability to get deeper in the instruction with kids, prepare quality lessons that engage students, and not just in one subject area, across all subjects."
Though no proposal is ready to go to the White Salmon Valley School Board as of yet, two parents showed up to the most recent board meeting on Sept. 26 to voice concerns about potentially changing to a trimester schedule.
Among the issues brought up regarding a trimester schedule was the potential for lapses in when students will take certain classes throughout the year. For example, a student could take Algebra I during the first two semesters of a school year and then not have another math class for the final 12-week semester and yet again over summer break.
"I understand that changing to a trimester schedule is a real possibility for Columbia High School. I'm not here to tell you what to do. I am here to ask you to consider what is best for our kids when you consider the pros and cons of a trimester schedule," said Amy Hooper, a guidance counselor at Hood River Valley High School and who has a son who attends Whitson Elementary.
But Whittle said during the visits to other high schools that have adopted trimester schedules principals found that the longer classes make up for any break in learning.
"I'm not dismissing that as a concern. It's a concern that I brought up myself in the questioning process, but we feel that the 70- or 75-minute period is a deeper look into the curriculum and a deeper learning process for the kids and that will help them overcome that gap," he said.
Hooper also said she is worried about what will happen when students transfer into Columbia High School from schools on different schedules or vice versa. She even went as far as to describe one student's experience at Hood River Valley High School who could not transfer all of her credits from a school on a trimester schedule and therefore could not graduate on time.
Whittle said none of the schools in Washington on trimester schedule that he and Vint visited, showed any negative impact on students retaining credit due to transferring.
"We want to make sure whatever we do protects the things we are doing well in addition to improving and one of the things we do very well here is our graduation rate is substantially above the state average," Whittle said. "The average is about 77 percent of the kids in the state graduate on time. We're routinely 90 percent or above at Columbia High School."
Vint, who said she has worked at multiple schools on vastly differing schedules said there should be no reason for students to be inconvenienced due to a scheduling change whether they are coming into or moving out of Columbia High School.
"Any schedule is hard. I've had to work on a four-period day, a six-period day, a seven-period day, so I have experience with all types of schedules and to me it's a puzzle, but in my opinion everything is manageable," Vint said.
And the looming implementation of the Common Core education standards also reared its ugly head into the discussion. Ann McDonald, who teaches at Hood River Middle School and has two daughters within the White Salmon Valley School District, said she is worried that she hopes the new schedule won't put students at a disadvantage when it comes to the new Smarter Balanced test, which will be based on the Common Core standards. She said the same of advanced placement classes.
"I'm teaching things that the ninth grade used to teach to my eighth graders. This group of kids isn't prepared for it," McDonald said to the board. "I don't want my child in the position where they're taking the Smarter Balanced test for an English or math class that they finished in the fall and haven't had for at least a quarter."
Under the Common Core standards, students will be required to read more informational and scientific texts and develop critical thinking skills, which is why Whittle said having longer classes will better suit students as they transition into the higher expectations of the standards and to preparing for the test associated with them.
Whittle added that he did find research that pointed to a minor detrimental effect on AP testing in schools under a 90-minute block schedule, but none for trimester scheduling.
"The Common Core demands a different level of rigor than we are currently experiencing in our current testing and standard," he said. "The things kids are expected to do with evidence from literary and informational text, you have to have time to dig into that stuff and get really, really deep in the curriculum."
McDonald also worried about students' accessibility to band class, but Whittle said not only would band be offered all three semesters under the proposed new schedule, but that jazz band will still be offered every day during the hour before school begins.
"I would not be moving forward with this if I felt like there was any evidence that suggested that this would be harmful to those programs," Whittle said.
When he put it to his staff, Whittle said the vote to move toward a trimester schedule was not unanimous. Eighty percent of his staff said they would be in favor of the shift, but some were concerned about the fact that some classes would have to be added to the schedule and ultimately increase elective opportunities.
"This can be seen as a good or bad thing. On the one hand, teachers have to create a new class, on the other hand we just created a new class where kids can do something interesting and new," Whittle said.
That will also mean asking the school board for additional resources to take some part-time employees at the high school to full time positions, but that will have to wait until a proposal is ready to actually go to the board, which isn't ready to happen yet.
Once that does happen, Whittle hopes the proposal will be passed so his teachers can begin preparing for the scheduling change next semester.
"One of the things that's really important to understand, especially in a smaller school, is that we try to provide the same services as closely as we can to larger schools so kids get a real robust experience," Whittle said.