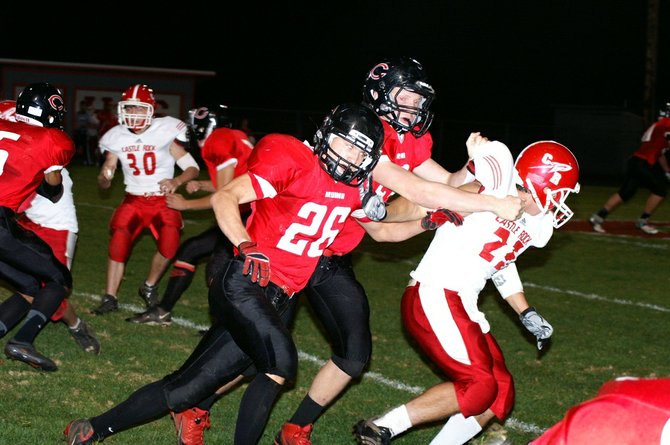 Columbia High gained more than 400 yards and allowed less than 100 last Friday in its 42-7, Southwest District playoff-berth clinching victory over Homecom-ing opponent Castle Rock.
The Bruins improved to 4-2 in Trico standings and are tied with Kalama for third place with two games remaining in the 2013 regular season. Both teams trail unbeaten Trico co-leaders Woodland and La Center by two games.
John Stephens and Tanner Rabinowitz each rushed for two touchdowns and set a career-high for rushing yards in a single game. Stephens ran for 154 yards and Rabinowitz picked up 130. Rabinowitz also threw a 17-yard scoring pass to Jared Garwood and finished with 97 yards through the air. For the game, the Bruins collected 15 first downs and 413 yards in total offense, and didn't turn the ball over.
Defensively, Columbia limited the Rockets to 96 total yards (63 rushing, 33 passing) and nine first downs, and forced two turnovers — a drive-killing, red-zone interception by linebacker Ryan Aldrich in the third quarter and on downs in the fourth quarter.
The Bruins mounted a 15-0 in their first three possessions (five play drives all), scoring on a pair of short touchdown runs by Rabinowitz in the first quarter (both tries for 2-point conversion failed) and tacking on a 31-yard field goal by Gabe Guzman with 9:26 remaining in the first half. A 30-yard run by Rabinowitz on third-and-7 set up his first TD run. Garwood put CHS in striking distance for its second touchdown when he hooked up with Rabinowitz on a pass play that covered 58 yards to the Rockets' 10. Guzman's field goal capped a drive that began at Castle Rock's 21 (thanks to a 37-yard punt return by Garwood) but stalled at the 16.
Castle Rock countered with an 11-play, 53-yard drive that ran for 5 minutes, 13 seconds and culminated in a 6-yard scoring pass from Mason Klingberg to Nate Williamson. The Bruins answered with a four-play drive that covered 54 yards and resulted in a 22-7 lead.
A lengthy kickoff return by Garwood put the Bruins in business at their 46-yard line. Rabinowitz ran for 39 yards on first down, and the Bruins picked up extra yardage after the play when the officials penalized the Rockets half the distance to the goal for unsportsmanlike conduct. Stephens did the rest, carrying for 2 and 4 yards before finding the end zone from 2 yards out with 2:16 left in the half.
"Last Friday, we stressed two things: one, play with spirit, emotion, and excitement — we wanted our Homecoming to be spectacular, and it was," Bruins Coach John Hallead said, "and two, score early and often — we wanted to score on our first four possessions before halftime, and we did."
In the second half, the Bruins scored touchdowns on their first three possessions (two in the third, one in the fourth) and built an insurmountable 42-7 lead.
Following a defensive stand and a punt, CHS began its first drive of the third quarter at its 43 and scored in seven plays. A holding penalty on CHS negated a 9-yard scoring run by Stephens on second-and-goal. After an incomplete pass, Rabinowitz found Garwood, who wrestled the ball away from a defender in the end zone to secure the catch and his first 6-pointer of the night.
Castle Rock started the ensuing drive in good field position at its 49 and moved the ball into CHS territory on the running of Williamson and with the help of 20 yards in penalties on Columbia. The drive bogged down at the CHS 13 as the Bruins' run defense stiffened. On fourth-and-10 from the 13, Klingberg looked for a crossing receiver by Aldrich stepped in to pick it off and return it a yard to the 14.
The Bruins' offense took it from there, marching 86 yards in eight plays for their fifth touchdown of tghe game. Rabinowitz ran for 28 yards and passed for 5, and Stephens rumbled for 53 yards, including the final 20 yards.
Castle Rock failed to generate much offense in its final three possessions (11 plays for 9 yards), which ended, in order, with a punt, a punt, and a turnover on downs at CHS's 10-yard line with 2:01 remaining in the contest.
Columbia tallied its final touchdown on a 9-yard run by Nathan Bell that capped a five-play series that started at midfield after a 37-yard punt by Klingberg went out of bounds there.