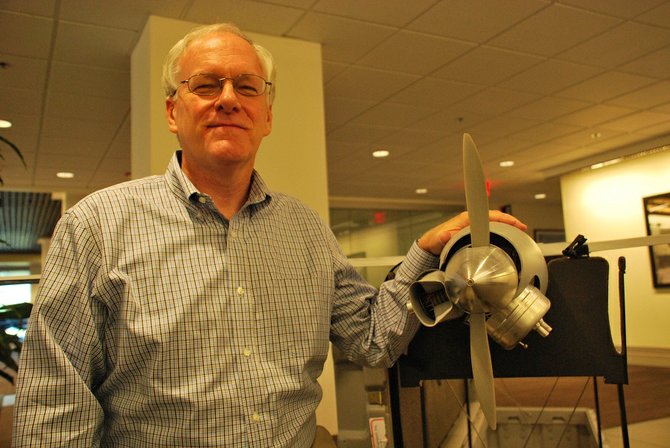 It was 1998, and Steve Morrow just happened to be leafing through an edition of Smithsonian Mag-azine when an article about a tiny airplane caught his eye.
The plane, Aerosonde, had completed a flight from Newfoundland to Scotland, making it the first un-manned plane to cross the Atlantic Ocean. Morrow was struck by the idea of planes similar to those he toyed with as a kid making trans-Atlantic flights, but had no inclination that he would one day be CEO of the company that would grow out of the seeds being planted by Insitu founders Tad McGeer and Andy von Flowtow.
"I never in my wildest dreams would have thought that I'd end up here leading this fantastic group of folks," Morrow said.
But sure enough, in 2011 Morrow was named president and CEO of Insitu by parent company Boeing, which Morrow worked for in St. Louis, Mo., managing major weap-ons programs since 2002.
"It was quite the change," he said.
Prior to his time with Boeing, Morrow spent 26 years with the U.S. Navy as a naval flight officer, aerospace engineering duty officer, and program manager. He got his Master's degree in Aeronautical Engineering from the Naval Postgraduate School, but obtained his Bachelor's degree in Electrical Engineering from the University of South Carolina.
Coming from a military family —Morrow's father served in the Navy as well — South Carolina is about the closest thing he has to a home state, as his family moved around extensively. He also took after his father when it came to interest in the engineering field.
"My dad was an engineer and went to Purdue and then MIT, so I kind of grew up in that environment. I was one of those kids that if you left me alone in a room and there was something mechanical I would take it apart and try to put it back together again," Morrow said.
Despite his degrees, Morrow is quick to point out that he is no engineer.
"After college I went into the Navy and quickly found out that using technology is a whole lot more fun than designing it and building it," he said.
Since taking over at Insitu after the resignation of former CEO Steve Sliwa, Morrow said he has had to focus on steering the company in a new direction when it comes to its products and customers.
For most of Insitu's existence the ScanEagle and Integrator aircraft have driven the company's revenue, much of which has come from selling to customers with the Department of Defense. With military action, especially in Afghani-stan, on a downswing, Morrow said finding new customers and creating new products is vital to Insitu's future.
"My job, as I see it, is to ensure that Insitu is here for a long time and is an enduring company, and that's what I've been doing over the last two years—trying to make Insitu sustainable in the long run so the folks here have a place to work and grow and be here in the Gorge for a long time," Morrow said.
Of course, finding a viable, affordable application for drones outside of the military is a challenge, one that Morrow says hasn't been met yet.
"We're getting there slowly, but we're not there yet. There has to be that one application that would springboard us to commercial use and we're still searching for it," Morrow said. "We talk about firefighting, we talk about disaster relief and support, we talk about precision agriculture, but the jury is still out on whether you can make money doing those things for the customer and whether the customer will even buy your product."
While Insitu began with a focus on things that fly in the air, Morrow indicates that it's time to also look back down to the ground.
"These two little surveillance platforms we build today are not enough. We're going to have to improve them, no doubt, but we're also going to have to diversify into other product lines, including things that are ground based," he said.
Changing up the existing products is only part of the equation. Pulling in and retaining gifted employees to work on those products is also key, but Morrow said the availability of affordable housing options in the Gorge has made hiring a challenge.
Once hired, getting those employees to work together as a team is always the next step that has had to be developed over the last two years.
"My job responsibilities include mentoring people and managing their talents to build teams. In a large, growing company like Insitu, the individual contributor is not enough to sustain you. There has to be a team," Morrow said. "That's easier said than done, but it's extremely satisfying when you get the right group of people together and they can all put individual parochialisms aside and focus on solving a problem."
In a nutshell, being the CEO of Insitu means a busy schedule. When he's not traveling to trade shows, Morrow works from the Insitu offices in Bingen. When he's not there, he works from his home just north of Husum.
Whenever he does find the time, Morrow enjoys fly fishing the Klickitat, Deschutes, and Lewis rivers. If he can't find the time to relax, which happens often, he takes solace in the global impact the technology he first learned of from an article he read in1998 continues to have on the world.
"It's awe inspiring to me that this neat little clever idea could have such an effect on global events," Morrow said.