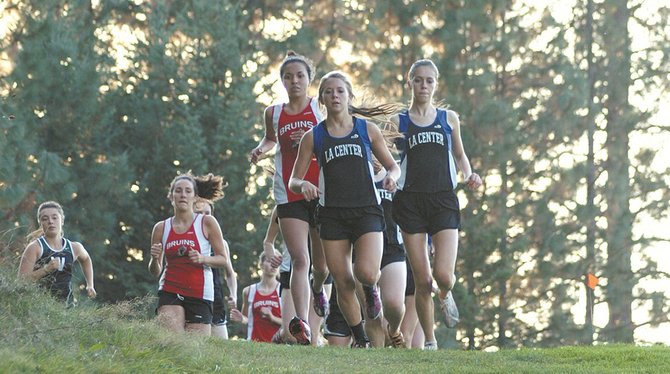 Jordon Bigler and Katie Whitten of La Center set Hu-sum Hills course records last Wednesday to lead their res-pective teams to 2013 Trico League cross country championships.
Columbia High School's girls team was runner-up to La Center in a field of six complete teams that took on Husum Hills Golf Course's challenging, hilly layout, while the CHS boys team placed third among eight complete teams.
"Overall, I thought our teams had a solid performance," Bruins Coach Jill Cole said. "La Center [boys team] is one of the best teams in the state, and we fought hard with Toledo for second place. The boys competed hard and I was pleased with their efforts and competiteness."
"Our girls team did not have their best day as a whole but gave a solid effort for second place," Cole continued, and added, "Both teams were ready to run and it was a good race leading into districts this coming weekend."
Bigler, a senior, completed the 3.2-mile course that featured numerous hills – some down, some up – in a time of 16 minutes, 48 seconds to eclipse the previous course standard of 17:19 set in 2010 by Kody Shriver of Kalama.
Whitten, a junior, became the first girl in the four-year history of racing at Husum Hills to break 20 minutes. She set a blistering pace for runner-up Claudia Cortez of Columbia, and finished in 19:54. Whitten held the previous record of 20:53, which she achieved at the 2012 Trico championships. Cortez, for her part, established a personal record on the course, finishing her last prep race at Husum Hills in 21:32.
The La Center boys also pushed the pace in their race to the team title. After the first lap around the course, a La Center sweep of the top five positions appeared to be in order. But Evan Sutherland of Ilwaco and Forrest Wallace of Toledo, who hung with the pack of five Wildcats, made other plans.
La Center took the first three places, but Sutherland broke the train by finishing fourth, one second back of LC's Jason Dorsey (17:27 to 17:26). Wallace also made a strong late charge and edged Kyle Degraaff of La Center at the finish line; both finished officially in 17:49.
Columbia's top runner was senior Hayden Gibson, who set a personal record of 18:03. That time was good for 10th place. His previous best time was 18:14, set at the 2012 Trico championships.
Gibson had plenty of company in the race's top 20. Freshman Colin Howe came in 13th, senior Nathan DeVan-ey placed 16th, junior Cabot Roe was the 19th finisher, and freshman Will Nuckoles was the 20th. Senior Jacob Taylor also ran a solid race and tripped the timer at 19:23 (24th overall). The times posted by Howe and Taylor were also personal records (PR).
Cortez' time in the girls final wasn't the only PR for the Columbia girls. Sopho-more Sidra Matthias shaved 2:20 off her previous best Husum Hills time and finished eighth with a new PR of 22:52. Senior Jaleh Kermani, a first-year competitor, posted a PR of 23:17 (6 seconds faster than she was during an Oct. 9 league meet) and placed 12th.
Sophomores Desiray Al-maraz (26th) and Melissa For-tanel (28th) rounded out the Bruins' five-runner scoring unit. Senior Leslie Nuckoles (30th) finished 16 seconds behind Fortanel, while team captain and senior Daphne Struck tallied a PR of 27:28 in her final Husum Hills start. Her previous best time, achieved in 2012, was 27:42.
Coming up: Columbia High runners and teams will be competing for individual and team berths to this year's WIAA Class 1A state championships at Saturday's South-west District Class 1A Cham-pionships in Woodland. The district finals will be held at Lewis River Golf Course, 3209 Lewis River Rd. The top 20 individuals and top four teams in each race will qualify the state finals, which will take place on Saturday, Nov. 9, on Pasco's Sun Willows Golf Course.
In the run-up to district, the Bruins have been training hard and "tapering" their workouts so that everybody will be in top form, Cole said.
The CHS girls are seeded third at district, but with 15 other teams vying for state berths, the Bruins "will have to run hard to ensure a top-four team finish," Cole said. "They have been coming on strong these past few weeks in training and are ready to compete hard at districts."
For the Columbia boys, the competition at district will be intense; six teams in the district are competitively close, according to Cole.
"Our boys are going to have to run their best races to qualify for state," she noted, but added, "The boys team is extremely hungry to earn a spot to the state meet, and they are ready to bring their 'A game.'"