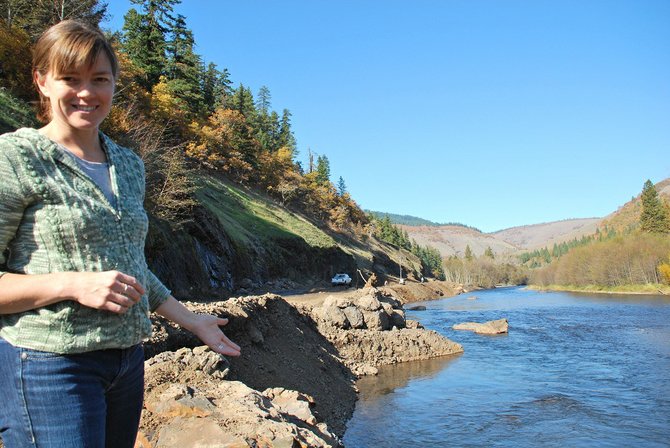 Passing through a green gate and onto an aging asphalt surface, the haul road next to the Klickitat River appears to be mostly unchanged until about a few miles in.
That's when the hardtop ends and conservation begins.
Earth moving equipment moves about the haul road, mostly in the evening to minimize disruption for fishermen. In their wake, portions of the floodplain previously disrupted by the presence of the haul road have begun to flow naturally. Fall Chinook salmon can be seen swimming upstream, poking and prodding pools along the river bank that previously were not there because of the uniform embankment created by the road.
Further up the river, it's almost impossible to tell a road was ever there because vegetation has taken over.
For Will Conley, watershed specialist with Yakama Nation Fisheries, seeing the Klickitat River Haul Road Restoration Project in its fourth phase is 14 years in the making.
"Even back when I was interviewing for my job I saw the potential here from a restoration perspective in terms of a lot of elements being present, or not present in terms of other infrastructure in particular, but also the broader matrix of public ownership that would lend itself to a large scale conservation or restoration project" Conley said. "We've had this really neat convergence of opportunity, capability, capacity, and the ability to implement a design that really I think is very well suited to this area, not really imposed upon it the way some restoration occurs."
The Columbia Land Trust purchased the 12 miles of former haul road along the Klickitat River in 2007 and began restoring the river to its natural state in 2009 through grants provided by the Salmon Recovery Funding (SRF) Board.
Four years later, the Columbia Land Trust is in the middle of Phase 4 of its restoration effort along the banks of the Lower Klickitat and an application for Phase 5 has been submitted through the SRF Board.
In the beginning, Conley helped identify 181 segments of the haul road that were unique to the floodplain to determine where work should be done and how to do it.
"The intent was to take something that was very large in its scale and identify priorities and break it down into bite size chunks. So the criteria I selected to delineate road segments were geared toward two things, workable landscape units that would probably receive a common treatment in terms of the prescription, and then units that also would be expected to have a similar influence for geomorphic and habitat response by restoring river access," Conley said.
When Lindsay Cornelius, stewardship lead for the Columbia Land Trust, speaks of the work her organization and Conley have conducted along the Klickitat River, she reaches the level of excitement only evident in someone who has seen a project through from humble beginnings when just obtaining the land seemed impossible. Most of the more than 20 deeds the Land Trust had to track down before any purchasing could occur dated back to the early 20th century when the haul road was originally used as a railroad to transport timber from Dead Canyon to the lumber mill in Klickitat.
Later, the road was used by trucks to transport timber, but after two portions washed out during floods in 1996 its use was discontinued except for recreation, a use that will still be continued, according to Cornelius, though the haul road is closed to all foot and bike traffic while construction occurs through mid-November.
"The positive thing was that there is no longer truck traffic, so people were using it routinely for recreation, so it's highly valued and a unique resource from that perspective, and we're continuing that use, it's just the nature of that use will change. Instead of riding your road bike on asphalt, now you might have to ride your mountain bike on rock, so it'll be a little different, but the access is being preserved," Cornelius said.
Additionally, the first two miles of the haul road will remain paved, but that's not what Cornelius really gets excited about.
Restoring the portion of the Klickitat River that had its ability to shape its own habitats and ecosystems to its natural, wild self is like removing "a strait jacket," as Cornelius puts it.
When the haul road was originally constructed as a railroad in the 1920s and 30s, Cornelius said fill was imported, which was in turn protected by "riprap," or heavy boulders along the face of slopes leading to the river.
"Ultimately it changes the way the river interacts with its floodplain. So where you would have had a river that would have naturally moved from one side of the floodplain to the other, maybe bounce off bedrock, maybe populate these channels that have been empty for 10 years and then all of a sudden they're wet again, that sort of freedom is eliminated because you have now this consistent 45-degree angle of boulders, so you've decreased the diversity of the environment," Cornelius said.
Freeing the river from this "strait jacket" created by the haul road isn't easy. For Phase 1 alone, heavy equipment had to ford the river where the original two wash-outs occurred to remove an old railroad trestle, bridge, and valley fill in Dead Canyon Creek.
That was in 2009 and since then Phases 2 and 3 have been completed by removing more fill and riprap to free up the river and providing more vegetation that would normally grow around the river.
Allowing the river to shift on its own also restores the balance between energy and sediment transport downstream to a more natural condition. Cornelius said allowing the Klickitat River to contact bedrock results in the creation of pools that fish love to use as habitat. When the road was positioned in front of the bedrock, the river rolled off the riprap without creating these deep pools.
"Bedrock can't absorb energy when it's disconnected from the river, so the river acts like a uniform conveyer belt moving straight downstream," she said. "What that's also doing is changing the way sediments are deposited down river and even upstream. So basically the road alters the energy dynamics throughout the entire corridor and that alters the habitat along the way."
The Columbia Land Trust has six total phases it wants to complete in its restoration project, each one similar to the next in process, but with subtle differences in the habitats that will be improved. For Phase 4, actual work in the river will continue until permitted, which is Oct. 31. After that earth moving should wrap up by mid-November, but seeding, weeding, and managing public access is a year-round effort.
If funded, Phase 5 is scheduled for 2014.
"It's so inspiring to see this work happening," Cornelius said.
But, of course there is always a price tag. According to Cornelius, around $2.5 million will have been spent on the restoration project by the end of Phase 4 and by the time Phase 6 is complete she estimates the cost will be up to $3.5 million, but compared to other similar projects in urban areas that expense is a bargain.
Cornelius said that thanks to the lack of infrastructure within the 12 miles encompassed by the Klickitat River Floodplain Restoration Project, the cost can be contained.
Other similar projects where organizations have to work around power lines, culverts, highways, and homes face higher costs and are usually unable to completely restore the river.
"So it's really a unique opportunity for a really great bargain and that's hard when people see that price tag they go 'oh my gosh' but when you look at salmon recovery projects it's actually a really good benefit for a small price tag," Cornelius said.