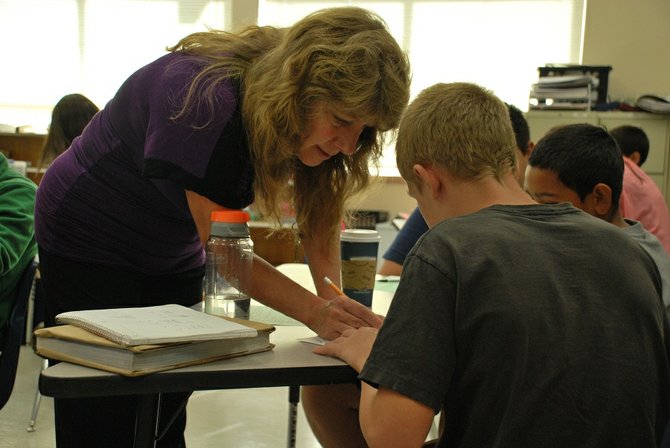 Educators in the White Salmon Valley School District along with those across the country are preparing to tackle a whole new set of benchmarks and standardized tests in the coming school years.
The Common Core State Standards were developed by education professionals within the Council of Chief State School Officers and the National Governors Association from 45 states. Next year, the standards will not only be fully introduced into classrooms across the country, but will also include a new standardized test known as the Smarter Balanced exam.
The 40 states that have adopted the standards hope to align with each other academically so all students will be on the same page, according to the website for the Washington State Office of the Superintendent of Public Instruction.
For Dr. Jerry Lewis, superintendent of the White Salmon Valley School District, there has been some uneasiness as schools prepare to begin using the Smarter Balanced exam after teachers begin using the Common Core standards in math and English or language arts classrooms.
"I think it's great for all of us to work together as a country and to have some common standards so we're not teaching 50 different standards, so it makes sense. But again, it's about the timeline and how you implement all of these initiatives and then do it with fidelity and quality and really make a difference for kids and with teachers," Lewis said.
Students in Washington being on the same page, educationally speaking, as students from across the country is a big perk for teachers who struggle with bringing new students up to speed every year. Karen Strain, a math teacher at Henkle Middle School, said she looks forward to that when the Common Core officially begins to be implemented next year.
In the meantime, Strain has already started tweaking her lesson plans to better match the Common Core, which require students to have a strong conceptual understanding of adding, subtracting, multiplying, and dividing fractions, among other comparably advanced concepts, by the time they reach the sixth grade, according to the state Department of Education's website.
For many teachers, the new standards mean raising the bar and moving faster in the classroom. Strain has had to pass some of her activities along to fifth- and sixth-grade math teachers because by the time they reach her seventh- and eighth-grade math classes they will need to be up-to-speed with concepts previously reserved for pre-algebra classrooms.
"Everything is being shoved down, so the things I cover are about six months ahead of where they used to be, so I'm having to give some of my activities and games and things that we used to do to the sixth grade and I've had to come up with some new activities and ways of teaching because they're kind of raising the standard for what are kids need to be able to do," Strain said.
On the high school mathematics end, Kevin Liddiard, who teaches math at Columbia High School, is headed to a professional development conference in Seattle next month to prepare for the Common Core standards.
While Liddiard supports the increase in rigor the Common Core standards will mean for high school students as they prepare for college, he is concerned about those who might not be planning on entering a four-year institution.
"I think anyone who goes through the common core is going to step into college mathematics and do just fine. They won't have to take those 90-level remedial classes, and that's fantastic," Liddiard said. "I've known plenty of great welders that have come out of our vocational program here that have got great living wage jobs and they don't need to know how to divide complex numbers or understand logarithms, which is a requirement of the Common Core. So I kind of look at it and say that it's great for college-prep, but I feel that perhaps we haven't looked closely enough at those career kids that aren't necessarily going right into college and I'm a little concerned about what that will mean for them as they go for a high school diploma."
Shirlee Jellum, a language arts teacher at Columbia High School, has started implementing more informational texts, such as personal essays, historical documents, and speeches into her curriculum in preparation for the Common Core. According to the state Department of Education's website, students will not only be expected to read and understand influential American literature, foundational documents, and classical myths from around the world, but will also have to write logical arguments based on sound reasoning and evidence starting at the lower grades.
"They're trying to get them ready for career and college and in order to be successful at both you need to be able to problem solve, you need to be able to analyze, you need to be able to look at multiple pieces of information and that's what's the Common Core is expecting students to do," Jellum said.
But changes aren't only going to occur within the classroom during the school year. The Smarter Balanced test will be given during the last 12 weeks of the school year, will be taken online, under time constraints, and will be based on the Common Core standards, according to the state Department of Education website.
The Smarter Balance test will replace the math, reading, and writing portions of the Measure of Student Progress tests that students in third through eighth grades currently take, but the science portion will remain the same.
At the high school level standardized testing will change dramatically over the next five years. Students will either still take the reading and writing High School Proficiency Exams, English and language arts exit exam, or take the Smarter Balanced English and Language Arts exam in 2015 and 2016. Additionally, students will be able to either take the Algebra I or geometry End of Course or exit exams or take the Smarter Balanced math test in 11th grade. By 2017 and 2018, students will have to take either the English and language arts exit exam or the Smarter Balanced English test. For math, high school students will either take the Algebra I or geometry End of Course exit exam or take the Smarter Balanced math test in the 11th grade.
By 2019, all standardized tests will have transitioned to the Smarter Balanced model. That is also the first year meeting standard on the tests will be a graduation requirement.
Teachers are preparing to embrace the standards as they're rolled out and are getting students ready for a new standardized test. Jellum has restructured the questions on her tests to better match those on the Smarter Balance exams, many of which will involve short-answer questions, and is now timing all of her tests.
For middle-school students, last year marked the first year students took the Measure of Student Progress tests on computers instead of with pencil and paper. Strain said her students were able to take practice tests to get ready for the new format, but she would like to see the standards that dictate the way she teaches and students learn stabilize after the Common Core is implemented.
"I've had to change what I'm teaching, my pacing guide, and how I teach it so many times and it's not fair to the kids. From kindergarten to 12th grade they might have had six different changes in the way they're being tested, the format of the testing as well as the benchmarks, and if you change six times from the time you're a kindergartener to a senior you're going to miss some stuff and it's pretty hard to get your test scores where you want them to be," Strain said.