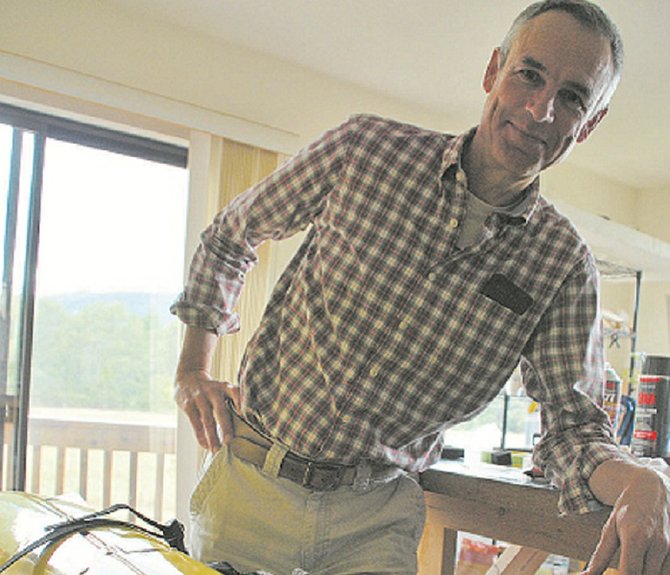 Upon walking into the expansive wooden home off of Oak Ridge Road in Husum, an unexpected site awaits.
In the home's main gallery, normally reserved for a living room, engineers make technical adjustments to a rig used for launching the Flexrotor, the unmanned aircraft developed by Tad McGeer, founder and president of Aerovel, and his team of 10 employees.
McGeer founded Aerovel in 2006 while pursuing a way to use unmanned aircraft in a civilian function, rather than military.
"There has been over the last two years a great deal of hype in the popular press about how unmanned aircraft are going to do any number of wonderful things and that hasn't happened yet. The only thing that has changed over the last two years is the level of hype," McGeer said. "Applications in the civil sector can only happen if the economics are attractive, so we're trying to achieve that."
The Flexrotor is a product of McGeer's attempts over the years to find such an application. The 42-pound aircraft can fly horizontally or vertically and the rig used for launch will hopefully lessen the plane's footprint, as functions like refueling and takeoff occur automatically.
But before the development of the Flexrotor and founding of Aerovel, even before McGeer moved to the Columbia River Gorge to further the Insitu Group in 1994, McGeer attended Princeton and Stanford universities to study aeronautical engineering.
McGeer got his start as the third faculty member of the engineering school at Simon Fraser University in British Columbia, where he's from, and began working on unmanned aircraft at Aurora Flight Sciences in Alexandria, Va. in 1990.
"In this case there were jobs to be done by aircraft that were unmanned and that's how I got interested and I continued to do it because I think there are jobs that can be better done by little airplanes without people in them," he said.
By 1992, McGeer had returned to Silicon Valley and began developing the aircraft that would eventually turn into the bread and butter for the Insitu Group, which was relocated to the Gorge in 1994. This would eventually lead to the first crossing of the Atlantic Ocean by an unmanned aircraft and typhoon reconnaissance, according to McGeer's bio.
Scouting out the weather, environmental monitoring, fisheries patrol, and other civil applications are all areas McGeer wishes his aircraft could be applied to, but by 2005 Insitu had switched gears and began supplying ScanEagles, another aircraft developed by McGeer, to assist in the War in Iraq.
That year, McGeer left the Insitu Group.
"Insitu was on its way to becoming a defense contractor at that time, it pretty much was, and that's not the business I want to be in," McGeer said.
With his classmate from Stanford and founder of Hood Tech, Andy von Flotow's, help, McGeer started Aerovel in 2006.
"I was here and I had a new idea, so I started a new company. The new idea is an airplane more or less in the same class as the one developed at Insitu, but with longer range and is hopefully more economical and easier to operate," he said.
At the time, McGeer lived in Underwood, but the Broughton fire took his home in 2007, forcing him and his family to temporarily relocate to the large home where Aerovel continues to be headquartered in Husum.
Since then, Insitu has been sold to Boeing for $400 million and McGeer and his family have moved to Hood River.
Over the years, he has appreciated the Gorge and its rural atmosphere—both personally and professionally—but has noted one challenge to starting a technology company here.
"It's nice to have a big city where there's competition among schools, where you can find schools that are really excellent when you're recruiting people," McGeer said. "Apart from that the Gorge is a good place to be and the challenges we face are not particular to the Gorge. They're particular to the business we're in, which is unmanned aircraft being discussed for a long, long time as having great potential but that potential has not yet been realized because the economics are not attractive and it remains to be seen if that can be done."
And it is his hope that said potential is being unlocked one Flexrotor tweak or flight test at a time.
"We have a lot of work to be done. What we've accomplished technically so far is a significant advance over the state-of-the-art, but in order for that to mean anything we have to turn it into a product," McGeer said.