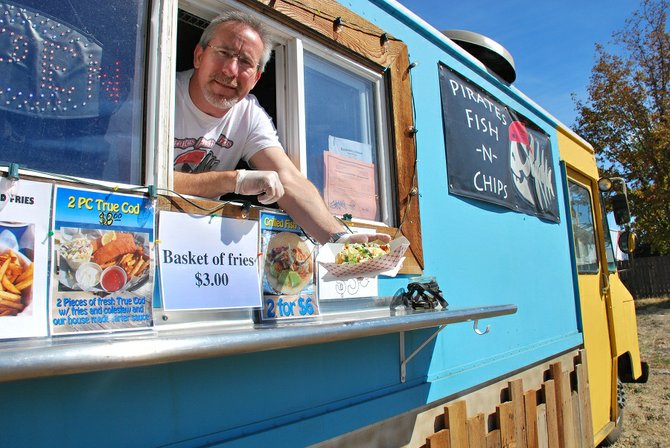 A new-to-Bingen option for lunch sailed into town last week.
Last Thursday was appropriately International Talk Like A Pirate Day, but there were no "arghs" or "ye mateys" bellowed at the food truck on its second day in Bingen, just talk of fish, fish, and more fish.
"The only obstacle is educating the community and letting them know that it's safe to eat out of a food truck. Once they try it, they'll love it," said Richard Wilson, who owns Pirates Fish and Chips with his wife, Sherri.
The pair has had a food cart parked at Wind Dance in Hood River for two years and recently decided to try selling their fine fried fish lunches across the bridge.
On the menu, deep fried true cod with chips can be found, but there are also fish tacos, chicken tender baskets, and gyros. Bagged gluten-free batter can also be purchased.
"We noticed that (Bingen) is a more industrial town with a good working crowd here. We want to reach that working crowd and give them another option besides pizza and burgers," Richard Wilson said.
Prior to operating their food truck, the Wilsons owned an Italian restaurant in Arizona, but once they sold it two years ago it was time to return to their home of Home Valley in the Gorge.
The blue and yellow food truck dubbed Pirates Fish and Chips can be spotted off West Steuben Street in the Bingen town lot Tuesdays, Thursdays, and Fridays between 10:30 am and 4:30 pm. The truck accepts credit cards and call-in orders.