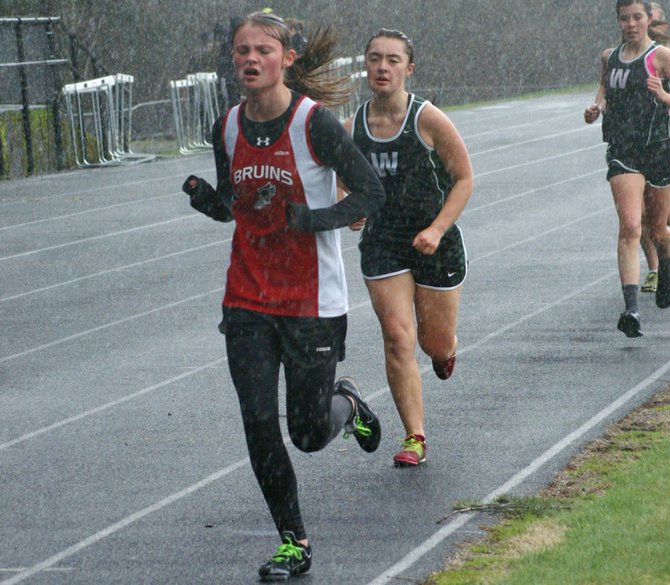 Columbia High senior Nathan Bell won both boys hurdles races, and Lyle/Wish-ram swept the top three places in the girls javelin last Thursday during a rainy 1A Trico League track and field meet in Stevenson.
Bell won the 110- and 300-meter hurdles on a rain-soaked track and now "is one of the top-three [Class 1A] hurdlers in the state," according to Bruins Coach Doug Miller.
MaeLynn Luke led a 1-2-3 finish in the girls javelin with a throw of 92 feet, 3 inches. Teammates Ellie Smith and Alex Cloud followed Luke in the final standings.
Other standouts for CHS included senior thrower Kirstin Hylton, who won the shot put, placed fourth in the discus, and took fifth in the javelin; senior distance runner Claudia Cortez, who prevailed in the girls mile run; and sophomore Lauren Thiesies claimed the girls high jump with a mark of 5 feet.
"Lauren jumped 5-2 the week before, and being consistently at 5 feet from week to week is a real plus and puts her at the top of our district," Miller noted.
Team-wise, Columbia finished third out of eight girls teams in scoring (with 101.5 points), while Lyle/Wishram was sixth with 52.
Miller also had praise for sophomore Ulises Isordra, who posted a personal-best split in the boys 4x400 relay for the second meet in a row. Isordra's time of 53.9 was a personal record by two seconds; he ran 55.9 at Wood-land on March 20 for a PR by two seconds.
"Quite a remarkable accomplishment," Miller said. "Otherwise, times were slow and uneventful."
The veteran CHS coach, however, was pleased with the showing of the boys 4x400 relay, which logged a time of 3:41.52 to place second to the Woodland foursome.
"Our 4x400 boys team is one to watch," Miller said. "Our best boy, Shawn Tardiff, was gone [last week] to visit his brother in Virginia, but the prior week the team ran 3:37, with Tardiff, which puts them second in the state."
For Lyle/Wishram's boys, junior Gabe Montoya was the only winner. He placed first in the shot put with a mark of 40 feet, 6 inches.
Montoya added a second in the discus and a fourth in the javelin to help the Cougars place fifth in the seven-team meet with 64 points.