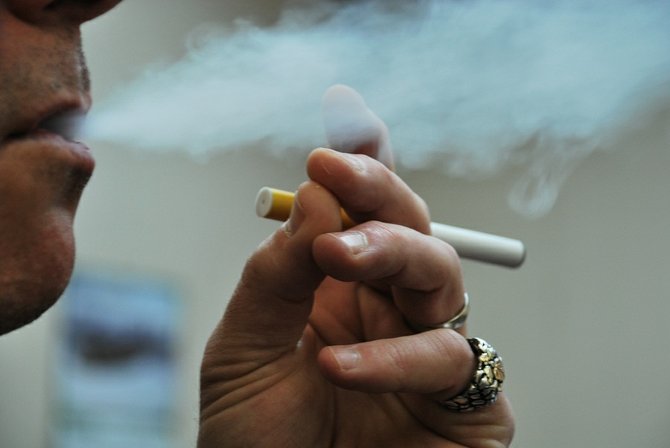 The White Salmon Valley School District is taking steps to keep electronic cigarettes and smoking devices off of school property.
At the latest meeting of the White Salmon Valley School District Board of Directors, the first reading of changes to Policy No. 4215 regarding use of tobacco and nicotine substances was held.
Under the proposed policy changes "tobacco products and delivery devices" and "electronic smoking/vapor devices, 'vapor pens,' non-prescribed inhalers" are included. The changes to the policy also state that nicotine replacement therapies approved by the Food and Drug Administration (FDA), such as nicotine patches, gums, or lozenges are permitted on school grounds.
The changes to the tobacco and nicotine policy follow an increase in popularity of electronic cigarettes, which the FDA defines as a product that is battery operated and delivers nicotine or other chemicals in the form of an inhalable aerosol.
"I'm happy we're moving that quickly on this," Board Member David Karlson said at the March 27 meeting.
Though many electronic cigarettes are made to resemble conventional cigarettes, some are made to look like pens, USB memory sticks, or other everyday items, according to the FDA Web site.
White Salmon Valley School District Superintendent Dr. Jerry Lewis said even if the cartridge for an electronic cigarette doesn't contain nicotine, it is the district's concern that it could be used to inhale other substances.
"The pen itself might not necessarily contain nicotine…that's part of the problem. According to some of the literature I've gotten on this, they can be used for a number of things, even for marijuana or cocaine," Lewis said during the meeting.
The only type of electronic cigarettes that are regulated by the FDA currently are those meant for therapeutic purposes to aid a user in giving up cigarettes, but even those are prohibited under the proposed changes to the tobacco and nicotine policy.
Columbia High School Principal Troy Whittle said since they became popular there have only been a few instances of students attempting to use electronic cigarettes or vapor pens on school grounds. In those instances students thought the devices might be permitted if no nicotine cartridge was included.
"It hasn't been a huge problem, but it is starting to show itself and we want to make sure that kids understand that it is a delivery device for things that can be controlled substances and we don't want it on our campus," Whittle said.