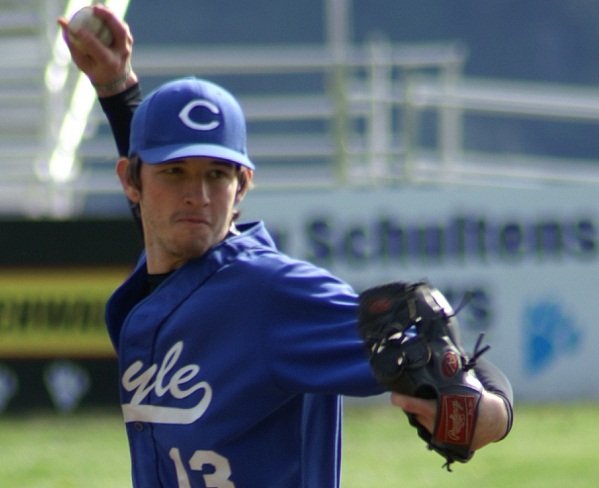 Columbia High squandered a standout pitching performance by Dawson Reynier in losing a non-league baseball game, 3-1, on March 31 at Boardman, Ore.
Bruins Coach John Hallead said four errors accounted for all three Riverside High runs off Reynier, who threw six innings of two-hit ball with no earned runs and seven strikeouts. The host Pirates scored two in the third thanks to a pair of throwing errors and a dropped fly ball, and added an insurance run in the sixth on a misplayed ground ball.
Columbia tallied its run in the top of the first inning when Tanner Rabinowitz led off the game with a single, stole second base, and scored on Austin Walker's single.
The Bruins finished the game with seven hits. Rabin-owitz, Walker, and Kyle Gu-ler all went 2 for 3; Rabin-owitz hit a double and Guler had a triple. Ryan Earls's pinch-hit double in the seventh accounted for CHS's other hit.
Columbia (0-2 in league, 1-4 overall) resumed its 1A Trico League schedule on Tuesday, April 8, with a double-header at Hecomovich Field against the Chinooks of Kalama. The Bruins travel to La Center on April 15 for a twinbill against the Wildcats.
Columbia 100 000 0 — 1 7 4
Riverside 002 001 x - 3 2 1
Reynier and Guler; Corpus and Salgado. WP – Corpus. LP – Reynier (0-2).
Dufur, Ore. 26-19, at Lyle/-Wishram/Klickitat 2-1: The visiting Rangers dominated the host Cougars last Wednesday in Lyle, scoring 45 runs on 47 hits and nine LWK errors en route to a sweep of their non-league double-header. Both games went five innings.
Dufur scored 14 runs in the top of the first inning in each game and was never threatened by LWK, which had a difficult time making contact and mustered just two base hits on the day.
Travis Armour's single was the Cougars' lone hit in the opener, while Thomas Carlock had the only LWK hit in the nightcap.
The losses dropped LWK's overall record to 1-5. The Cougars will look to get back to the winning side next Tuesday, April 15, when they take on the Hood River Valley C Squad in Lyle at 4 p.m.
Game One
Rangers (14)40 71 — 26 24 2
Cougars 000 20 — 2 1 9
Kortge, Keyser (4) and Tibbets, Keever (4); Armour, VonAhn (2), Carlock (5) and Weddle. WP – Kortge. LP – Armour (0-1).
Game Two
Rangers (14)21 02 — 19 23 0
Cougars 100 00 — 1 1 0
Keyser and Kortge; Sisson, Carlock (4) and Sanchey. WP – Keyser. LP – Sisson (1-2).