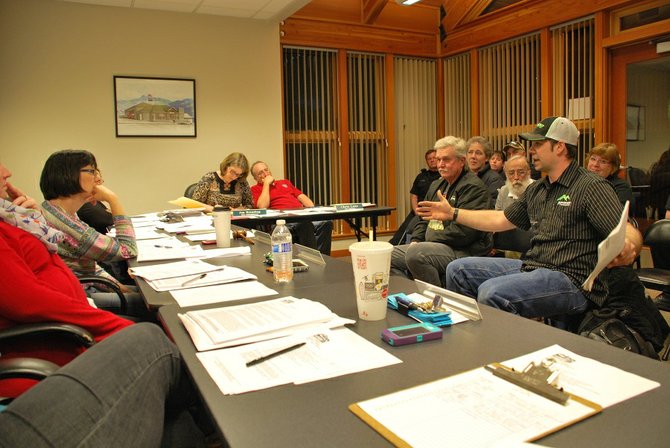 Bingen residents would be able to ride all-terrain vehicles (ATVs) on roads within the city with speed limits less than 35 miles per hour if the city council passes an ordinance it began examining at a meeting last Tuesday night.
Engrossed Substitute House Bill 1632, which was signed into law on July 3, allows ATV and utility-type vehicle (UTV) use on county roads throughout the state where towns and counties pass ordinances allowing users to do so. In counties like Skamania, which has a population of less than 15,000, an ordinance does not need to be passed throughout the county, so ATV-use is currently permitted there for those who meet the guidelines of the new law, but for towns and cities in Klickitat County that population cap is exceeded, so ordinances must be created before ATV and UTVs can be ridden on roads.
Bingen took the first step towards permitting ATV and UTV use on the city's roads, including State Highway 14 and State Highway 141, by going over a newly drafted ordinance and scheduling a public hearing for it at their next meeting on April 15.
The council as a whole was relatively warm to the idea of eventually passing the ordinance allowing ATV- and UTV-use on Bingen's roads, but Councilwoman Catherine Kiewit questioned the need for such vehicles on the roads and had safety concerns, as well.
"I'm going into this saying 'convince me why this is a good idea,'" Kiewit said.
Multiple audience comments were made during the meeting regarding the ordinance, all in favor of allowing ATVs and UTVs on the city's roads.
Bingen-White Salmon Police Chief Tracy Wycoff aided Bingen Mayor Betty Barnes and City Administrator Jan Brending in drafting the ordinance and was on hand speaking in favor of it on Tuesday.
"Skamania County adopted this thing and I've yet to see an ATV on the road there. There's going to be people who are going to do this and they're going to enjoy it and they're going to be the religious four-wheelers who want to go out and do it and then there's going to be the people who don't want to spend the money to get the licensing and have everything done properly," Wycoff said. "I don't think you're going to see this whole overabundance of ATVs running up and down the street; you're going to see some people doing it, but they will be the responsible people who want to do it."
In order to abide by the law, riders must hold a valid driver's license and be 16 years old. While the ATV or UTV is moving they must wear a helmet and headlights must be used. ATVs must have one tail lamp, a stop lamp, reflectors, a horn, a mirror, and a spark arrester and muffling device. Additionally, UTVs must have two tail lamps, two mirrors, and seatbelts. A windshield must be used only if the rider doesn't wear glasses, goggles, or a face shield. Hand signals are acceptable when making turns during the daylight, but lit turn signals are required to ride at night.
Passengers would only be allowed to accompany riders on the road in wheeled ATVs and UTVs designed for two or more people and children less than 5-years-old cannot ride along. Riders would also not be permitted to tow other devices or people behind an ATV, according to the ordinance. Riders using separate ATVs or UTVs would also not be able to ride side-by-side on the road and cannot ride on the sidewalk.
Bingen's ordinance allows riders to cross intersections of roads with speed limits that exceed 35 miles per hour, but only if it is to reach another connected road that adheres to the speed limit capped by the law.
Violators of any portion of the ATV ordinance could face a ticket and have to pay up to $250 in fines.
Will Altig, manager of DJ's Mountain Motorsports in Bingen, was advocating for the passage of the ordinance at Tuesday's meeting and has previously stated DJ's will be able to outfit ATV and UTV riders with everything they need to be street legal.
In speaking to some of the council's concerns over ATVs and UTVs being on Highways 14 and 141 within city limits with other vehicles and tractor-trailers, Altig made the point that many times riders on ATVs are more alert and therefore safer than someone in a small car.
"In one of those little Smart cars, you hit your hands-free, you're talking on your cellphone, you're listening to music, you're doing whatever. You're not even close to as alert as you are when you have the wind in your face and you're on an open vehicle. Everyone I know who rides a motorcycle, they're way more alert than they are when they ride in a car," Altig said. "They're paying attention, they're expecting every single vehicle they see to kill them because when they cut out in front of them they're ready for it and they can avoid it. That person on an ATV is going to be way more alert than someone in a car."
Residents at Tuesday's meeting in favor of passing the ordinance said having the option to ride an ATV around town instead of a car would not only be more convenient, but also enjoyable.
"You can word it a thousand different ways to make it sound however you'd like, but if it was me I would run to the store and pick up a half-gallon of milk without firing up the truck, or go to the post office to pick up the mail, or go to my friend's house," said Clint Bryan, of Bingen. "It would be the same thing as me going out to my garage and hopping on the Duel Sport motorcycle and doing the same thing on it. It's the exact same thing, in my opinion, and sometimes it's simply for a ride, period."
In addition to the Bingen City Council looking into passing an ATV ordinance, former White Salmon Councilman Mark Peppel has circulated a petition asking Klickitat County commissioners to act, as well. Petitions can be found at DJ's in Bingen, Eddyville Raceway Park, Fun Country Power Sports in The Dalles, and Mid-Columbia Marine and Motorsports in Hood River.