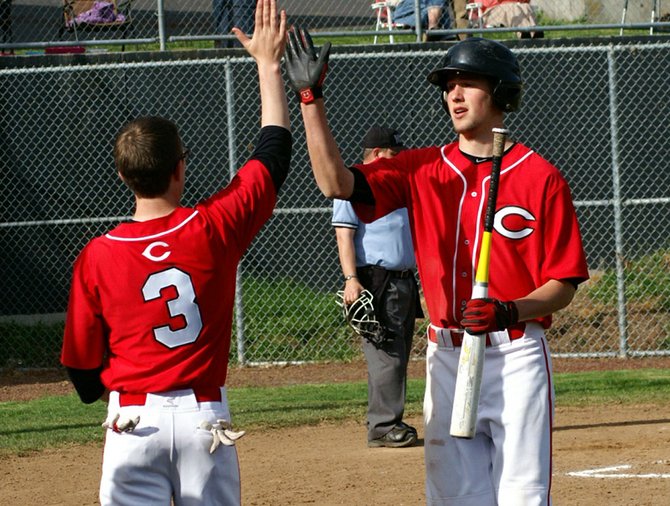 Columbia High's varsity baseball team won its most important Trico League victory of the John Hallead era last Tuesday, April 8.
The Bruins came from behind in the opener of their double-header with Kalama at Hecomovich Field, scoring six runs in their final two at-bats to defeat the visiting Chinooks, 7-3.
Right-hander Camaron Wang picked up the win in relief of Tanner Rabinowitz, who worked the first four innings for CHS and held Kalama to three runs.
The game turned in CHS's favor in the bottom of the fifth when the Bruins' Jared Garwood, Jordan McClain, and Blake Walker came up with clutch two-out hits. (CHS opened the inning with back-to-back strikeouts.)
Garwood lined a single the opposite way, down the right-field line, to knock in Rabinowitz and Dawson Reynier with the tying runs, then scored the go-ahead run run on Walker's double to left. After Kyle Guler walk-ed, McClain singled to drive in Walker to make the score 5-3.
Columbia tacked on two more runs to its final tally in the sixth (Rabinowitz scored on a sacrifice fly by Walker, and Reynier came home on a bases-loaded walk), and Wang got through the final two frames without incident to complete the victory.
Rabinowitz and Wang limited the Chinooks to seven hits (and 13 base runners overall) in the opener. CHS made just as much contact as the visiting team (seven hits) but still struck out 13 times against losing pitcher Cameron Walker.
Garwood led CHS at the bat, going 3 for 3 with a double and three runs batted in. Reynier went 2 for 3.
In the nightcap, the Bruins and the Chinooks worked overtime. Kalama, the home team in this game, forced extra innings with a run-scoring double in the bottom of the sixth, then won it in the ninth on a fielder interference play at third base. The Chinooks led off their half of the ninth with a double, which was followed by a single. As the Kalama runner tried to score, a CHS fielder interfered with his progress.
The runner was awarded a trip home, and Kalama salvaged a split in the Trico double-header. The split left CHS and Kalama with identical records: 1-3 in league and 2-5 overall.
Reynier took the loss for Columbia. He hurled all nine innings, allowed seven hits, walked one, and struck out a season-high 11. Only two of the four runs Kalama scored were earned.
Columbia jumped ahead 2-0 in the top of the first on Kyle Guler's run-scoring single after Rabinowitz had scored on Garwood's RBI ground out. Guler finished 2 for 3.
Rabinowitz, Reynier, Gar-wood, Walker, and Sam Rowlen each had one hit.
The Bruins increased their lead to 3-0 in the second inning when Tristan Bond scored on Rowlen's squeeze bunt.
Game One
Chinooks 100 200 0 - 3 7 2
Bruins 100 042 x - 7 7 1

Walker, Esary (5), Mazza (6), and Unknown; Rabinowitz, Wang (5), and Guler. WP - Wang (1-0). LP - Walker.
Game Two
Bruins 210 000 000 - 3 7 4
Chinooks 002 001 001 - 4 7 2
Reynier and Guler; Esary, Maz-za (5), and Unknown. WP - Mazza. LP - Reynier (0-4).
Coming up: Next Tuesday, April 22, the Bruins are at home against the Toledo Indians. First pitch is set to be thrown at 3 p.m.
Columbia will play its final home games of 2014 on Friday, May 2. The Bruins and the Castle Rock Rockets will meet on "Hec" Field for a double-header that was originally scheduled to be played on March 25.