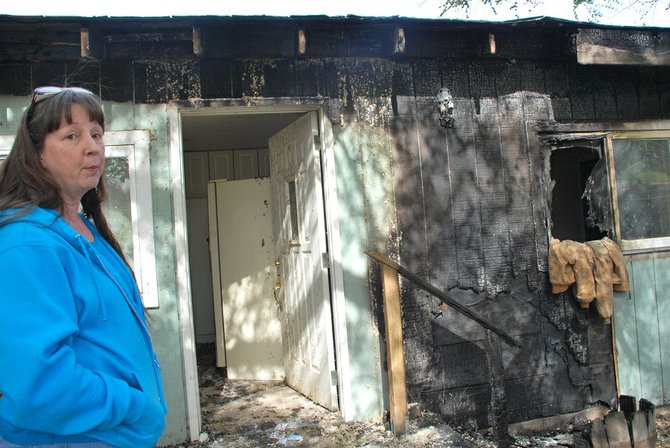 A "smoldering cigarette" has been pegged as the cause of a fire that left a Lyle mother and her son without a home on Sunday.
The back of the house at 106 Sixth Ave. in Lyle caught fire around 6 p.m. Sunday, according to the American Red Cross. The Klickitat County Sheriff's Office reports that a smoldering cigarette was determined to be the cause of the fire.
Virginia Staubach and her grown son, Zachariah "Zak" Summa, were both at the house at the time of the fire and both escaped without injury. Staubach also managed to pull her two dogs and cat out of the burning house.
"Very quickly the house started filling with this thick, horrible, toxic smoke and I knew we had to get out and we had to stay out," Staubach said.
The entire back of the house at 106 Sixth Ave., which Staubach was renting, is charred. Staubach said once the fire reached the attic the fire was out of control until volunteer fire fighters arrived.
"It feels like a long time to wait when a fire is racing through your attic. It was terrifying," Staubach said.
Staubach was shocked at how fast the insulation in her attic went up in flames. Most of it was pulled out of the house or litters the floor throughout beneath the giant holes that had to be cut in the ceiling.
The extent of the damage is such that Staubach and her son are now looking for a new place to live somewhere in the Gorge that has at least two bedrooms and is pet-friendly. Anyone with rental information or wishing to make a donation of goods or clothing can contact Dyann Andresen at 509-365-8008. Monetary donations can be made by calling River Mark Community Credit Union at 541-296-3224 and either giving Staubach's name or member number, which is 1517750.