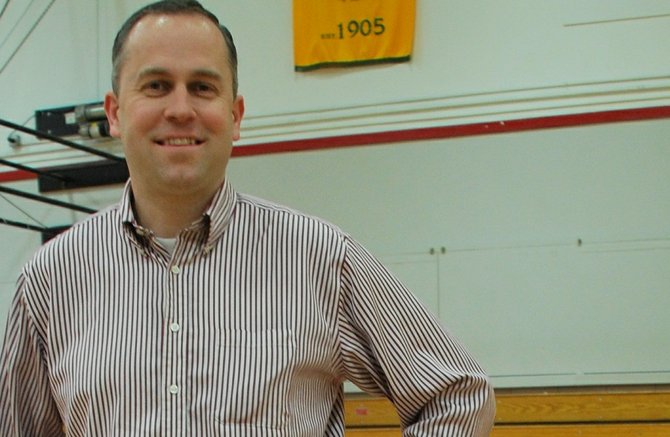 When the Columbia High School class of 2014 crosses the stage at graduation at the end of the school year and they prepare to leave the high school forever, they'll be followed by Principal Troy Whittle, who is set to take another job as of June 30.
Whittle has been at CHS for four years, has seen the class of 2014 through from beginning to their end and at the culmination of the year will move on to take over as principal at Newport High School a little north of Spokane.
"This wasn't a decision that I took lightly. I will miss it here. I truly will," Whittle said.
Moving north to be closer to his parents and the rest of his family was not expected. Originally, Whit-tle hoped to stay in White Salmon for much longer than four years, but extenuating circumstances regarding the health and welfare of his parents and extended family were cause for a career change that will hopefully result in consistency for his immediate family.
"It kind of got us thinking about getting closer to family and home. I never took this job thinking 'I'm going to be here for four years and then move to the Spokane area' but at the beginning of the school year when things started happening we started thinking about buying a house, settling down, having some real consistency for my kids for the rest of their lives," Whittle said.
On July 1, CHS will have its new principal. The position was opened on April 9 and applications will be accepted until May 7, according to the job description posted on the White Salmon Valley Schools website. Whittle's contract with White Salmon Valley Schools does not end until June 30, so he'll be here through the end of the year.
Whittle's advice for his successor? Be there, but be there for the students first and maintain integrity with every decision made.
"First and foremost, I want the person who fills my shoes to put kids first. Sometimes the decisions we make, the kids might not always agree with it, but I hope they understand that it is my true belief that it was for their betterment," Whittle said. "There's a lot of little nuances about personalities in jobs that are going to change. The person that comes in, he or she is going to be a different person than I am, they're going to make different decisions, but a lot of that stuff can be lived with if they're here for the kids."
Over the years, Whittle said he's been part of multiple changes at CHS, most recently the decision to move to a trimester schedule next year.
Whittle said he spent three of his four years at CHS researching schedule changes for the high school after promising the staff he would do so when he was hired in 2010.
One of the hardest parts of moving on to a new school will be not seeing the outcome of changing to a trimester schedule.
"That was one of my hesitancies of not wanting to leave yet because I wanted to see the outcome of it, but I also want to say that I might have carried the torch publicly about this five-period day change, but I didn't light that torch and it wasn't my torch. It's a torch that I'm happy to hand off to a new leader and this was something as a community in this school that we were advocating for and not just me," Whittle said.
Whittle also listed the school's recent recommendation for reaccreditation and the work being done on the new Washington State Teacher and Principal Evaluation Project as ventures he's been proud to have been a part of at CHS.
The progress made on academic achievement is also a highlight for Whittle. CHS was recently awarded with a Washington Achievement Award for Excellence for the third time in four years, this year's being for improvement in the school's reading scores.
Whittle has also been pleased to see graduation rates climb above the state average during his time at CHS.
"I'm really proud of the work we've done with student achievement and graduation rates. Our graduation rate again was 91.6 percent last year, which was up from 89.9 percent and it's significantly above the state average," Whittle said.
As he prepares to move on at the end of the school year, Whittle said leaving his faculty and staff, which he refers to as "phenomenal," will be particularly difficult, almost as difficult as saying goodbye to the students who remain and those who began and will end their careers at CHS in harmony with their principal.
"I'd like the students to know that beyond all the state testing that they have to do and beyond all the homework they have to do and beyond all the stuff that the state throws at us, that we care about them, not just that I care about them, but Mrs. McCutcheon cares about them, Mr. Kreps cares about them, the entire faculty here at CHS, all 43 people that work in this building care about those kids," Whittle said.