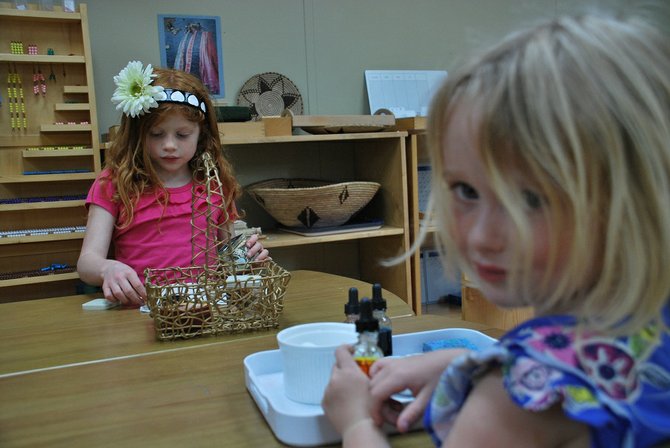 Big things are happening for Little Oak Montessori School in White Salmon.
The school was originally established in Snowden in 2004 and has since moved from Lyle up to White Salmon. Last year, the elementary portion Little Oak was moved from the small campus off of SE Oak Street to a campus just for that age group off of NE Estes.
That left some space at the previous campus, where one Children's House classroom is currently located with plans to establish another next year.
"We've been in this period of growth where it's been a balance of trying to maintain stability and also grow as the community need is there, so we'll see how it all works, but after we get this classroom established we'll stay pretty constant for at least a couple of years," said Betsy Buswell, head of school at Little Oak.
Enrollment at Little Oak has been steady during previous years, but this year Buswell said there was an increase in interest and enrollment, especially for the Children's House.
"Typically we've had a wait list each year after we've done enrollment, but this year we've had enough inquires that we comfortably knew we could fill the new classroom," she said. "With the area growing and with so many babies being born in the last few years I think it's a matter of the number of options that are available. I also think there's a national conversation going on about early childhood education that has piqued a lot of people's interest and had them thinking about it a lot and it's encouraged people to look at alternatives."
The Children's House provides Montessori education for children from ages two-and-a-half to six. The added Children's House will allow room for 10 more students who are led by one teacher with all students in one classroom.
Montessori students are taught by using their senses while learning by literally getting their hands on the objectives they want to learn about and find interesting. Students learn at a pace that suits them and are able to focus on what increases their curiosity and inspires them to learn.
Buswell says by maintaining classrooms that consist of different age groups, children are more likely to work together and older students tend to feel the need to help out and be positive role models for younger students.
"It's pretty incredible to watch the older and younger kids work together. They know they have the responsibility of watching out for those younger children and work with them both academically and socially," Buswell said.
In addition to students of different age groups being together in one classroom, Buswell said Montessori education works more on reinforcing a child's interests and applying that throughout the classroom experience. To get a look at what that experience might be like, Little Oak is holding an open house at its elementary campus on May 3 from 10 a.m. to noon at 871 NE Estes Ave.
"The thing I hear from families is that we all had our own unique educational experiences and I see a lot of families looking for their children what they didn't get in their own experience. I think a lot of it is having the space to explore what a child is interested in to help them develop what they really enjoy in the world and also engaging creatively," Buswell said.