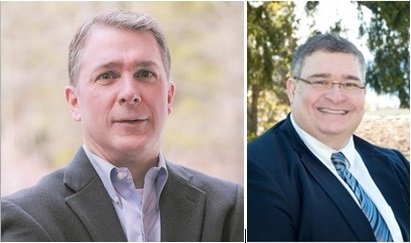 The field of candidates for this year's General Election in November is now set.
In one of the few contested races on the 2014 Primary Election ballot, Jeff Baker of Trout Lake and Dave Brown of White Salmon finished 1-2 in the contest for the non-partisan position of Klickitat County West District Court Judge.
Baker received the most votes in a three-way race (959; 60.6%), while Brown came in second (21.5%), ahead of insurgent candidate Elizabeth (Lizzie) Halleck of Murdock (17.9%), according to unofficial returns published Tuesday by the Klickitat County Auditor's Office.
As the top two, Baker and Brown will now go head-to-head in a November run-off. The winner will take office in January and serve a 4-year term.
In another race of local interest, incumbent 3rd Congressional District Representative Jaime Herrera Beutler (R-Camas) and Democrat Bob Dingethal of Ridgefield finished with the first (48.5%) and second (38.8%) most votes on Tuesday and will face off in a November run-off. Beutler is seeking a third 2-year term in Congress, while Dingethal is a first-time candidate for federal partisan office.
The contest for the 14th Legislative District's Position No. 2 in the House of Representatives belongs to Goldendale Republican Gina McCabe so far. She gleaned 45.9% of the district-wide vote Tuesday. Democrat Paul George of Yakima was second at 29.3% among Primary voters in the sprawling district that runs from Yakima County to eastern Clark County. The top two will go on to the General Election.
The beauty contests, those races featuring only two candidates for partisan offices under Washington's Top Two system, revealed voter preferences at this point in the election cycle.
Bob Songer out-polled Marc Boardman in the primary for Klickitat County Sheriff, winning 62.6% of the 3,935 ballots counted Tuesday. Both men are Republicans from Goldendale. The office of Sheriff, like all county elective offices, carries a 4-year term.
First-time candidate for Klickitat County Assessor Crista A. Schroder of Goldendale pulled in more votes (2,080-1,715) than incumbent Darlene Johnson of White Salmon. Both women are running as Republicans and will square off again in November.
In the contest for Klickitat County Prosecuting Attorney, voters showed a slight preference for incumbent Lori Hoctor. Her opponent is David Quesnel (pronounced keh-nell) of Lyle, who is running as an Independent against the first-term Republican from Goldendale. Hoctor collected 50.8% percent of Tuesday's vote to Quesnel's 49.2%.
Another local race of interest took place in County Commissioner District No. 2. Incumbent David Sauter, a Lyle Republican, is being challenged by Michael Richards, a Republican from Lyle. Tuesday night's tallies reflected strong support for Sauter within his district as he out-polled Richards, 67.5% to 32.5%; however, he and Richards will be running countywide between now and the Nov. 4 General Election.