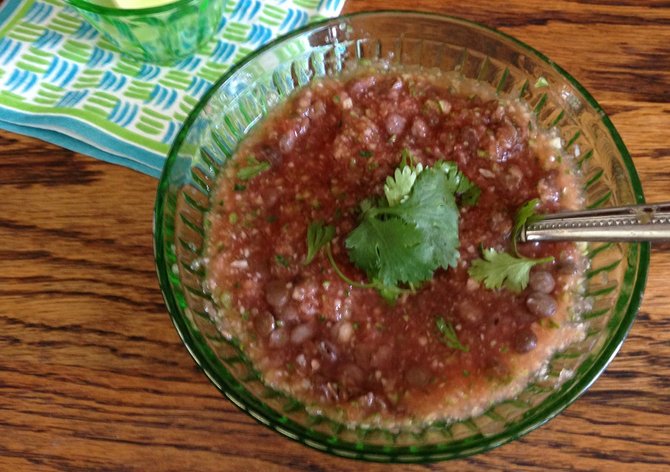 Whether it's building a better burger in Napa Valley or cooking with cranberries in New York, Margee Berry has made the rounds when it comes to being competitive in the kitchen.
As of this summer, Berry will have competed in 18 cooking competitions all over the country, including the recent Gilroy Garlic Festival in California where she entered her cabana crab sizzling summer shooters.
"It's served in a shot glass with crab in the bottom and a garlic-cream-infused sauce over top of it with some watermelon granita with garlic in it, which is like sorbet, and then some crispy prosciutto on top," Berry said.
This isn't her first time competing at the Gilroy Garlic Festival, either. In 2010, Berry placed first for her warm weather watermelon crab meat kissed south seas soup.
As part of the official rules, once a competitor places first, second, or third, they must wait at least four years before competing again, leading Berry back to the festival this year where she unfortunately did not place. Prior to her first-place finish in 2010 she took second place in 2006 and third place in 2002.
But the Gilroy Garlic Festival is just a taste of where Berry has been. Though she lives in White Salmon and manages the Husum Hills Golf Course pro-shop, Berry also recently competed and took third place at the Macy's Great American Grilling Guru Sizzle Showdown in Seattle where her smokin' hot summer wood-planked shrimp tacos were judged by Chef Tom Douglas.
Previously, Berry has competed in amateur cooking contests in New York—seven times, to be exact—including the Ultimate Cranberry Recipe Contest where she whipped up her wild west wedges with cranberry ketchup and Good Housekeeping's Cook Your Heart Out competition, which focuses on heart-healthy foods, like Berry's blueberry-topped lemony goat cheese tartlets, which took the top prize in her category in 2010.
There have been many, many more competitions over the years as Berry uses them to get her fix when it comes to gourmet cooking. She holds a home economics degree and initially wanted to be a dietician, but ended up shifting more towards the sewing side of the discipline and worked for her father's dry cleaning service doing alterations in St. Louis.
"I had some cooking and nutrition classes, so I've been entering recipe contests for 30 years, so that's how I fuel my passion for cooking," Berry said.
Coming up on Aug. 22 and 23, Berry is headed to Pullman where she and four other finalists will compete for a $2,000 prize at the National Lentil Festival's Legendary Lentil Cook-Off. For the festival, Berry submitted a recipe for warm weather watermelon and lentil gazpacho.
"It's got a little kick and spice with some cucumber and tomatoes and the kind of basic stuff that you'd find in a tomato gazpacho, but then I added watermelon," Berry said.
Though cooking is her passion, don't expect Berry to be opening a restaurant or catering service any time soon. Doing so would mean the end of her career on the competitive cooking circuit, which she isn't ready to give up just yet.
"Most of these contests are for amateurs, so if I were to do anything like that or write a cookbook I'd become a professional and couldn't enter them anymore," she said.