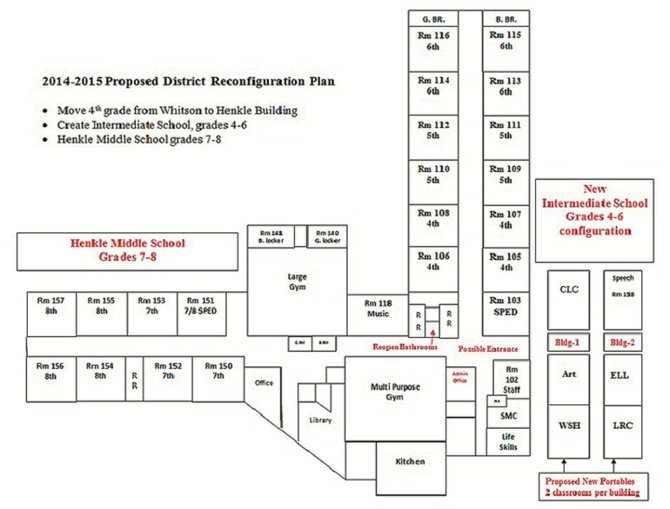 Changes to the configuration of the White Salmon Valley School District continue to leave the administration in a state of limbo when it comes to what the loss of Washington State's No Child Left Behind waiver will mean for the upcoming school year.
Last April, Washington became the first state to lose its No Child Left Behind waiver, which was granted by the federal government in 2011 and protected school districts from meeting portions of the law that require 100 percent of students be proficient in reading and math by 2014.
U.S. Secretary of Education Arne Duncan wrote to Washington State Director of Public Education Randy Dorn in April to alert him that the state's waiver would be revoked due to failed attempts of the Washington Legislature to implement accountability measures that use student growth and achievement data. That means as of the beginning of this school year, all districts across the state are required to return to meeting all accountability requirements set by No Child Left Behind as being measured by Adequate Yearly Progress (AYP).
School districts in Washington will not only have to begin reporting AYP as a measure of student achievement, but those who do not meet AYP will have to reserve 20 percent of all funding they received from the federal government to fund tutoring, interventions, or send students who wish to transfer to another school that did meet AYP.
What could be in store for White Salmon Valley Schools is still an area where there is "a lot of uncertainty right now," according to Superintendent Dr. Jerry Lewis. That is largely due to the addition of the White Salmon Valley Intermediate School.
"Because of the reconfiguration of our schools we had to send a reconfiguration letter to (the state Office of the Superintendent of Public Instruction), which they are reviewing to make a decision on what the effects of that will be for our AYP status, so right now we're on hold," Lewis said.
White Salmon Valley Intermediate School will take on Whitson Elementary School's fourth graders, making Henkle Middle School exclusively for seventh- and eighth-grades this year. Intermediate school starts on Aug. 26 with all other schools within the district starting on Aug. 27.
Under normal circumstances, the state Office of the Superintendent of Public Instruction is requiring school districts to send letters notifying parents of their school's AYP status 14 days prior to the first day of school, but due to the changes White Salmon Valley Schools have undergone, the Office of the Superintendent of Public Instruction advised the district not to distribute such letters until the state makes its decision.
According to the state Office of Superintendent of Public Instruction Web site, data from the 2010-2011 and 2013-2014 school years will be used to determine AYP and which actions need to be taken for the upcoming school year. Due to the reconfiguration of White Salmon Valley Schools, the state has more of a puzzle to put together when it comes to what each school's AYP status will be.
Prior to the revocation of Washington's waiver, Whitson Elementary School was working through the two-year process of addressing reading and math test scores for two subgroups, English-language learners and special education students.
Henkle Middle School is up next to begin the two-year process of aiding some of its students, but the addition of the intermediate school has complicated what efforts to address student achievement will look like until the state hands down a decision.
"Even with no reconfiguration we would still be waiting to see what those final pieces would look like. A lot will be coming together within the next few weeks, we are hoping," Lewis said.