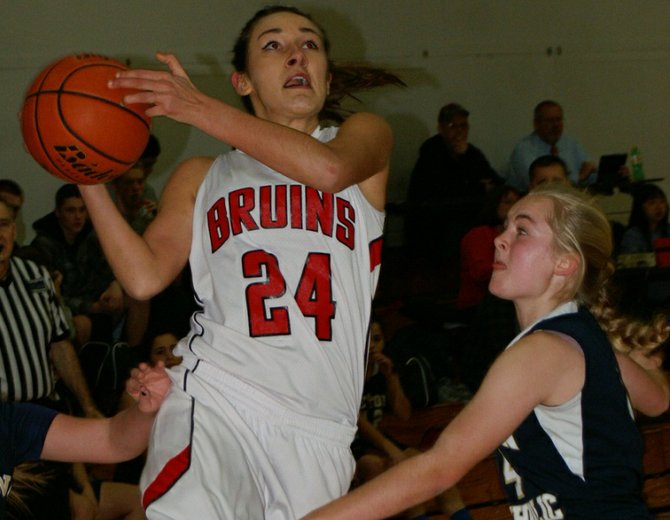 A 50-30 victory over Seton Catholic on Jan. 27 is proving to be an important one for Columbia High's girls basketball team.
Their eighth Trico League win gave the Bruins a one-game lead over Stevenson and a two-game lead over Toledo for fifth place going into the final week of the regular season. Teams that place fifth and sixth in final standings will earn Southwest District Tournament play-in game berths.
The Bruins were scheduled to play at La Center on Tuesday, and will close out the regular season tonight with a home game versus Stevenson.
Against Seton, Columbia allowed a layup on the opening possession but then scor-ed nine in a row. The Bruins never trailed after that run.
The score was 23-10 at halftime and 42-17 after three quarters of play. Columbia opened the second half with a 10-0 run and never let up. Its biggest lead of the night came at 44-17 on a putback by Savannah Story early in the fourth quarter.
Corrie Brending led the Bruins with 10 points. Story scored nine (to go with six assists), Kirstin Hylton had eight, and Cheryl Reetz ad-ded seven (3/4 from the foul line).
A key statistic for Colum-bia was its 21 offensive re-bounds, which helped generate 14 second-chance points. Overall, the Bruins gathered 49 rebounds and limited the Cougars to three second-effort points.
The team also tallied 11 as-sists on its 21 field goals. Three of CHS's baskets came from behind the 3-point line: two by Brending, one by Story.
Kalama 53, at Columbia 35: The visiting Chinooks us-ed a 23-9 third quarter to break open the Jan. 28 Trico game in Millery Gym.
The Bruins trailed 12-11 after one quarter and 22-16 at the half.
Kirstin Hylton's 10 points led the Bruins. Jaleh Kermani came off the bench to put in nine. Michaela Enyart and Olivia Grim each tallied five.
At Woodland 47, Columbia 31: Last Friday, the Bruins once again found themselves in contention for a victory at the midway point of a game.
Columbia held an 8-5 lead after one quarter against the undefeated league leader but went into the intermission on the short end of the score, 20-17.
The Beavers extended their lead to eight, 31-23, by the end of the third quarter and salted the win away by outscoring the Bruins 16-8 over the final eight minutes.
Corrie Brending led the way for Columbia with nine points. Jaleh Kermani scored seven, Michaela Enyart had six, and Kayla McClain chip-ped in five.
The Bruins limited the Beavers to 14 field goals overall, but it was the eight shots Woodland made from 3-point distance that helped set it apart from its visitors.
Columbia, which was outscored 11-1 from the foul line, pitched in 13 shots overall, including four from 3-point range.