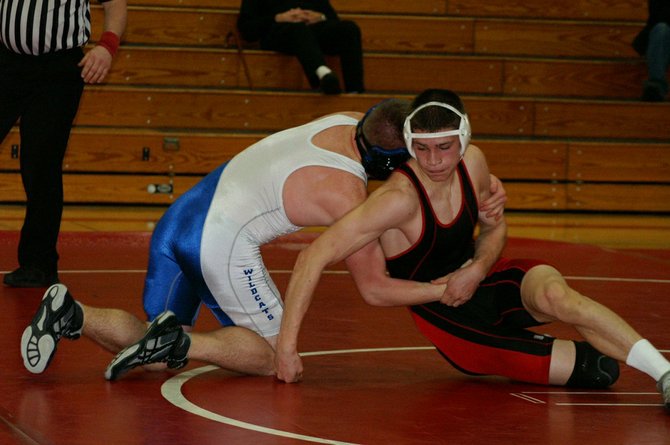 Eight Columbia wrestlers are slated to compete Saturday at Southwest District Class 1A sub-regional meets that also are serving as entry points for next weekend's regional championships.
Senior Nathan Bell (24-4 on the season) is seeded No. 1 at 160 pounds in the boys tournament that will be held at La Center, while seniors Austin Walker (21-5 record) and Matt Bergstrom (11-6) are seeded second in the 182 and 220 weight classes, respectively.
Also seeded in their weight classes are freshman Fletcher Andrews (4th at 113; 16-15), sophomore Austin Morris (5th at 138; 12-10), and sophomore Miguel Lemmon (7th at 132; 9-5). Sophomore Michael Wal-dron (3-9) is unseeded at 120.
According to Bruins Coach Stoner Bell, the boys will compete in 16-man brackets. The top eight wrestlers will be seeded, and the rest will be drawn in based on their records.
In the final issue, the top five boys in each weight class will advance to the regional tournament.
On the girls side, junior Regina Bell will be wrestling for a regional berth at 124 pounds. Location of this meet had not been settled before this week's press deadline.
At least six Bruins will see mat time on Saturday; two others are awaiting medical clearance.
Columbia wrapped up its Trico League schedule last Thursday at a dual meet in Woodland. The Bruins gave up eight forfeits worth 48 points but won two of the three matches they wrestled. The final score was 52-15, Beavers.
Winners for CHS were An-drews, who received a forfeit at 113; Bergstrom, who dispatched Isaac Anderson with a pin in the second period; and Nathan Bell, who prevailed 7-6 over Zac Seevers.
For the season, CHS wrest-lers posted a win-loss record of 115 wins versus 65 losses.
On Jan. 23, the short-handed Bruins traveled to Kalama for a double dual meet that also featured Ilwaco. CHS lost to Kalama, 66-18, and to Ilwaco, 51-19.
Nathan Bell and Matt Bergstrom won both of their matches by fall. Austin Mor-ris finished 1-1 (he scored a 13-0 major decision against Ilwaco's Joe Lopez), and Flet-cher Andrews went 1-0, thanks to an 11-5 decision over Jake Odneal of Ilwaco. (Andrews received a forfeit against Kalama.)
Regina Bell wrestled onematch at Kalama. She lost an 11-3 major decision to her Il-waco opponent.
In their final event of the regular season last Saturday, Columbia sent three wrest-lers to the Joe Stewart Mem-orial Invitational at Rex Put-nam High School in Milwau-kie, Ore.
Nathan Bell took first place at 160, Andrews was fourth at 113, and Waldron went 2-2 on the day.
On Jan. 23, three Bruins went to Stevenson for the annual Columbia Gorge Invi-tational.
Nathan Bell won at 160 by outscoring Gunnar Metzgar of Hudson's Bay, 9-3, in the final. Bell won his first match by fall, then scored a 15-1 major decision in his semifinal bout against Ridgefield's Vanea McDaniel.
Andrews placed second at 113, losing to Taylor Nolan of Ridgefield in the final, and Morris finished third at 138 with a 19-4 victory by technical fall over Tyler Kleine of Columbia River.