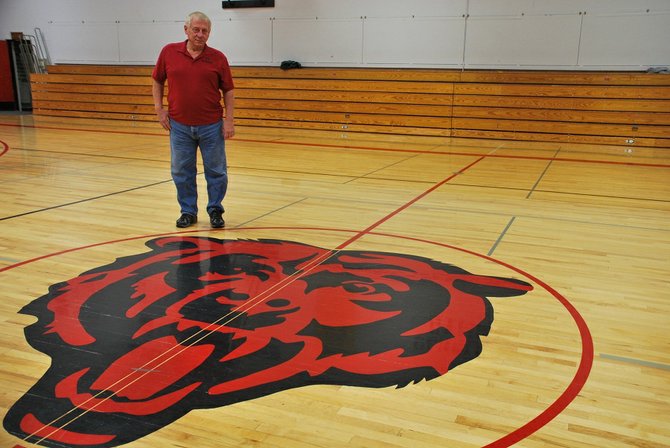 Roger Mortensen has been retired from education for years, but somehow he still manages to find himself inside schools.
Mortensen and his son, Brian, co-own D-S Hardwood Corporation out of Klickitat and specialize in refinishing the hardwood floors in gyms, as well as handball and racquetball courts.
Even though he focuses on fixing hardwood floors and has spent the last 14 summers since buying the business in high school gyms, Mortensen spent much of his time in schools during his 24 years as a principal and superintendent of Klickitat School District.
It helps that he was also a coach and athletic director.
"It kind of tied in together in that I coached for many years and was the athletic director and was involved with athletics and in the gym a lot. Then the company came up for sale and my son was looking for something after college and I was looking for something after retirement, so we saw what they did and decided we'd take a shot at buying the business and see how it went," Mortensen said.
If you've entered a school gym in Klickitat County, Mortensen's crews have most likely touched it. Columbia High School's Bruin is just one of many. D-S Hardwood has refinished and painted logos in Trout Lake, Glenwood, Wish-ram, and Bickleton, among a long list of close-by customers.
Mortensen's company travels to Bellevue, the University of Puget Sound, and Seattle Pacific University. The company is also licensed in Oregon and Arizona.
Though his reach is wide spread, Mortensen's company's core is family focused. In addition to being co-owned by his son, Brian, and getting help from his former wife, Cathy, his daughter, Heather, runs the crews in Arizona.
The four of them operate the D-S Hardwood for most of the year — it only takes a crew of three to refinish one floor — but they usually hire on more help during the summer when schools are shut down.
Finding that help locally can be a difficult part of the job.
"We're much smaller than some of the nationwide companies out there, but we stick to quality and try to find employees who are available and do good work," Mortensen said. "We've had some excellent employees over the years and a lot of them are high school or college students who have their summers free."
D-S is usually looking for additional workers that can start in late May and work through the summer, but Mortensen said he can be flexible.
"If you can lift a 55-gallon pail, follow directions and do a good job, you're hired. The people we've had have been very good, but they go on to fulltime jobs, so we're constantly looking," Mortensen said.
Anyone looking to pick up some work with D-S over the summer should call 509-369-3442.
It usually takes about five or six hours to refinish one gym floor. Once Mortensen's crews refinished the hardwood in all three White Salmon schools in one day using a "wet" procedure to clean the floors, which is faster and produces less dust than traditional dry procedures.
Mortensen said his company is small, but it's one of few that uses this method in the northwest.
"Otherwise if you go in and screen the wood you're causing dust, which gets all over your bleachers and your hallways and requires a lot of cleanup by your custodial staff. After we're done they have no cleanup at all. When we walk out the gym is clean and ready to go for the next year," Mortensen said.
More like this story