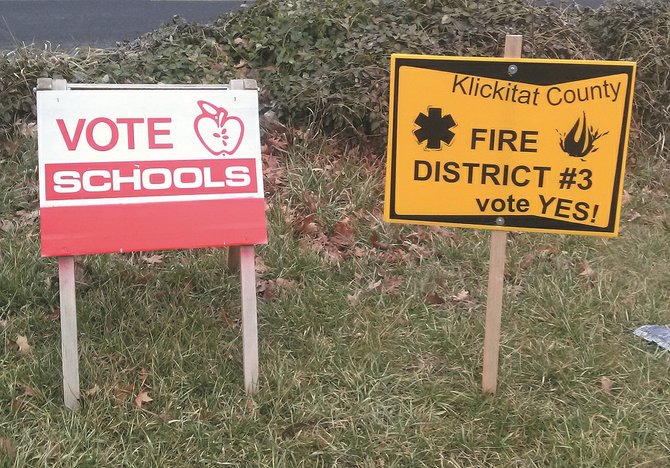 School districts across Klickitat County are asking voters to turn out next month to support property tax levies that will help pay for school programming and maintenance and operations expenses that state basic education funding does not cover.
The White Salmon Valley, Glenwood, Centerville, Goldendale, and Prosser school districts have all proposed replacement maintenance and operations levies to succeed M&O levies that expire at the end of 2014. The White Salmon Valley School District is seeking a three-year levy (to be collected in 2015, 2016, and 2017), while the Goldendale and Prosser districts are offering four-year levies. The White Salmon Valley School District includes a portion of eastern Skamania County, while the Prosser School District includes a portion of eastern Klickitat County.
Glenwood and Centerville are running two-year M&O levies. Centerville also is asking voters to approve a two-year levy for capital and technology projects in the K-8 district.
The special elections will be held on Tuesday, Feb. 11. Each levy must receive more than 50 percent Yes votes to pass. (The Legislature enacted legislation in 2007 that eliminated the validation requirements for school levy elections.)
Registered voters have until 8 p.m. on Feb. 11 to return their ballots to the courthouse voting center, county-owned drop boxes, or by mail. All mailed ballots must be postmarked by 5 p.m. on Election Day and require first-class postage.
White Salmon Valley School District
The School District's board of directors has proposed a three-year levy that would generate $2,630,000 per year. The approximate tax rate for this levy is $2.61 per $1,000 of assessed valuation. For property valued at $200,000, the annual tax under this levy proposal would be about $522.
The proposed levy would provide an extra $235,000 per year for educational programs and services. About $100,000 of that total will be dedicated to maintaining the district's technology. A three-year technology levy at $200,000 per year that voters passed in 2008 enabled the district to obtain its current classroom technology.
The School Board elected to fold the technology request into the M&O levy instead of running a separate technology levy.
School District officials note that the technology has served the district's three schools well but upgrades are required to support current teaching and learning demands in the classrooms.
The other $135,000 will be put toward curriculum development designed to meet the new Common Core State Standards in Language Arts and Mathematics, plus provide for the hiring of a half-time drama teacher at Columbia High and Henkle Middle schools and a half-time Language Specialist at Whitson Elementary School; and an increase in support for the preschool program.
Glenwood School District
The two-year M&O levy that the Glenwood School Board authorized is a repeat offering that would cost taxpayers in the Glenwood School District an estimated $1.99 per $1,000 of assessed valuation in support of a $110,000-per-year request. Funds generated by this replacement levy would be used to finance school programs as well as maintenance and operations expenses. The taxes on property valued at $200,000 would be around $398 per year.
M&O levy funds comprise about 4 percent of the Glenwood School District's annual budget. School budgets typically get their money from three funding sources: 78 percent from the state, 16 percent from local taxes, and 6 percent from federal programs.