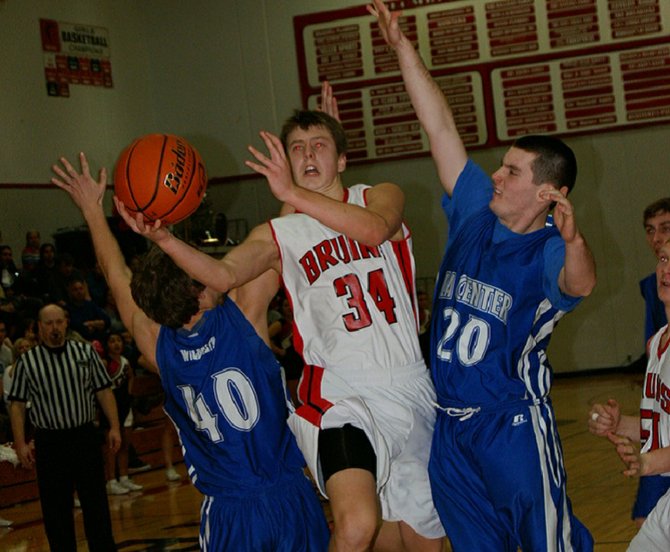 Columbia High's boys basketball team played its final game of the 2013-14 regular season on Feb. 4 at home against Trico League opponent La Center.
The Bruins battled the visiting Wildcats from start to finish but couldn't overcome a 36-30 halftime deficit. In the final issue, La Center prevailed 67-56 thanks to its 3-point shooting.
La Center made 11 3-pointers in the game to CHS's six for a 15-point advantage.
"Even though we lost, I know that my four seniors walked off that court with a lot of pride," Bruins Coach Dave Garwood said. "It was a great effort on their part, and that is the group that I started with a few years ago. To watch them grow up and become the young men they are now is pretty special."
Junior Ryan Lockman led the Bruins with 16 points, and senior Clayton Gross pitched in 13.
Seniors Jordan McClain and Hayden Gibson each scored four points, and senior Jared Garwood added three.
Junior Blake Walker tallied six, sophomore Jabal Gilbert had five, sophomore Tristan Bond put in three, and junior Miguel Perez-Gomez netted two.
Columbia's season finale scheduled for last Thursday, Feb. 6, at Stevenson was cancelled because of the poor traveling conditions in the Columbia River Gorge created by last week's winter storm. Because it did not af-fect Trico standings, the game was not rescheduled.
The Bruins finished their season with a 4-13 record in Trico League play and a 4-15 overall mark.
"I get that as a basketball team we were not very good, but five years from now it won't be about wins and losses," Garwood noted. "It will be about friendships, and stories on and off the court.