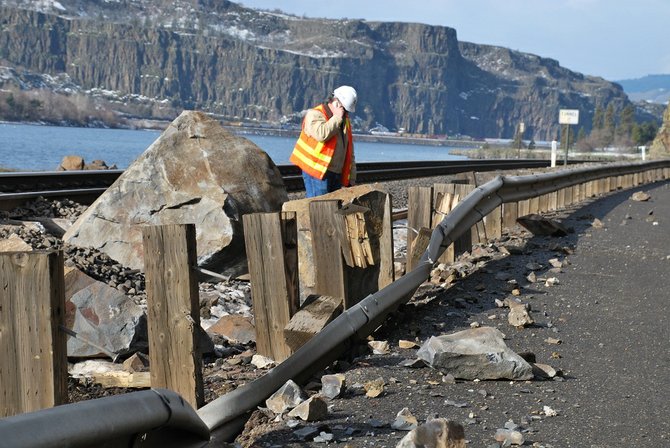 Roads throughout the Columbia River Gorge were impacted by multiple rock slides—some serious—Wednesday night and Thursday.
The Oregon Department of Transportation (ODOT) reported a large and catastrophic landslide at milepost 61 on Interstate 84 Eastbound Wednesday night. The landslide, which consists of about 2,000 cubic yards of rock and debris, blocked all eastbound lanes of I-84 at exit 17 in Troutdale up to milepost 61 near Hood River.
ODOT announced late Thursday that eastbound I-84 will remain closed at exit 17 through the weekend. Alternate routes include I-205 north into Washington then to SR 14 east to Hood River and then back across the Hood River Toll Bridge. Heavy traffic has persisted throughout Thursday due to the I-84 closure. No oversized loads are permitted on SR 14.
A second alternative route to I-84 eastbound uses U.S. 26 (Mount Hood Highway) east to OR 35, and then north to I-84 in Hood River.
The enormous landslide off of I-84 was just the beginning. Throughout Thursday rocks and boulders fell into roads in the Columbia River Gorge, two of which impacted SR 14.
Just before 9 am a rock landed at milepost 77 on SR 14 just outside of Lyle. No vehicle damage or injuries were reported, but Washington State Department of Transportation (WSDOT) crews worked to remove the boulder, which rested between a segment of crushed guardrail and railroad tracks. An alternating traffic pattern was used for about an hour while the rock was removed.
Around 4 pm another large rock fell and blocked westbound SR 14 at milepost 66 near Bingen. WSDOT reported that the rock was moved out of the way and the westbound lane of SR 14 was only momentarily compromised.