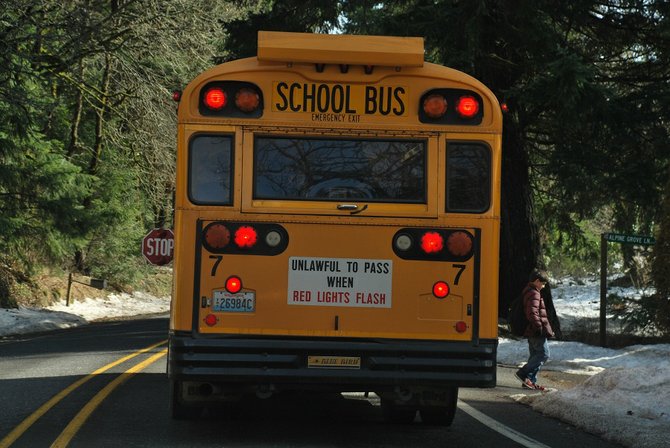 Bus drivers responsible for transporting students to and from school in White Salmon have started assessing how many motorists pass a stopped bus while students are loading or unloading.
Going around a school bus from behind while the red lights are flashing and stop sign on the driver's side is extended is known as a "stop paddle violation." In Washington, it is illegal to go around a bus if it is going the same direction or drive past it if it is in the opposite lane while the bus is loading or unloading students and the stop sign is extended.
Along with the danger presented by driving around a bus while students could be crossing the road, a stop paddle violation carries a fine of $394, according to the Washington State Office of the Superintendent of Public Instruction.
But that doesn't seem to be stopping some area motorists. Susan Tibke, transportation director of the White Salmon Valley School District, instructed her drivers, earlier this year, to begin noting the specifics of when a vehicle passes a stopped bus.
In previous years Tibke said only reported stop paddle violations, or those that provide enough information to be investigated by the police, were recorded.
Even when reported most stop paddle violations do not result in tickets because the bus driver is unable to provide a matching description of the vehicle, license plate number, and other details.
"License plates have more numbers and letters now than they used to and the driver has their attention already divided in so many directions. Getting that license plate, that quick snapshot in their mind while the vehicle is flying past, is really challenging," Tibke said.
Once she started having her drivers keep track of all of the occasions when a motorist passed their bus while it was stopped, she was surprised at what she found.
According to bus driver accounts collected by Tibke, 17 stop paddle violations occurred between Oct. 15 and Feb. 6. Of those only six were reported to law enforcement and only one resulted in a ticket.
An overwhelming majority of the stop paddle violations noted have been on State Route 141 and almost all of them have been instances in which the motorist passed the stopped bus on the driver side, but in one instance a car following a bus passed it on the right side.
Almost all of the recorded violations were also due to motorists driving in the opposite lane towards a bus that has its stop sign engaged.
Tibke said she has heard motorists who commit stop paddle violations say they didn't notice the bus or simply do not know it is illegal to pass the stopped bus. Many times drivers are just plain impatient.
"If you see the yellow lights flashing you should really treat it like a lighted intersection. When the yellow light comes on it means it's time to slow down, the light is going to turn red and you really need to be ready to stop and it's no different with a school bus," Tibke said. "When those amber lights come on it doesn't mean to speed up. We need you to slow down. There's children involved here. These are the children of your neighbors and your community members and I think folks need to take this a little more personally, because it is about keeping children safe."
In order to ensure more stop paddle violators are ticketed, Tibke said mounting cameras on the outside of buses to specifically catch vehicle descriptions and license plates would be ideal.
But first, she said she wants to show that there is a need, which is why Tibke has ordered her drivers to write down every violation they see so she can one day present her figures to the White Salmon Valley School District Board of Directors.
She isn't the only one who has noticed stop paddle violations. State Superintendent of Public Instruction Randy Dorn began promoting a program called Operation Speed, Aggressive Driving, Fail to Stop, Enforcement, or SAFE on Jan. 30, according to a press release by the Washington State Patrol. Operation SAFE aims at improving law enforcement's ability to react to stop paddle violations across the state.
"It's not as easy as just slapping a camera on the side of your bus and taking a picture. It is evidence and you have to get local law enforcement on board. Those are things that also need to be looked at closely," Tibke said.