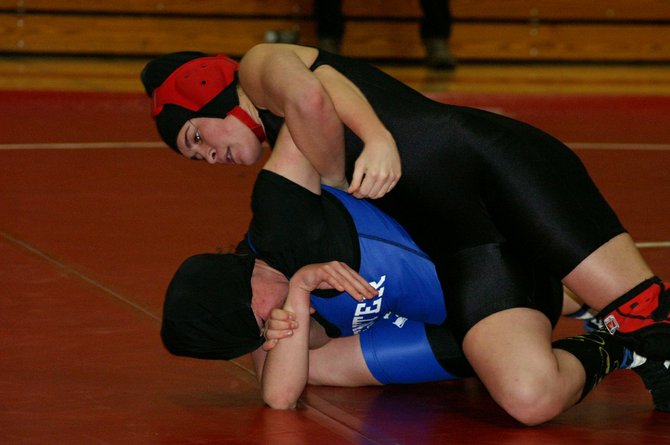 Columbia High senior Na-than Bell and junior Regina Bell are bound for Tacoma this weekend to take part in the WIAA Mat Classic. The two-day state championships get under way tomorrow and conclude on Saturday in the Tacoma Dome.
Nathan Bell is going to state for the second time in his four-year wrestling career. Bell will wrestle for state honors in the Class 1A boys tournament's 160-pound weight class. He qualified for state by winning his weight at last Saturday's WIAA Regional Tournament in Castle Rock.
"Nathan wrestled very well last weekend. He gave up only five points in his three matches," Bruins Coach Stoner Bell noted. "He spent most of his time controlling his opponents while on top, preventing them from scoring. His opponents were much tougher than the scores indicated. And, best of all, he is currently healthy and uninjured heading into the state tournament." (An untimely illness at this time last season prevented Bell from wrest-ling at regionals.)
Bell will open his second state tournament at 12:08 p.m. on Friday against Chewelah senior Connor Fulbright, in the 68th match of the day. If he wins, Bell will wrestle again at 6:08 (match 179). If he loses, he'll wrestle at 6:16 in match 182.
Regina Bell is a first-time state qualifier who will compete at 118 pounds in the open girls tournament. She earned a berth to state last Saturday by placing third in regional competition at Hoquiam.
The third-year wrestler drew Kingston sophomore Peyton Reece as her first opponent. They will square off at 10:56 a.m. in match 31. The winner will wrestle again at 4:42 p.m. (match 124), while the loser goes to the consolation bracket for a 4:49 loser-out bout (match 128).
Matt Bergstrom, a senior and first-year wrestler, and freshman Fletcher Andrews also wrestled well at regionals for the Bruins but neither secured a berth to state. Bergstrom, who finished fifth at 220 pounds, is an alternate to state, while Andrews is already looking ahead to next season.
"Matt will travel with the team to state as an alternate and hope for a chance to compete," Coach Bell said.
But, in any event, Bergstrom's top-five result at regionals was "a great finish for a first-year wrestler," his coach said. "Matt had hoped to defeat (Woodland rival) Isaac Anderson to secure a third- or fourth-place finish, but was still happy to end up on the podium."
Andrews, CHS's entry at 113 pounds, wrestled two matches at regionals before bowing out of the competition. The Trico League's No. 4 seed had the misfortune of being paired with the Trico's No. 1 seed in his first match instead of the No. 1 seed from the Southwest District's Ever-green League. A loss to Hun-ter Stockfleth of Ilwaco eventually sent Andrews to the sideline for the remainder of the post-season.
"Fletcher had a great season," Bell said. "He is definitely wrestling with the state qualifiers, if not yet beating them."
Sub-regional Tournament Tuesday, Feb. 11 Ilwaco HS Top 5 to Regionals
Senior 182-pounder Austin Walker claimed the Bruins' only individual title during qualifying for the Feb. 15 re-gional tournament in Castle Rock. (The sub-regional tournament was postponed from Feb. 8 in La Center due to poor winter traveling conditions in southwest Washing-ton that weekend.)
Walker's hard-fought victories over Kyle Brown of Toledo in the semifinals (10-3) and over top-seeded Chase Lam of Castle Rock in the title bout (7-4) earned him the Trico League's No. 1 seed in the regional bracket.
Nathan Bell finished second at 160 pounds, losing to Austin Darvell of Castle Rock, 6-2, in their weight class' championship match. It was a touch matchup for Bell, who trailed 6-0 before scoring 2 points with a takedown in the third period. Bell, however, was unable to turn Darvell to score back points.
Matt Bergstrom qualified for his first regional event with a runner-up finish at sub-regionals to Toledo's Dal-ton Yoder at 220 pounds. Yoder held Bergstrom scoreless, scored a takedown in every period, and rode his opponent for most of the match to keep him from counterattacking. The final score was 7-0.
Fletcher Andrews earned a trip to regionals at 113 pounds. He got there with a fourth-place finish at the sub-regional finals. Andrews lost a hard-fought 15-14 decision to Ilwaco's Hunter Stockfleth in the consolation final.
Andrews trailed 12-2 midway through the second period after allowing five takedowns and one 2-point near fall. The freshman closed to within 12-7 with with a reversal and a 3-point near fall.
In the third period, Andrews turned the match around even more. Stockfleth chose down for the start of the period, and Andrews jumped at the chance to rack up more points. He got a takedown and another 3-point near fall to take a 14-12 lead late in the going.
As time ticked down on the clock, Andrews was in control. But with 15 seconds left, he was penalized a point for locking hands on a hold. Stockfleth then took advantage of an opening to score a 2-point reversal on Andrews and take a 15-14 lead as time ran out.