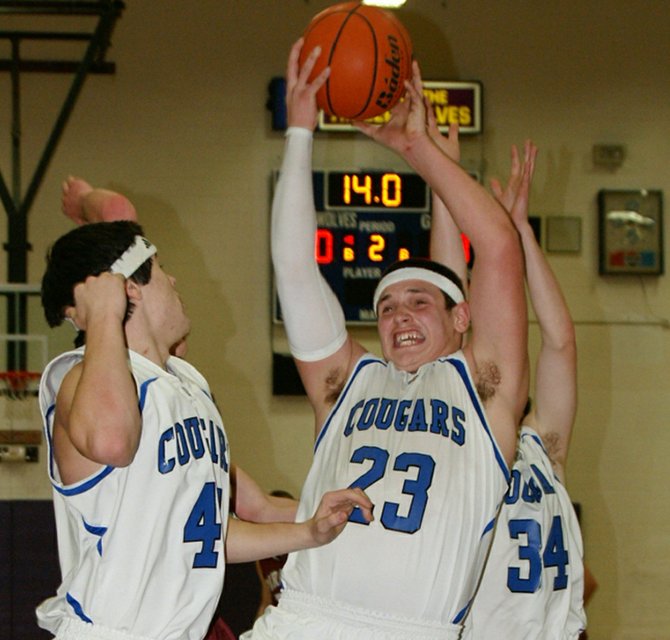 Lyle/Wishram and Yakama Tribal boys basketball teams were scheduled to meet for a third time this season on Tuesday to decide who'll play Sunnyside Christian on Fri-day for the Yakima Valley District 1B Tournament's top seed in next weekend's 16-team WIAA regional playoffs.
The Cougars (15-7) and the Eagles (13-9) split their regular-season matchups, with each side prevailing at home. The loser-out contest was to be played in Goldendale, site of this year's district tourney.
Lyle/Wishram fell into the consolation bracket after losing last Saturday's winner-to-regionals game to Sunnyside Christian, 45-27. Tribal stayed alive be eliminating Bickleton (8-14) by a score of 69-51.
Sunnyside Christian (17-5) put itself in position for the district's top regional seed last Friday by defeating Tribal, 57-46. The win ensured the Knights would go to regionals as no worse than a No. 2 seed. All eight winners at regionals will advance to Spokane for a three-day state tournament.
Lyle/Wishram 57, Bickleton 42: The top-seeded Cougars had the fourth-seeded Pirates right where they wanted them after the opening eight minutes of action last Friday, as they hung a 20-6 deficit around their opponents' necks.
Bickleton, though, slipped the noose and made a game of it until finally fading in the fourth quarter.
Junior Gabe Montoya powered the Cougars to the first-round victory. He had a game-high 27 points and 15 re-bounds. He shot 8 for 13 from the field and 10 for 14 from the foul line.
Senior Jonathan VonAhn chipped in 14 points (6 for 8 on field goals), six rebounds, and three blocked shots, and junior Cody Carse tallied 11 points and four assists.
Lyle/Wishram led from start to finish in winning its sixth in a row. Carse hit a pair of 3-pointers on the Cougars' first two possessions and they were off and running.
To be honest, the Cougars were never in danger of losing their lead. Lyle/Wishram's smallest lead of the second half was seven points (30-23 to start the third quarter, and 45-38 midway through the fourth). Each time Bickleton verged toward making a serious run, Lyle/Wishram had a rapid-response team ready to step in.
Montoya scored all eight of Lyle/Wishram's third-quarter points to complement an eight-point hold by the de-fense. The standoff meant Lyle/Wishram maintained a 10-point lead into the fourth quarter (38-28).
Montoya finished with seven points in the Cougars' 19-point fourth-quarter effort that finally sank the Pirates.
The Cougars mounted their biggest lead of the night (17 points) late in the first quarter on a fastbreak layin by Mon-toya (20-3) and again with just over two minutes remaining (57-40), when Montoya re-bounded and scored off Von- Ahn's missed free throw. VonAhn was attempting to complete a 3-point play for his ninth second-chance point of the contest.
Lyle/Wishram led 6-0 be-fore Bickleton got on the scoreboard at the 5:24 mark of the first quarter with a free throw by Troy Roberts.
The Cougars scored the next eight points (six by Montoya, two by VonAhn) to extend their lead to 14-1. The score after one quarter was 20-6, Cougars.
At the outset of the fourth quarter, the Pirates cut into the Cougars' lead right away. Michael Underwood scored on a putback and made the free throw to complete a 3-point play that pulled Bickleton within 38-31 with 7:37 to go. The Pirates got within seven points one more time (45-38 on a Roberts 3-pointer) at the midway mark of the final period, but that was as good as it got for them.
The Cougars closed the Pirates out with a 12-4 run that featured seven points by VonAhn, two free throws by John Stephens, a free throw by Carse, and Montoya's final putback with about two minutes remaining.
Sunnyside Christian 45, Lyle/Wishram 27: The Coug-ars spotted the Knights a 7-0 lead at the outset of last Sat-urday's winner-to regionals contest at Goldendale High School and never recovered.
The Knights led 15-8 after one quarter, 22-14 at halftime, and 33-22 through three quarters.
Jonathan VonAhn recorded 15 points and nine rebounds for the Cougars, who had their six-game winning streak stopped.
Sunnyside Christian play-ed solid defense and shot the ball well, making 50 percent of its field-goal attempts (17/-34) and 6 of its 8 foul shots. Lyle/Wishram shot 31 percent from the field (11/35) and 22 percent from the line (2/9).