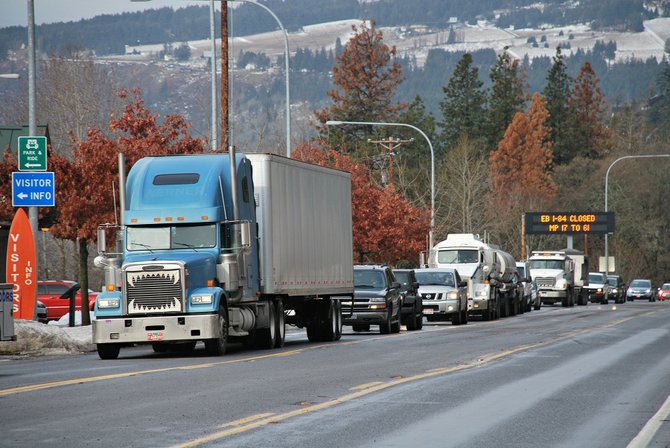 Roads throughout the Columbia River Gorge were impacted by multiple landslides — some serious —late last week and into the weekend.
The Oregon Department of Transportation (ODOT) reported a large and catastrophic landslide at milepost 61 on eastbound Interstate 84 Wednesday night. The landslide, which consisted of about 2,000 cubic yards of rock and debris, blocked all eastbound lanes of I-84 at milepost 61 and closed the road to eastbound traffic at exit 17 in Troutdale.
Despite the severity of Wednesday night's rock slide, only one car was caught in the wave of rocks and debris that suddenly gushed into I-84. Daniel Koopman, 54, of Summerville, Ore., was driving a gray Ford Focus when the slide occurred.
Koopman walked away from the incident with no serious injuries.
After ODOT crews worked through the weekend to remove the debris that spilled into the road and any loose rocks that could have threatened another landslide all eastbound lanes of I-84 were reopened as of Monday at 1 p.m., but a "debris flow" warning remained in effect until 5 p.m. Monday, according to an ODOT press release.
"Travelers should be aware of the possibility of landslides, rockslides, mudslides, etc., due to sodden hillsides and cliff faces after all the heavy rain the Gorge has seen in the past few days," the press release read.
After ODOT announced late Thursday that eastbound I-84 would remain closed at exit 17 through the weekend motorists coming from Portland were eventually instructed to take alternate routes, including I-205 north into Washington then to State Route 14 east toward Hood River.
One westbound lane was eventually opened and ODOT set barricades at exit 17 to allow eastbound local residents to make their way as far on I-84 as the Bridge of the Gods.
Heavy traffic persisted on SR-14 throughout Thursday due to the I-84 closure and on Friday Washington State Department of Transportation (WSDOT) crews responded to more than 30 reports of rock falling or sliding into SR-14, according to reports from the entity.
That heavy traffic was further ensnared Thursday afternoon when SR-14 was completely blocked at milepost 41 two miles west of Stevenson by a head-on collision that resulted in one fatality and an injury. WSDOT reported that SR-14 was blocked for two hours and traffic had to be re-routed yet again due to the crash.
According to the Washington State Highway Patrol, Chad Bretsch, 42, of Philomath, Ore., died at the scene of the accident after crossing the center line in his 2000 Honda S2000 and running head-on into a 2005 Ford F150 truck being driven by Karl Wilkie, 58, of Carson. Wilkie was transported to Providence Hood River Medical Center for his injuries.
The enormous landslide off of I-84 was just the beginning. Throughout Thursday rocks and boulders fell into roads in the Columbia River Gorge, a few of which impacted SR-14.
On Wednesday night around 9:05 p.m. the Washington State Patrol re-ported that a large rock fell from the hillside and struck a vehicle on SR-14 two miles west of Bingen. Ana Lopez Vargas, 27, of White Salmon, was driving a 2002 Dodge Ram pickup truck when the boulder struck the vehicle.
Vargas was uninjured, as was a 5-year-old passenger, but another 5-year-old in the truck was injured and transported to Skyline Hospital.
The raining rocks persisted on Thursday. Just before 9 a.m. a rock landed at milepost 77 on SR-14 just outside of Lyle.
No vehicle damage or injuries were reported, but WSDOT and Burlington Northern Santa Fe Corp. crews worked to remove the boulder, which rested between a segment of crushed guardrail and railroad tracks. An alternating traffic pattern was used for about an hour while the rock was removed.
Around 4 p.m.Thursday another large rock fell and blocked westbound SR-14 at milepost 66 near Bingen. WSDOT reported that the rock was moved out of the way and the westbound lane of SR-14 was only momentarily compromised.
The National Weather Service issued Flood Watches through Sunday afternoon for southwest Washington. As a result, the Oregon Department of Geology and Mineral Industries warned those planning on traveling that bases of steep hillsides, canyon bottoms, road cuts, and stream channels were especially dangerous due to the threat of debris flows.