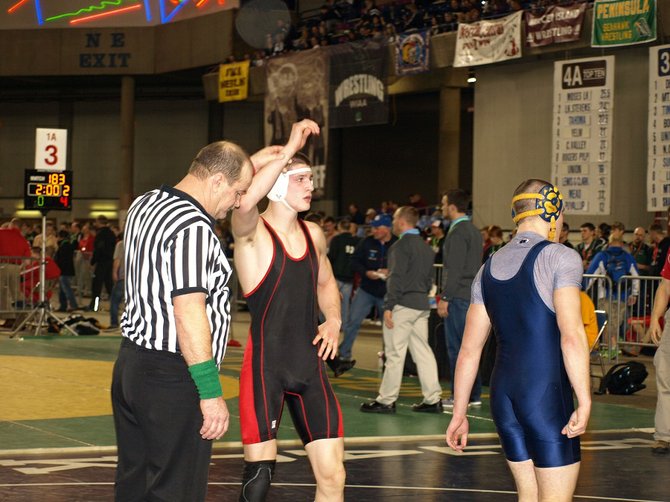 Going into his second Mat Classic in three years, Columbia High senior Nathan Bell held the No. 9 ranking at 160 pounds in the final Class 1A coaches' poll of the 2014 regular season. Bell carried a 24-4 record into the post-season and raised it to 29-5 with second- and first-place finishes at the sub-regional meet and the regional tournament, respectively. He was ready to take his game to the final level for the last time in his prep career. His goal was to place in the top six in his weight class.
After two days of competitive wrestling, Bell stood in eighth place on the 160-pound medalists' podium — his first podium in two tournament appearances. (Bell wrestled at 145 pounds at state in 2012.) Moreover, Bell's medal-winning effort was the first for CHS since 2008, when Kevin Kreps and Bell's oldest brother, Seth, both placed.
All told, Bell wrestled five matches at state, all of which were decided by 3 points or less.
"This was a very emotional series of matches over the two days of wrestling for Nathan," said Bruins Coach, and father, Stoner Bell. "He wrestled well and he wrestled hard. All of his matches were close and could have gone either way. He scored 25 points and gave up 25 points over the course of the weekend. While he hoped to place higher, he was happy to come home with a medal — the only one earned by Region 2 wrestlers this year at 160 pounds."
Bell's tournament began with a noon-time match against Connor Fulbright of Chewelah. Bell led 5-4 after two periods but gave up a reversal halfway through the third period to fall behind 6-5. He was regaining control of the bout when time ran out.
Bell kept his medal hopes alive later on Friday by defeating Tyler McTee of Naches Valley, 6-4, in overtime. The win put Bell back on track for a medal. He moved into the medal rounds on Saturday after dispatching Zac Seevers of Woodland, 5-2. It was Bell's fourth victory of the season over Seevers.
A 7-5 loss to Caleb Riggle of Omak in his next match sent Bell to the match for seventh and eighth places against Preston Hoppman of Freeman. Hoppman sealed a 6-4 victory by scoring a reversal with just seconds on the clock.
In the girls tournament, CHS junior Regina Bell made her debut. She finished 1-2 in the 118-pound weight class.
"Regina had a good showing for her first trip to state," Coach Bell said. "She was tied with the eventual second-place wrestler in her weight class until the last 24 seconds of the match. She should return to state next year as a senior for a medal."